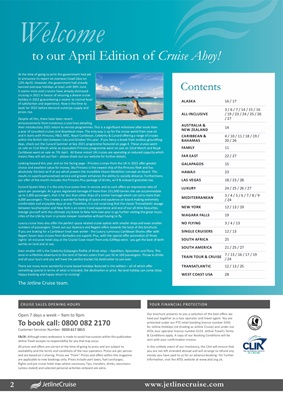 2 Open 7 days a week - 9am to 9pm
To book call: 0800 082 2170
Customer Services Number: 0203 617 5815
E&OE: Although every endeavour is made to avoid inaccuracies within this publication
Jetline Travel accepts no responsibility for any that may occur.
All prices and offers are correct at the time of going to press and are subject to
availability and the terms and conditions of the tour operators. Prices are per person
and are based on 2 sharing. Prices are "From". Prices and offers within this magazine
are applicable to new bookings only. Prices include port taxes, fuel surcharges,
flights and pre cruise hotel stays where necessary. Tips, transfers, drinks, excursions
(unless stated) and selected personal activities onboard are extra.
CRUISE SALES OPENING HOURS
Our brochure presents to you a selection of the best offers we
have put together as a tour operator and travel agent. You are
protected under our PTS retail bonding licence number 5593
for Jetline Holidays Ltd (trading as Jetline Cruise) and under our
ATOL tour operator licence number 6153. Jetline Travel's Terms
& Conditions apply. A copy of our Booking Conditions will be
sent with your confirmation invoice.
In the unlikely event of our insolvency, the CAA will ensure that
you are not left stranded abroad and will arrange to refund any
money you have paid to us for an advance booking. For further
information, visit the ATOL website at www.atol.org.uk.
YOUR FINANCIAL PROTECTION
At the time of going to print the government had yet
to announce its report on overseas travel (due on
12th April). However, the government had already
banned overseas holidays at least until 30th June.
It seems most avid cruisers have already dismissed
cruising in 2021 in favour of securing a dream cruise
holiday in 2022 guaranteeing a nearer to normal level
of satisfaction and experience. Now is the time to
book for 2022 before demand outstrips supply and
prices rise.
Despite all this, there have been recent
announcements from numerous cruise lines detailing
their introductory 2021 return to service programmes. This is a significant milestone after more than
a year of cancelled cruises and downbeat news. The only way is up for the cruise world from now on
and it starts with Princess, P&O, MSC, Royal Caribbean, Celebrity & Cunard offering a range of cruises
within the British Isles between July and October this year. If you fancy a break from endless groundhog
days, check out the Cunard Summer at Sea 2021 programme featured on page 4. These cruises went
on sale on 31st March while an equivalent Princess programme went on sale on 22nd March and Royal
Caribbean went on sale on 7th April. All these restart UK cruises are operating at reduced capacity which
means they will sell out fast - please check out our website for further details.
Looking beyond this year and on the facing page - Princess cruises from the UK in 2022 offer greater
choice and excellent value for money. Sky Princess is the newest ship of the Princess fleet and has
absolutely the best wi-fi at sea which powers the incredible Ocean Medallion concept on-board. This
results in superb-personalised service and greater enhances the ability to socially distance. Furthermore,
our offer of the month includes the Princess Plus package of drinks, wi-fi & onboard gratuities too.
Cunard Queen Mary 2 is the only true ocean liner in service and as such offers an impressive ratio of
space per passenger. At a gross registered tonnage of more than 151,000 tonnes she can accommodate
up to 2,800 passengers, that is far less than other ships of a similar tonnage which can carry more than
4,000 passengers. This creates a wonderful feeling of space and opulence on board making extremely
comfortable and enjoyable days at sea. Therefore, it is not surprising that the classic Transatlantic voyage
between Southampton and New York is an iconic travel experience and one of our all-time favourites.
Indulge yourself with the ultimate city break to New York next year or go further visiting the great music
cities of the USA by train in private sleeper roomettes without having to fly.
Luxury cruise lines also offer the perfect space related cruise option with smaller ships and even smaller
numbers of passengers. Check out our Azamara and Regent offers towards the back of this brochure.
If you are looking for a Caribbean treat next winter - the Luxury Luminous Caribbean Shores offer with
Regent Seven Seas cruises from Barbados are superb. Plus, with the special offer promotion of three
nights' all-inclusive hotel stay at the Crystal Cove resort from only £299pp extra - you get the best of both
worlds on land and at sea.
Even smaller still is the Celebrity Galapagos flotilla of three ships - Xpedition, Xploration and Flora. This
once-in-a-lifetime adventure to the land of Darwin caters from just 16 to 100 passengers. Throw in drinks
and all your tours and you will have the perfect bucket list destination to coo over.
There are many more wonderful cruise-based holidays featured in this edition - all of which offer
something special in terms of what is included, the destination or price. No land holiday can come close.
Happy booking and happy return to cruising!
The Jetline Cruise team.
to our April Edition of Cruise Ahoy!
Welcome
ALASKA 16 / 17
ALL-INCLUSIVE
3 / 6 / 7 / 14 / 15 / 16
/ 19 / 23 / 24 / 25 / 26
/ 27
AUSTRALIA &
NEW ZEALAND
14
CARIBBEAN &
BAHAMAS
4 / 10 / 11 / 18 / 19 /
20 / 26
FAMILY 11
FAR EAST 22 / 27
GALAPAGOS 15
HAWAII 23
LAS VEGAS 18 / 23 / 28
LUXURY 24 / 25 / 26 / 27
MEDITERRANEAN
3 / 4 / 5 / 6 / 7 / 8 / 9
/ 24
NEW YORK 12 / 13 / 19
NIAGARA FALLS 19
NO FLYING 3 / 4 / 13
SINGLE CRUISERS 12 / 13
SOUTH AFRICA 25
SOUTH AMERICA 21 / 25 / 27
TRAIN TOUR & CRUISE 7 / 13 / 16 / 17 / 19
/ 24
TRANSATLANTIC 12 / 13 / 25
WEST COAST USA 28
Contents