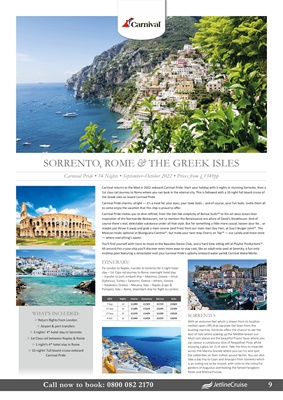 Call now to book: 0800 082 2170 9
ITINERARY:
Fly London to Naples, transfer to Sorrento for 3 night hotel
stay - 1st Class rail journey to Rome, overnight hotel stay
- transfer to port, embark ship - Mykonos, Greece - Izmar
(Ephesus), Turkey - Santorini, Greece - Athens, Greece
- Katakolon, Greece - Messina, Italy - Naples (Capri &
Pompeii), Italy - Rome, disembark ship for flight to London.
SORRENTO, ROME & THE GREEK ISLES
Carnival Pride • 14 Nights • September-October 2022 • Prices from £1349pp
WHAT'S INCLUDED:
✥ Return flights from London
✥ Airport & port transfers
✥ 3 nights' 4* hotel stay in Sorrento
✥ 1st Class rail between Naples & Rome
✥ 1 night's 4* hotel stay in Rome
✥ 10 nights' full-board cruise onboard
Carnival Pride
Carnival returns to the Med in 2022 onboard Carnival Pride. Start your holiday with 3 nights in stunning Sorrento, then a
1st class rail journey to Rome where you can bask in the eternal city. This is followed with a 10 night full board cruise of
the Greek Isles on board Carnival Pride
Carnival Pride charms, alright - it's a treat for your eyes, your taste buds... and of course, your fun buds. Invite them all
to come enjoy the vacation that this ship is proud to offer.
Carnival Pride invites you to dine refined, from the Zen-like simplicity of Bonsai Sushi™ to the art deco ocean liner
inspiration of the Normandie Restaurant, not to mention the Renaissance-era allure of David's Steakhouse. And of
course there's real, delectable substance under all that style. But for something a little more casual, loosen your tie... or
maybe just throw it away and grab a main course (and fries) from our main man Guy Fieri, at Guy's Burger Joint™. The
Mexican heats optional at BlueIguana Cantina™, but make your next stop Cherry on Top™ - our candy-and-more store
- where everything's sweet.
You'll find yourself with room to move at the Beauties Dance Club, and a hard time sitting still at Playlist Productions™.
All around this cruise ship you'll discover even more ways to stay cool, like an adult-only pool at Serenity, a fun-only
midship pool featuring a retractable roof, plus Carnival Pride's splashy onboard water park& Carnival WaterWorks.
2022 Nights Interior Oceanview Balcony Suite
7 Sep 14 £1399 £1529 £1729 £2669
17 Sep 14 £1389 £1529 £1699 £2599
27 Sep 14 £1379 £1499 £1699 £2529
4 Oct 14 £1349 £1459 £1659 £2649 SORRENTO:
With an exclusive feel which is drawn from its location
nestled upon cliffs that separate the town from the
bustling marinas, Sorrento offers the chance to see the
best of Italy whilst soaking up the Mediterranean sun.
Must visit places are the beautiful Piazza Tasso where you
can savour a sumptuous slice of Neapolitan Pizza whilst
enjoying a glass (or 2) of wine. Take the time to meander
across the Marina Grande where you can try and spot
the celebrities on their million pound Yachts. You can also
take a day trip to Capri and Anacapri from Sorrento which
is an outing not to be missed, with visits to the colourful
gardens of Augustus overlooking the famed Faraglioni
Rocks and Marina Piccola.