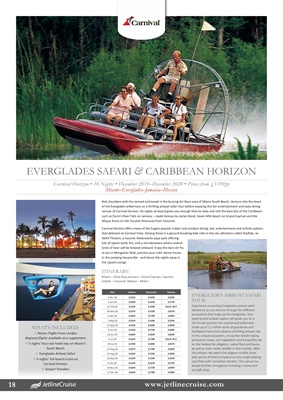 18
EVERGLADES SAFARI & CARIBBEAN HORIZON
Carnival Horizon • 10 Nights • December 2019-December 2020 • Prices from £1199pp
Miami-Everglades-Jamaica-Mexico
WHAT'S INCLUDED:
✥ Return Flights from London
Regional flights available at a supplement
✥ 3 nights' four-star hotel stay on Miami's
South Beach
✥ Everglades Airboat Safari
✥ 6 nights' full-board cruise on
Carnival Horizon
✥ Airport Transfers
Rub shoulders with the tanned and toned in the buzzing Art Deco area of Miami South Beach. Venture into the heart
of the Everglades wilderness on a thrilling airboat safari tour before enjoying the fun entertainment and tasty dining
venues of Carnival Horizon. Six nights on board gives you enough time to relax and visit the best bits of the Caribbean
such as Dunn's River Falls on Jamaica - made famous by James Bond, Seven Mile beach on Grand Cayman and the
Mayan Ruins on the Yucutan Peninsula from Cozumel.
Carnival Horizon offers many of the hugely popular indoor and outdoor dining, bar, entertainment and activity options
that debuted on Carnival Vista. Among those is a ground-breaking bike-ride-in-the-sky attraction called SkyRide, an
IMAX Theatre, a massive Waterworks aqua park offering
lots of splash-tastic fun, and a microbrewery where several
kinds of beer will be brewed onboard. Enjoy the best stir fry
at sea in Mongolian Wok, practice your Latin dance moves
in the jumping Havana Bar and dance the nights away in
the Liquid Lounge.
EVERGLADES AIRBOAT SAFARI
TOUR:
Experience an exciting Everglades airboat safari
adventure as you venture through the different
ecosystems that make up the Everglades. Your
experienced airboat captain will guide you on a
30-minute journey into a preserved wilderness
made up of 1.2 million acres of grasslands and
hardwood hammocks aboard a thrilling airboat ride.
In this unique ecosystem, encounter breath-taking
panoramic views, lush vegetation and tranquillity. Be
on the lookout for alligators, native flora and fauna,
as well as other exotic wildlife in their habitat. After
the airboat ride watch the alligator wildlife show
with plenty of time to experience the jungle walking
trail filled with crocodilian exhibits. This venue has
ample facilities throughout including a restaurant
and gift shop.
Date Interior Oceanview Balcony
5 Dec 19 £1529 £1629 £1699
2 Jan 20 £1499 £1629 £1739
13 Feb 20 £1349 £1499 SOLD OUT
26 Mar 20 £1379 £1529 £1679
9 Apr 20 £1669 £1799 £1969
7 May 20 £1359 £1499 £1599
21 May 20 £1529 £1669 £1849
4 Jun 20 £1599 £1749 £1989
18 Jun 20 £1669 £1829 £2049
2 Jul 20 £1639 £1799 SOLD OUT
30 Jul 20 £1789 £1899 £2079
13 Aug 20 £1679 £1799 £1969
27 Aug 20 £1469 £1559 £1699
10 Sep 20 £1199 £1299 £1459
8 Oct 20 £1549 £1659 £1799
19 Nov 20 £1649 £1739 £1899
17 Dec 20 £1649 £1789 £1989
ITINERARY:
Miami - Ocho Rios,Jamiaca - Grand Cayman, Cayman
Islands - Cozumel, Mexico - Miami