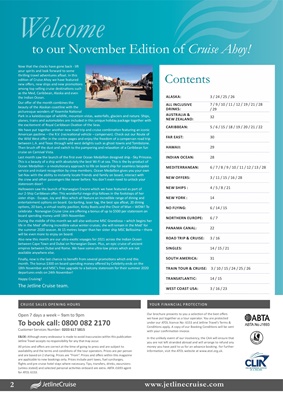 2 Open 7 days a week - 9am to 9pm
To book call: 0800 082 2170
Customer Services Number: 0203 617 5815
E&OE: Although every endeavour is made to avoid inaccuracies within this publication
Jetline Travel accepts no responsibility for any that may occur.
All prices and offers are correct at the time of going to press and are subject to
availability and the terms and conditions of the tour operators. Prices are per person
and are based on 2 sharing. Prices are "From". Prices and offers within this magazine
are applicable to new bookings only. Prices include port taxes, fuel surcharges,
flights and pre cruise hotel stays where necessary. Tips, transfers, drinks, excursions
(unless stated) and selected personal activities onboard are extra. ABTA J1693 agent
for ATOL 6153.
CRUISE SALES OPENING HOURS
Our brochure presents to you a selection of the best offers
we have put together as a tour operator. You are protected
under our ATOL licence No: 6153 and Jetline Travel's Terms &
Conditions apply. A copy of our Booking Conditions will be sent
with your confirmation invoice.
In the unlikely event of our insolvency, the CAA will ensure that
you are not left stranded abroad and will arrange to refund any
money you have paid to us for an advance booking. For further
information, visit the ATOL website at www.atol.org.uk.
YOUR FINANCIAL PROTECTION
Now that the clocks have gone back - lift
your spirits and look forward to some
thrilling travel adventures afloat. In this
edition of Cruise Ahoy we have featured
new offers, new ships and new promotions
among top selling cruise destinations such
as the Med, Caribbean, Alaska and even
the Indian Ocean.
Our offer of the month combines the
beauty of the Alaskan coastline with the
picturesque wonders of Yosemite National
Park in a kaleidoscope of wildlife, mountain vistas, waterfalls, glaciers and nature. Ships,
planes, trains and automobiles are included in this unique holiday package together with
the excitement of Royal Caribbean Ovation of the Seas.
We have put together another new road trip and cruise combination featuring an iconic
American pastime - the R.V. (recreational vehicle - campervan). Check out our Route of
the Wild West offer in the centre pages and enjoy the freedom of a campervan road trip
between L.A. and Texas through wild west delights such as ghost towns and Tombstone.
Then brush off the dust and switch to the pampering and relaxation of a Caribbean fun
cruise on Carnival Vista.
Last month saw the launch of the first ever Ocean Medallion designed ship - Sky Princess.
This is a beauty of a ship with absolutely the best Wi-Fi at sea. This is the by-product of
Ocean Medallion - a revolutionary approach to life on board ship for seamless bespoke
service and instant recognition by crew members. Ocean Medallion gives you your own
Sat-Nav with the ability to instantly locate friends and family on board, interact with
the crew and other passengers like never before. You don't even need to unlock your
stateroom door!
Halloween saw the launch of Norwegian Encore which we have featured as part of
our 2-Ship Caribbean offer. This wonderful mega-ship follows in the footsteps of her
sister ships - Escape, Joy and Bliss which all feature an incredible range of dining and
entertainment options on board. Go-karting, laser tag, the best spa afloat, 20 dining
options, 20 bars, a virtual reality pavilion, Kinky Boots and the Choir of Man - WOW! To
celebrate - Norwegian Cruise Line are offering a bonus of up to $500 per stateroom on
board spending money until 18th November.
During the middle of this month we will also welcome MSC Grandiosa - which begins her
life in the Med' offering incredible value winter cruises; she will remain in the Med' for
the summer 2020 season. At 15 metres longer than her sister ship MSC Bellissima - there
will be even more to enjoy on board.
Also new this month are our ultra-exotic voyages for 2021 across the Indian Ocean
between Cape Town and Dubai on Norwegian Dawn. Plus, an epic cruise of ancient
empires between Dubai and Rome. We have some ultra-low prices which are not
available anywhere else.
Finally, now is the last chance to benefit from several promotions which end this
month. The bonus $300 on board spending money offered by Celebrity ends on the
18th November and MSC's free upgrade to a balcony stateroom for their summer 2020
departures ends on 24th November!
Happy Cruising!
The Jetline Cruise team.
to our November Edition of Cruise Ahoy!
Welcome
ALASKA: 3 / 24 / 25 / 26
ALL INCLUSIVE
DRINKS:
7 / 9 / 10 / 11 / 12 / 19 / 21 / 28
/ 29
AUSTRALIA &
NEW ZEALAND:
32
CARIBBEAN: 5 / 6 / 15 / 18 / 19 / 20 / 21 / 22
FAR EAST: 30
HAWAII: 29
INDIAN OCEAN: 28
MEDITERRANEAN: 6 / 7 / 8 / 9 / 10 / 11 / 12 / 13 / 28
NEW OFFERS: 3 / 11 / 15 / 16 / 28
NEW SHIPS : 4 / 5 / 8 / 21
NEW YORK : 14
NO FLYING: 6 / 14 / 15
NORTHERN EUROPE: 6 / 7
PANAMA CANAL: 22
ROAD TRIP & CRUISE: 3 / 16
SINGLES: 14 / 15 / 21
SOUTH AMERICA: 31
TRAIN TOUR & CRUISE: 3 / 10 / 15 / 24 / 25 / 26
TRANSATLANTIC: 14 / 15
WEST COAST USA: 3 / 16 / 23
Contents