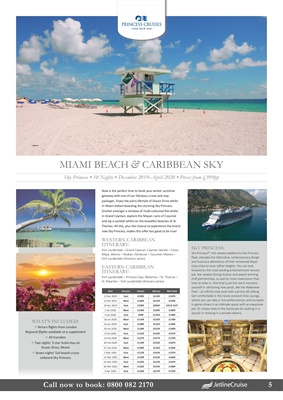 Call now to book: 0800 082 2170 5
MIAMI BEACH & CARIBBEAN SKY
Sky Princess • 10 Nights • December 2019-April 2020 • Prices from £999pp
WHAT'S INCLUDED:
✥ Return flights from London
Regional flights available at a supplement
✥ All transfers
✥ Two nights' 3-star hotel stay on
Ocean Drive, Miami
✥ Seven nights' full-board cruise
onboard Sky Princess
Now is the perfect time to book your winter sunshine
getaway with one of our fabulous cruise and stay
packages. Enjoy the party lifestyle of Ocean Drive whilst
in Miami before boarding the stunning Sky Princess.
Snorkel amongst a rainbow of multi-coloured fish whilst
in Grand Cayman, explore the Mayan ruins of Cozumel
and sip a cocktail whilst on the beautiful beaches of St.
Thomas. All this, plus the chance to experience the brand
new Sky Princess, makes this offer too good to be true!
SKY PRINCESS:
Sky Princess℠, the newest addition to the Princess
fleet, elevates the distinctive, contemporary design
and luxurious attractions of their renowned Royalclass ships
to even loftier heights. You can look
forward to the most exciting entertainment venues
yet, the newest dining choices and award-winning
chef partnerships, as well as more staterooms than
ever to relax in. And that's just the start! Immerse
yourself in refreshing new pools, like the Wakeview
Pool - an infinity style pool with a prime aft setting.
Get comfortable in the newly evolved Vista Lounge,
where you can take in live performances and compete
in game shows in an intimate space with an expansive
bar. Or simply relax in the Sanctuary by soaking in a
Jacuzzi or relaxing in a private cabana.
Date Itinerary Interior Balcony Mini-Suite
12 Dec 2019 East £1099 £1339 £1479
19 Dec 2019 West £1829 £2149 £2299
26 Dec 2019 East £2399 £2669 SOLD OUT
2 Jan 2020 West £1429 £1699 £1849
9 Jan 2020 East £999 £1349 £1489
16 Jan 2020 West £1149 £1359 £1789
23 Jan 2020 East £1089 £1329 £1469
30 Jan 2020 West £1299 £1529 £1699
6 Feb 2020 East £1129 £1429 £1579
13 Feb 2020 West £1279 £1579 £1729
20 Feb 2020 East £1199 £1529 £1679
27 Feb 2020 West £1099 £1429 £1569
5 Mar 2020 East £1129 £1429 £1579
12 Mar 2020 West £1199 £1529 £1669
19 Mar 2020 East £1229 £1539 £1679
26 Mar 2020 West £1229 £1539 £1689
2 Apr 2020 East £1269 £1579 £1729
WESTERN CARIBBEAN
ITINERARY:
Fort Lauderdale - Grand Cayman, Cayman Islands - Costa
Maya, Mexico - Roatan, Honduras - Cozumel, Mexico -
Fort Lauderdale (itinerary varies)
EASTERN CARIBBEAN
ITINERARY:
Fort Lauderdale - Princess Cays, Bahamas - St. Thomas -
St. Maarten - Fort Lauderdale (itinerary varies)