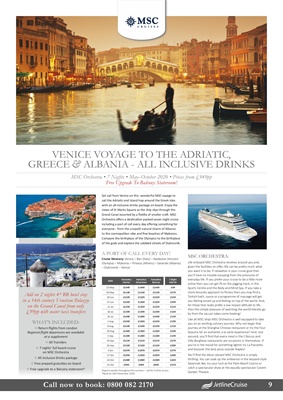 Call now to book: 0800 082 2170 9
WHAT'S INCLUDED:
✥ Return flights from London
Regional flight departures are available
at a supplement
✥ All Transfers
✥ 7 nights' full board cruise
on MSC Orchestra
✥ All Inclusive Drinks package
✥ Free prepaid gratuities on board
✥ Free upgrade to a Balcony stateroom*
MSC ORCHESTRA:
Life onboard MSC Orchestra revolves around you and,
given the facilities on offer, life can be pretty much what
you want it to be. If relaxation is your cruise goal then
you'll have no trouble escaping from the pressures of
everyday life. If you prefer your cruise to be a little more
active then you can get fit on the jogging track, in the
Sports Centre and the Body and Mind Spa. If you take a
more leisurely approach to fitness then you may find a
Turkish bath, sauna or a programme of massage will get
you feeling toned up and feeling on top of the world. And,
for those that really prefer a low impact attitude to life,
then the simple pleasure of watching the world literally go
by from the Jacuzzi takes some beating!
Like all MSC ships MSC Orchestra is well equipped to take
you on an exciting culinary journey. Why not begin that
journey at the Shanghai Chinese restaurant or try the Four
Seasons for an authentic a la carte experience? And, rest
assured, you'll find that every meal in the L'Ibiscus and
Villa Borghese restaurants are occasions in themselves. If
you're in the mood for something lighter try La Piazzetta
and discover the best pizza outside Naples!
You'll find the décor aboard MSC Orchestra is simply
thrilling. You can soak up the ambience in the leopard-style
Savannah Bar, try your luck at the Palm Beach Casino or
catch a spectacular show at the equally spectacular Covent
Garden Theatre.
VENICE VOYAGE TO THE ADRIATIC,
GREECE & ALBANIA - ALL INCLUSIVE DRINKS
MSC Orchestra • 7 Nights • May-October 2020 • Prices from £949pp
Free Upgrade To Balcony Stateroom!
A PORT OF CALL EVERY DAY!
Cruise Itinerary: Venice - Bari (Italy) - Katakolon (Ancient
Olympia) - Mykonos - Pireaus (Athens) - Sarande (Albania)
- Dubrovnik - Venice.
Add on 2 nights 4* BB hotel stay
in a 14th century Venetian Palazzo
on the Grand Canal from only
£99pp with water taxi transfers
Set sail from Venice on this wonderful MSC voyage to
sail the Adriatic and island hop around the Greek Isles
with an all-inclusive drinks package on board. Enjoy the
views of St Marks Square as the ship slips through the
Grand Canal escorted by a flotilla of smaller craft. MSC
Orchestra offers a destination packed seven-night cruise
including a port of call every day offering something for
everyone - from the unspoilt natural charm of Albania
to the cosmopolitan vibe and fine beaches of Mykonos.
Compare the birthplace of the Olympics to the birthplace
of the gods and explore the cobbled streets of Dubrovnik.
2020
Fantastica
Interior
Fantastica
Oceanview
Fantastica
Balcony
2 Night
Add On
23 May £1449 £1449 £1449 £99
30 May £1149 £1149 £1149 £279
20 Jun £1229 £1229 £1229 £259
27 Jun £1269 £1269 £1269 £299
11 Jul £1259 £1259 £1259 £219
18 Jul £1399 £1399 £1399 £169
25 Jul £1499 £1499 £1499 £139
1 Aug £1459 £1459 £1459 £199
8 Aug £1549 £1549 £1549 £159
29 Aug £1369 £1369 £1369 £249
5 Sep £1289 £1289 £1289 £199
19 Sep £1219 £1219 £1219 £279
26 Sep £1169 £1169 £1169 £289
3 Oct £1079 £1079 £1079 £279
17 Oct £1059 £1059 £1059 £289
24 Oct £1089 £1089 £1089 £269
31 Oct £949 £949 £949 £219
Departs weekly throughout the summer - call for further prices.
*Book by 24th November 2019.