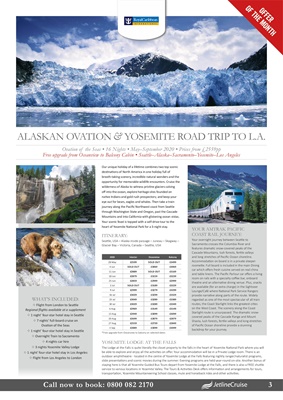 Call now to book: 0800 082 2170 3
ALASKAN OVATION & YOSEMITE ROAD TRIP TO L.A.
Ovation of the Seas • 16 Nights • May-September 2020 • Prices from £2559pp
Free upgrade from Oceanview to Balcony Cabin • Seattle-Alaska-Sacramento-Yosemite-Los Angeles
WHAT'S INCLUDED:
✥ Flight from London to Seattle
Regional flights available at a supplement
✥ 1 night' four-star hotel stay in Seattle
✥ 7 nights' full-board cruise on
Ovation of the Seas
✥ 1 night' four-star hotel stay in Seattle
✥ Overnight Train to Sacramento
✥ 4 nights car hire
✥ 3 nights Yosemite Valley Lodge
✥ 1 night' four-star hotel stay in Los Angeles
✥ Flight from Los Angeles to London
Our unique holiday of a lifetime combines two top scenic
destinations of North America in one holiday full of
breath-taking scenery, incredible natural wonders and the
opportunity for memorable wildlife encounters. Cruise the
wilderness of Alaska to witness pristine glaciers calving
off into the ocean, explore heritage sites founded on
native Indians and gold rush prospectors; and keep your
eye out for bears, eagles and whales. Then take a train
journey along the Pacific Northwest coast from Seattle
through Washington State and Oregon, past the Cascade
Mountains and into California with glistening ocean vistas.
Your scenic feast is topped with a self-drive tour to the
heart of Yosemite National Park for a 3-night stay.
YOUR AMTRAK PACIFIC
COAST RAIL JOURNEY:
Your overnight journey between Seattle to
Sacramento crosses the Columbia River and
features dramatic snow-covered peaks of the
Cascade Mountains, lush forests, fertile valleys
and long stretches of Pacific Ocean shoreline.
Accommodation on board is in a private sleeper
roomette. Full board is included in the main Dining
car which offers fresh cuisine served on real china
and table linens. The Pacific Parlour car offers a living
room on rails with a specialty coffee bar, onboard
theatre and an alternative dining venue. Plus, snacks
are available (for an extra charge) in the Sightseer
Lounge/Café where National Park Service Rangers
provide narrative along parts of the route. Widely
regarded as one of the most spectacular of all train
routes, the Coast Starlight links the greatest cities
on the West Coast. The scenery along the Coast
Starlight route is unsurpassed. The dramatic snowcovered
peaks of the Cascade Range and Mount
Shasta, lush forests, fertile valleys and long stretches
of Pacific Ocean shoreline provide a stunning
backdrop for your journey.
2020 Interior Oceanview Balcony
28 May £2599 SOLD OUT £3499
4 Jun SOLD OUT £3069 £3069
11 Jun £2889 SOLD OUT £3169
18 Jun £2879 £3159 £3239
25 Jun £2859 £2999 £2999
2 Jul SOLD OUT £3189 £3229
9 Jul £2999 £3279 £3299
16 Jul £3029 £3299 £3329
23 Jul £3049 £3289 £3389
30 Jul £3029 £3289 £3349
6 Aug £2969 £3149 £3149
13 Aug £2949 £3099 £3099
20 Aug £2699 £2879 £2879
27 Aug £2559 £2739 £2849
3 Sep £2889 £3099 £3099
*Free upgrade from Oceanview to balcony on selected dates
OFFER
OF THE MONTH
YOSEMITE LODGE AT THE FALLS
The Lodge at the Falls is quite literally the closet property to the falls in the heart of Yosemite National Park where you will
be able to explore and enjoy all the activities on offer. Your accommodation will be in a Private Lodge room. There is an
outdoor amphitheatre - located in the centre of Yosemite Lodge at the Falls featuring nightly ranger/naturalist programs,
slide presentations and scenic movies during the summer. Evening programs are held year-round on-site. Another bonus of
staying here is that all Yosemite Guided Bus Tours depart from Yosemite Lodge at the Falls, and there is also a FREE shuttle
service to various locations in Yosemite Valley. The Tours & Activities Desk offers information and arrangements for tours,
transportation, Yosemite Mountaineering School classes, mule and horseback rides and other activities.
ITINERARY:
Seattle, USA - Alaska inside passage - Juneau - Skagway -
Glacier Bay - Victoria, Canada - Seattle, USA