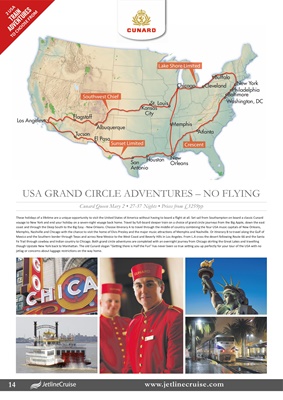 14These holidays of a lifetime are a unique opportunity to visit the United States of America without having to board a flight at all. Set sail from Southampton on board a classic Cunard
voyage to New York and end your holiday on a seven-night voyage back home. Travel by full-board sleeper train on a choice of grand circle journeys from the Big Apple, down the east
coast and through the Deep South to the Big Easy - New Orleans. Choose itinerary A to travel through the middle of country combining the four USA music capitals of New Orleans,
Memphis, Nashville and Chicago with the chance to visit the home of Elvis Presley and the major music attractions of Memphis and Nashville. Or itinerary B to travel along the Gulf of
Mexico and the Southern border through Texas and across New Mexico to the West Coast and Beverly Hills in Los Angeles. From L.A cross the desert following Route 66 and the Santa
Fe Trail through cowboy and Indian country to Chicago. Both grand circle adventures are completed with an overnight journey from Chicago skirting the Great Lakes and travelling
though Upstate New York back to Manhattan. The old Cunard slogan "Getting there is Half the Fun" has never been so true setting you up perfectly for your tour of the USA with no
jetlag or concerns about luggage restrictions on the way home.
Cleveland
Atlanta
New
Orleans
Houston
San
Antonio
El Paso
Tucson
Flagstaff Albuquerque
Los Angeles
St. Louis
Kansas
City
Chicago
Buffalo Philadelphia
New York
Washington, DC
Baltimore
Memphis
oSunset Limited
Southwest Chief
Lake Shore Limited
Crescent
USA GRAND CIRCLE ADVENTURES - NO FLYING
Cunard Queen Mary 2 • 27-37 Nights • Prices from £3259pp
2 USA
TRAIN
ADVENTURES
TO CHOOSE FROM