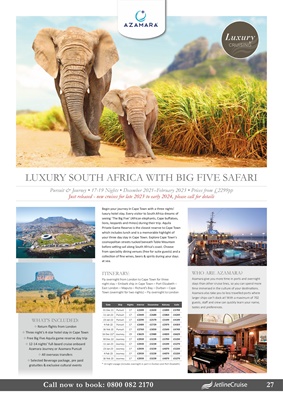 Call now to book: 0800 082 2170 27
LUXURY SOUTH AFRICA WITH BIG FIVE SAFARI
Pursuit & Journey • 17-19 Nights • December 2021-February 2023 • Prices from £2299pp
Just released - new cruises for late 2023 to early 2024, please call for details
WHAT'S INCLUDED:
✥ Return flights from London
✥ Three night's 4-star hotel stay in Cape Town
✥ Free Big Five Aquila game reserve day trip
✥ 12-14 nights' full-board cruise onboard
Azamara Journey or Azamara Pursuit
✥ All overseas transfers
✥ Selected Beverage package, pre paid
gratuities & exclusive cultural events
Luxury
CRUISING
WHO ARE AZAMARA?
Azamara give you more time in ports and overnight
stays than other cruise lines, so you can spend more
time immersed in the culture of your destinations.
Azamara also take you to less travelled ports where
larger ships can't dock at! With a maximum of 702
guests, staff and crew can quickly learn your name,
tastes and preferences.
Begin your journey in Cape Town with a three nights'
luxury hotel stay. Every visitor to South Africa dreams of
seeing 'The Big Five' (African elephants, Cape buffaloes,
lions, leopards and rhinos) during their trip. Aquila
Private Game Reserve is the closest reserve to Cape Town
which includes lunch and is a memorable highlight of
your three day stay in Cape Town. Explore Cape Town's
cosmopolitan streets tucked beneath Table Mountain
before setting sail along South Africa's coast. Choose
from speciality dining venues (free for suite guests) and a
collection of fine wines, beers & spirits during your days
at sea.
ITINERARY:
Fly overnight from London to Cape Town for three
night stay - Embark ship in Cape Town - Port Elizabeth -
East London - Maputo - Richard's Bay - Durban - Cape
Town (overnight for two nights) - Fly overnight to London
Date Ship Nights Interior Oceanview Balcony Suite
31 Dec 21 Pursuit 17 £2399 £2659 £3099 £3799
11 Jan 22 Pursuit 17 £2449 £2689 £3069 £4249
23 Jan 22 Pursuit 17 £2299 £2579 £3199 £4199
4 Feb 22 Pursuit 17 £2489 £2729 £2979 £4359
16 Feb 22 Pursuit 17 £2769 £3059 £3549 £4749
16 Dec 22* Journey 19 £3629 £3989 £4839 £6629
30 Dec 22 Journey 17 £2939 £3239 £3799 £5239
11 Jan 23 Journey 17 £2939 £3239 £4199 £5279
23 Jan 23 Journey 17 £2939 £3239 £4079 £5239
4 Feb 23 Journey 17 £2939 £3239 £4079 £5239
16 Feb 23 Journey 17 £2939 £3239 £4079 £5279
* 14 night voyage (includes overnight in port in Durban and Port Elizabeth)