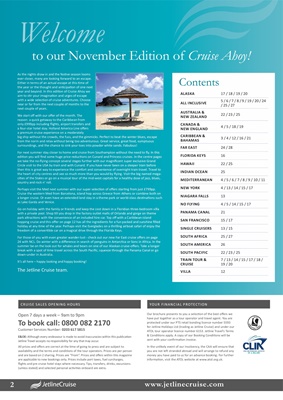 2 Open 7 days a week - 9am to 9pm
To book call: 0800 082 2170
Customer Services Number: 0203 617 5815
E&OE: Although every endeavour is made to avoid inaccuracies within this publication
Jetline Travel accepts no responsibility for any that may occur.
All prices and offers are correct at the time of going to press and are subject to
availability and the terms and conditions of the tour operators. Prices are per person
and are based on 2 sharing. Prices are "From". Prices and offers within this magazine
are applicable to new bookings only. Prices include port taxes, fuel surcharges,
flights and pre cruise hotel stays where necessary. Tips, transfers, drinks, excursions
(unless stated) and selected personal activities onboard are extra.
CRUISE SALES OPENING HOURS
Our brochure presents to you a selection of the best offers we
have put together as a tour operator and travel agent. You are
protected under our PTS retail bonding licence number 5593
for Jetline Holidays Ltd (trading as Jetline Cruise) and under our
ATOL tour operator licence number 6153. Jetline Travel's Terms
& Conditions apply. A copy of our Booking Conditions will be
sent with your confirmation invoice.
In the unlikely event of our insolvency, the CAA will ensure that
you are not left stranded abroad and will arrange to refund any
money you have paid to us for an advance booking. For further
information, visit the ATOL website at www.atol.org.uk.
YOUR FINANCIAL PROTECTION
As the nights draw in and the festive season looms
ever closer, many are looking forward to an escape.
Either in terms of an actual escape at this time of
the year or the thought and anticipation of one next
year and beyond. In this edition of Cruise Ahoy we
aim to stir your imagination and urges of escape
with a wide selection of cruise adventures. Choose
near or far from the next couple of months to the
next couple of years.
We start off with our offer of the month. The
reason: a quick getaway to the Caribbean from
only £999pp including flights, airport transfers and
a four-star hotel stay. Holland America Line offers
a premium cruise experience on a moderately
big ship without the crowds, the fuss, and the gimmicks. Perfect to beat the winter blues, escape
from the norm and relax without being too adventurous. Great service, great food, sumptuous
surroundings, and the chance to sink your toes into powder white sands. Fabulous!
For next summer stay closer to home and cruise from Southampton without the need to fly. In this
edition you will find some huge price reductions on Cunard and Princess cruises. In the centre pages
we take the no-flying concept several stages further with our magnificent super exclusive Grand
Circle visit to the USA by train and with Cunard. If you have never been on a sleeper train before
then this is great way to experience the comfort and convenience of overnight train travel. Travel to
the heart of city centres and see so much more than you would by flying. Visit the big named megacities of the States
or go on a musical tour of the mid-west capitals for a healthy dose of jazz, blues,
country and rock n' roll.
Perhaps visit the Med next summer with our super selection of offers starting from just £799pp.
Cruise the western Med from Barcelona, island hop across Greece from Athens or combine both on
a longer cruise. Or even have an extended land stay in a theme park or world-class destinations such
as Lake Garda and Venice.
Go on holiday with the family or friends and keep the cost down in a Floridian three-bedroom villa
with a private pool. Shop till you drop in the factory outlet malls of Orlando and gorge on theme
park attractions with the convenience of an included hire car. Top off with a Caribbean-island
hopping cruise and this offer on page 12 has all the ingredients for a fun packed and sunshine filled
holiday at any time of the year. Perhaps visit the Everglades on a thrilling airboat safari of enjoy the
freedom of a convertible car on a magical drive through the Florida Keys.
For those of you with even greater wander-lust - check out our new Far East cruise offers on page
24 with NCL. Do winter with a difference in search of penguins in Antarctica or lions in Africa. In the
summer be on the look out for whales and bears on one of our Alaskan cruise-offers. Take a longer
break with a spot of time travel across the South Pacific, squeeze through the Panama Canal or go
down-under in Australia.
It's all here - happy looking and happy booking!
The Jetline Cruise team.
to our November Edition of Cruise Ahoy!
Welcome
ALASKA 17 / 18 / 19 / 20
ALL INCLUSIVE
5 / 6 / 7 / 8 / 9 / 19 / 20 / 24
/ 25 / 27
AUSTRALIA &
NEW ZEALAND
22 / 23 / 25
CANADA &
NEW ENGLAND
4 / 5 / 18 / 19
CARIBBEAN &
BAHAMAS
3 / 4 / 12 / 16 / 21
FAR EAST 24 / 28
FLORIDA KEYS 16
HAWAII 22 / 25
INDIAN OCEAN 25
MEDITERRANEAN 4 / 5 / 6 / 7 / 8 / 9 / 10 / 11
NEW YORK 4 / 13 / 14 / 15 / 17
NIAGARA FALLS 13
NO FLYING 4 / 5 / 14 / 15 / 17
PANAMA CANAL 21
SAN FRANCISCO 15 / 17
SINGLE CRUISERS 13 / 15
SOUTH AFRICA 25 / 27
SOUTH AMERICA 26
SOUTH PACIFIC 22 / 23 / 25
TRAIN TOUR &
CRUISE
7 / 13 / 14 / 15 / 17 / 18 /
19 / 20
VILLA 12
Contents