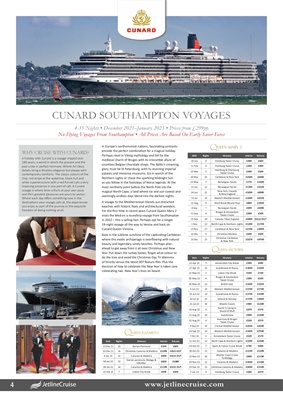 4
In Europe's northernmost nations, fascinating contrasts
provide the perfect combination for a magical holiday.
Perhaps revel in Viking mythology and fall for the
medieval charm of Bruges with its irresistible allure of
countless Belgian chocolate shops. The Baltic's crowning
glory must be St Petersburg, with its stunning imperial
palaces and immense museums. Go in search of the
Northern Lights or chase the sparkling Midnight Sun
as you follow in the footsteps of Norse legends. At the
most northerly point before the North Pole sits the
magical North Cape; a land where ice and sun coexist and
seemingly endless days blend into the darkest nights.
A voyage to the Mediterranean blends sun-drenched
beaches with historic feats and architectural wonders.
For the first time in recent years Cunard Queen Mary 2
visits the Med on a roundtrip voyage from Southampton
in 2022 - this is selling fast. Perhaps opt for a longer
19-night voyage all the way to Venice and back on
Cunard Queen Victoria.
Bask in the sublime sunshine of the captivating Caribbean
where this exotic archipelago is overflowing with natural
beauty and legendary sandy beaches. Perhaps planahead
to get away from it all over Christmas and New
Year. Put down the turkey baster, forget what colour to
do the tree and avoid the Christmas Day TV dilemma
of Strictly versus the latest 007 feature film. Plus the
decision of how to celebrate the New Year is taken care
celebrating two New Year's Eves on-board.
CUNARD SOUTHAMPTON VOYAGES
4-35 Nights • December 2021-January 2023 • Prices from £299pp
No Flying Voyages From Southampton • All Prices Are Based On Early Saver Fares
WHY CRUISE WITH CUNARD?
A holiday with Cunard is a voyage shaped over
180 years; a world in which the present and the
past unite in perfect harmony. Where Art Deco
details bring a timeless elegance but always with
contemporary comforts. The classic colours of the
ship: red stripe at the waterline, black hull and
white superstructure with a red funnel cuts a very
imposing presence in any port of call. A Cunard
voyage is where time unfurls at your own pace
and life's greatest pleasures are yours to savour.
Where each day offers something new in the
destinations your voyage calls at, the experiences
you enjoy as part of the journey or the exquisite
freedom of doing nothing at all.
2022 Nights Itinerary Interior Balcony
10 Jan 4 Hamburg Taster Cruise £399 £429
11 Feb 4 Hamburg Taster Cruise £299 £399
15 Mar 5
Hamburg & Cherbourg
Taster Cruise
£449 £549
20 Mar 35 Caribbean & New York £2549 £3469
22 May 7 Norwegian Fjords £779 £1099
12 Jun 12 Norwegian Fjords £1599 £2199
24 Jun 21
New York, Canada
& New England
£3299 £4999
15 Jul 14 Western Mediterranean £1649 £2549
12 Aug 9 Short Break (Round Trip) £899 £1049
4 Sep 7 Norwegian Fjords £699 £1099
11 Sep 4
Bruges & Amsterdam
Taster Cruise
£499 £549
15 Sep 29 Canada / New England £4099 SOLD OUT
1 Nov 12 North Cape & Northern Lights £1299 £1799
13 Nov 27 Caribbean & New York £2749 £3999
10 Dec 5 Christmas Markets £599 £649
15 Dec 27
Christmas Caribbean
& New York
£3279 £4799
Date Nights Itinerary Interior Balcony
22 Apr 22 5 Amsterdam City Break £399 £499
27 Apr 22 16 Scandinavia & Russia £1849 £2199
13 May 22 7 Lisbon City Break £549 £749
20 May 22 4
Bruges & Amsterdam
Taster Cruise
£399 £599
24 May 22 12 British Isles £1449 £2159
5 Jun 22 14 Western Mediterranean £1749 £2749
19 Jun 22 14 Scandinavia & Russia £1749 £3399
10 Jul 22 14 Iceland & Norway £1799 £3549
31 Jul 22 10 Atlantic Coasts £949 £1289
10 Aug 22 4
Scenic Cruising to
Sound of Mull
£479 £579
21 Aug 22 10 Scandinavia £999 £1499
31 Aug 22 4
Guernsey & Bruges
Taster Cruise
£529 £579
4 Sep 22 19 Central Mediterranean £2249 £4349
23 Sep 22 14 Western Mediterranean £1499 £2549
7 Oct 22 4 Amsterdam Taster Cruise £529 £579
11 Oct 22 12 North Cape & Northern Lights £1399 £2399
23 Oct 22 7 Spain & France Cruise Break £749 £889
30 Oct 22 12 Canaries & Madeira £1149 £1399
15 Nov 22 10
Atlantic Coast Cruise
To Malaga
£949 £1199
29 Nov 22 12 Canaries & Madeira £1049 £1299
23 Dec 22 15 Christmas Canaries & Madeira £2499 £3199
7 Jan 23 4 Hamburg Taster Cruise £349 £479
Date Nights Itinerary Interior Balcony
13 Dec 21 10 Iberian Peninsula £599 £829
23 Dec 21 14 Christmas Canaries & Madeira £2399 SOLD OUT
6 Jan 22 12 Canaries & Madeira £899 SOLD OUT
18 Jan 22 12
Iberian peninsula, Malaga &
Gibraltar
£849 £1089
30 Jan 22 14 Canaries & Madeira £1199 SOLD OUT
13 Feb 22 7 Lisbon City break £599 £649