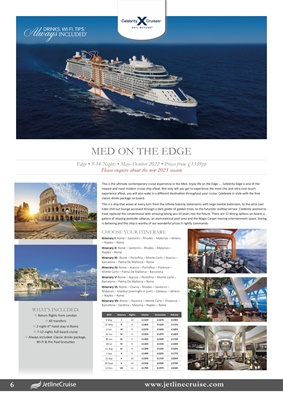 6
This is the ultimate contemporary cruise experience in the Med. Enjoy life on the Edge .... Celebrity Edge is one of the
newest and most modern cruise ship afloat. Not only will you get to experience the most chic and ultra cool resort
experience afloat, you will also wake in a different destination throughout your cruise. Celebrate in style with the free
classic drinks package on board.
This is a ship that wows at every turn from the infinite balcony staterooms with large marble bathroom, to the ultra cool
Eden chill out lounge accessed through a dark grotto of golden trees, to the futuristic rooftop terrace. Celebrity seemed to
have replaced the conventional with amazing taking you 10 years into the future. There are 12 dining options on board, a
gallery of relaxing poolside cabanas, an asymmetrical pool area and the Magic Carpet moving entertainment space. Seeing
is believing and this ship is worthy of our wonderful prices it rightly commands.
MED ON THE EDGE
Edge • 9-14 Nights • May-October 2022 • Prices from £1339pp
Please enquire about the new 2023 season
WHAT'S INCLUDED:
✥ Return flights from London
✥ All transfers
✥ 2 night 4* hotel stay in Rome
✥ 7-12 nights full-board cruise
✥ Always Included: Classic drinks package,
Wi-Fi & Pre Paid Gratuities
2022 Itinerary Nights Interior Oceanview Balcony
4 May I 10 £1529 £1679 £1959
12 May II 9 £1469 £1529 £1729
2 Jun III 9 £1579 £1649 £1859
16 Jun IV 9 £1359 £1479 £1669
30 Jun IV 9 £1369 £1549 £1739
28 Jul IV 9 £1339 £1559 £1699
11 Aug IV 9 £1399 £1529 £1649
1 Sep II 9 £1499 £1629 £1779
22 Sep V 10 £1599 £1729 £2039
30 Sept V 14 £2149 £2299 £2799
12 Oct VII 12 £1799 £1979 £2289
CHOOSE YOUR ITINERARY:
Itinerary I: Rome - Santorini - Rhodes - Mykonos - Athens
- Naples - Rome
Itinerary II: Rome - Santorini - Rhodes - Mykonos -
Naples - Rome
Itinerary III: Rome - Portofino - Monte Carlo - Ajaccio -
Barcelona - Palma De Mallorca - Rome
Itinerary IV: Rome - Ajaccio - Portofino - Florence -
Monte Carlo - Palma De Mallorca - Barcelona
Itinerary V: Rome - Ajaccio - Portofino - Monte Carlo -
Barcelona - Palma De Mallorca - Rome
Itinerary VI: Rome - Chania - Rhodes - Santorini -
Mykonos - Istanbul (overnight in port) - Ephesus - Athens
- Naples - Rome
Itinerary VII: Rome - Florence - Monte Carlo - Provence -
Barcelona - Sardinia - Messina - Naples - Rome