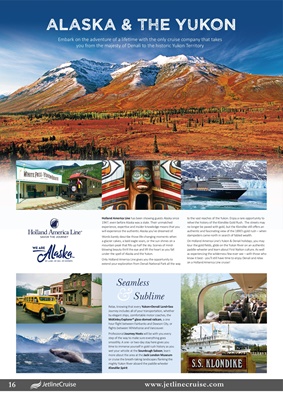 16
Relax, knowing that every Yukon+Denali Land+Sea
Journey includes all of your transportation, whether
by elegant ships, comfortable motor coaches, the
McKinley Explorer® glass-domed railcars, a one
hour flight between Fairbanks and Dawson City, or
flights between Whitehorse and Vancouver.
Professional Journey Hosts will be with you every
step of the way to make sure everything goes
smoothly. A one- or two-day stay here gives you
time to immerse yourself in gold rush history as you
wet your whistle at the Sourdough Saloon, learn
more about the area at the Jack London Museum
or cruise the breath-taking landscapes flanking the
mighty Yukon River aboard the paddle-wheeler
Klondike Spirit.
Seamless
&Sublime
Holland America Line has been showing guests Alaska since
1947, even before Alaska was a state. Their unmatched
experience, expertise and insider knowledge means that you
will experience the authentic Alaska you've dreamed of.
Words barely describe those life-changing moments when
a glacier calves, a bald eagle soars, or the sun shines on a
mountain peak that fills up half the sky. Scenes of mindblowing
beauty thrill the eye and lift the heart as you fall
under the spell of Alaska and the Yukon.
Only Holland America Line gives you the opportunity to
extend your exploration from Denali National Park all the way
to the vast reaches of the Yukon. Enjoy a rare opportunity to
relive the history of the Klondike Gold Rush. The streets may
no longer be paved with gold, but the Klondike still offers an
authentic and fascinating view of the 1890's gold rush - when
stampeders came north in search of fabled wealth.
On Holland America Line's Yukon & Denali holidays, you may
tour the gold fields, glide on the Yukon River on an authentic
paddle-wheeler and learn about First Nation culture. As well
as experiencing the wilderness few ever see - with those who
know it best - you'll still have time to enjoy Denali and relax
on a Holland America Line cruise!
ALASKA & THE YUKON
Embark on the adventure of a lifetime with the only cruise company that takes
you from the majesty of Denali to the historic Yukon Territory