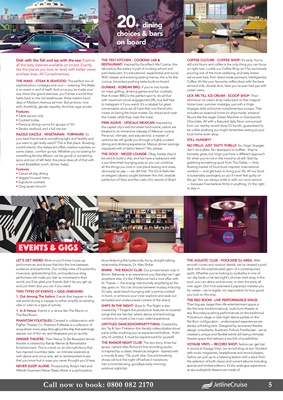 Call now to book: 0800 082 2170 5
Dish with the fish and sip with the sea: Explore
all the tasty eateries available on board. Exactly
like the places you love on land, with better views
and less lines. All Complimentary
THE WAKE - STEAK & SEAFOOD: The perfect mix of
sophistication, nostalgia and cool - entering The Wake
is an event in and of itself. And once you've made your
way down the grand staircase, you'll enter a world that
harks back to the old steakhouse, three-martini-lunch
days of Madison Avenue ad men. But ya know, now
with, thankfully, gender equality. And less cigar smoke.
Features
• Table service only
• Cocktail trolley
• Personal dining rooms for groups of 10+
• Steaks, seafood, and a full raw bar
RAZZLE DAZZLE - VEGETARIAN - FORWARD: So
your best friend wants something light and healthy and
you want to get really weird? This is that place. Boasting
a bold interior, this restaurant offers creative surprises on
some classic, comfort go-tos. Whether you're looking for
something familiar (#basic can be good) or something
spicy and out of left field, this place does all of that with
a twist (breakfast, lunch, dinner, baby).
Features
• Casual all-day dining
• Veggie-focused menu
• Signature cocktails
• Drag queen brunch
THE TEST KITCHEN - COOKING LAB &
RESTAURANT: Inspired by Escoffier's Ma Cuisine, this
laboratory-like eatery is part of cooking school and
part restaurant. It's educational, experiential and social.
With classes and evolving tasting menus, this is for the
curious, boundary-pushing taste-buds on board.
GUNBAE - KOREAN BBQ: If you're into handson meat-grilling, drinking games and fun cocktails,
their Korean BBQ is the perfect spot to do all that
with maximum social engagement (IRL, but feel free
to Instagram it if you want). It's a catalyst for great
conversation since we all have that one friend who
insists on being the meat-master. Go ahead and roast
the master while they roast the meat.
PINK AGAVE - UPSCALE MEXICAN: Inspired by
the capital city's red-hot street food scene, sailors are
treated to an immersive odyssey of Mexican cuisine.
Personal, intimate, and educational, a master of
ceremonies will guide you through a highly curated
dining and drinking experience. Mezcal dinner pairings
equipped with a history lesson? Yes, please.
THE DOCK - MEZZE LOUNGE: Okay, frankly they'd
be wild to build a ship and not have a restaurant with
a sun-drenched lounging area so you can combine
all the things you love in one place (eating and views,
obviously) so yep - we did that. The Dock feels like
an elegant cabana caught between the chill, seaside
perfection of Ibiza and the rustic-chic resorts of Brazil.
COFFEE CULTURE - COFFEE SHOP: It's early. You're
still a bit blurry and coffee is the only thing you can focus
on right now. Luckily our Coffee Shop isn't far, exclusively
pouring one of the most satisfying, and tasty brews
we've ever had, from direct-trade pioneers, Intelligentsia
Coffee. It's like your favourite coffee shop with the best
almond milk, double shot, latte you've ever had just with
ocean views.
LICK ME TILL ICE CREAM - SCOOP SHOP: Their
whimsical ice cream shop harks back to that magical
home town, summer nostalgia, just with a Virgin
Voyages twist and some complimentary scoops. That
includes six seasonal home (or ship) made, artisanal
flavors like the vegan Green Machine or Gianduiotto
Chocolate. All with a featured daily flavor announced
from our nearby record shop DJ booth, guaranteed to
be unlike anything you might remember seeing at your
local home-town shop.
STILL HUNGRY?
NO FRILLS, JUST TASTY THRILLS: So, Virgin Voyages
don't do buffets. No disrespect to buffets - they're
honestly great, but Virgin just have a different approach
for when you're not in the mood to sit still. Start by
grabbing something quick from The Galley - their
floating market of food-truck inspired, international
vendors - and get back to living your life. All our food
is sustainably packaged, so you'll never feel guilty on
the go. You can always order in with our room service
- because if we believe firmly in anything, it's the right
to stay in.
Eateries
LET'S GET WEIRD: Blink-or-you'll-miss-it pop-up
performances and shows that blur the line between
audience and performer. Our motley-crew of buzzworthy
musicians, globetrotting DJs, and audacious drag
performers will make you feel so immersed in their
world, you'll be glad your friends didn't let you get up
and join them (but you can if you want).
TWO TYPES OF EVENTS + GIGS ONBOARD:
1. Out Among The Sailors: Events that happen in the
real world during a voyage, to either amplify an existing
vibe or cater to a type of activity
1. In A Venue: Events in a venue like The Manor or
The Red Room
PHANTOM FOLKTALES: Created in collaboration with
PigPen Theater Co. Phantom Folktales is a collection of
song-driven micro plays throughout the ship that seemingly
appear out of thin air, and disappear just as quickly.
DINNER THEATRE: Their Name To Be Revealed dinner
theatre is created by Randy Weiner & Remarkable
Entertainment. This is a twist on an old myth/story that
has inspired countless tales - an intimate experience
with dance and circus acts, set to reinterpreted music
that you know but in ways you never thought you'd hear.
NEVER SLEEP ALONE: Produced by Roslyn Hart and
Alfredo Guenzani Never Sleep Alone is a participatory
show featuring the hysterically funny, straight-talking
relationship therapist, Dr. Alex Shiller.
BIMINI - THE BEACH CLUB: Our private beach club in
Bimini, Bahamas is an experience you (literally) can't get
anywhere else. It's like if Mykonos had a love affair with
St. Tropez - the energy intentionally amplifying as the
day goes on. You can choose between ecstacy-inducing
DJ sets, quiet beach-lounging with a perma-cocktail
in hand, or embrace your inner explorer and seek out
secluded and undiscovered corners of the island.
SHIPS IN THE NIGHT: Ships In The Night is also
created by 7 Fingers this production features re-covered
songs that are familiar, where dance and technology
combine to create a live music video experience.
UNTITLED DANCESHOWPARTYTHING: Created by
Ani Taj & Sam Pinkleton this literally indescribable show/
party unlike anything you've experienced before - that's
why it's untitled. It must be experienced for yourself.
THE MANOR NIGHT CLUB: The two story, three bar
space, named after Richard's first recording studio,
is inspired by a classic theatrical zeitgeist - layered with
a moody & sexy '70s, punk vibe. Ground-breaking
shows will kick the night off before it transitions
into a mind-blowing, goodbye-early-morningworkout
nightclub.
THE AQUATIC CLUB - POOLSIDE DJ AREA: With
smooth curves and nautical details, we've created a pool
deck with the sophisticated glam of a contemporary
yacht. Whether you're looking to sunbathe in one of
our day beds or let last night's choices melt away in the
pool, you can detox and recover, or start the party all
over again. Don't be surprised if paparazzi mistake you
for celebs - we're legally not responsible for how good
you look on this ship.
THE RED ROOM - LIVE PERFORMANCE SPACE:
Their big-ass, larger-than-life entertainment space is
the first ever transformational, multi-form theatre at
sea. Boundary-pushing performances on the traditional
Proscenium stage or late-night dance parties on the
flat-floor configuration - undiscovered experiences are
always unfolding here. Designed by renowned theatre
design consultants, Auerbach Pollock Friedlander - we've
created a unique and flexible (while still being intimate)
theatre space that delivers a sea (lol) of possibilities.
VOYAGE VINYL - RECORD SHOP: Sailors can get lost
in sound at Voyage Vinyl, our record shop at sea. Stocked
with music magazines, headphones and record players,
Sailors can pull up to a listening station with a stack from
the selection of both classic and current albums including
special and limited editions. It's the analogue experience
at sea audiophile dreams are made of.
Events & Gigs
20+ dining
choices & bars
on board