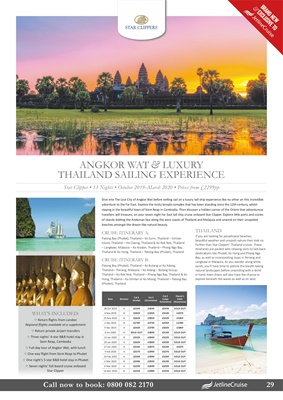 Call now to book: 0800 082 2170 29
ANGKOR WAT & LUXURY
THAILAND SAILING EXPERIENCE
Star Clipper • 13 Nights • October 2019-March 2020 • Prices from £2299pp
WHAT'S INCLUDED:
✥ Return flights from London
Regional flights available at a supplement
✥ Return private airport transfers
✥ Three nights' 4-star B&B hotel stay in
Siem Reap, Cambodia
✥ Full-day tour of Angkor Wat, with lunch
✥ One way flight from Siem Reap to Phuket
✥ One night's 5-star B&B hotel stay in Phuket
✥ Seven nights' full-board cruise onboard
Star Clipper
Dive into The Lost City of Angkor Wat before setting sail on a luxury tall-ship experience like no other on this incredible
adventure to the Far East. Explore the misty temple complex that has been standing since the 12th century, whilst
staying in the beautiful town of Siem Reap in Cambodia. Then discover a hidden corner of the Orient that adventurous
travellers will treasure, on your seven night Far East tall ship cruise onboard Star Clipper. Explore little ports and scores
of islands dotting the Andaman Sea along the west coasts of Thailand and Malaysia and unwind on their unspoiled
beaches amongst the dream-like natural beauty.
CRUISE ITINERARY A:
Patong Bay (Phuket), Thailand - Ko Surin, Thailand - Similan
Island, Thailand - Hin Daeng, Thailand & Ko Rok Nok, Thailand
- Langkawi, Malaysia - Ko Kradan, Thailand - Phang Nga Bay,
Thailand & Ko Hong, Thailand - Patong Bay (Phuket), Thailand
CRUISE ITINERARY B:
Patong Bay (Phuket), Thailand - Ko Butang or Ko Adang,
Thailand - Penang, Malaysia - Ko Adang - Butang Group,
Thailand - Ko Rok Nok, Thailand - Phang Nga Bay, Thailand & Ko
Hong, Thailand - Ko Similan or Ko Miang, Thailand - Patong Bay
(Phuket), Thailand
Date Itinerary
Cat 6
(Inside)
Cat 4
(Oceanview)
Cat 2
(Large
Oceanview)
Owner's
Cabin
(Oceanview)
28 Oct 2019 A £2349 £2699 £2939 SOLD OUT
4 Nov 2019 B £2829 £3269 £3549 £4579
25 Nov 2019 A £2629 £3059 £3329 £4359
2 Dec 2019 B £2769 £2739 £2959 £3789
9 Dec 2019 A £2439 £2799 £3029 £3859
6 Jan 2020 A SOLD OUT £2899 £3169 SOLD OUT
13 Jan 2020 B £2529 £2949 £3229 SOLD OUT
20 Jan 2020 A £2629 £3069 £3339 SOLD OUT
27 Jan 2020 B £2549 £2979 £3249 £4279
3 Feb 2020 A £2579 £2999 £3279 SOLD OUT
24 Feb 2020 A £2569 £2999 £3269 SOLD OUT
2 Mar 2020 B £2499 £2939 £3199 SOLD OUT
9 Mar 2020 A £2299 £2699 £2929 SOLD OUT
16 Mar 2020 B £2559 £2989 £3259 SOLD OUT
THAILAND
If you are looking for paradisiacal beaches,
beautiful weather and unspoilt nature then look no
further than Star Clippers' Thailand cruises. These
itineraries are packed with relaxing visits to laid-back
destinations like Phuket, Ko Hong and Phang Nga
Bay; as well as incorporating stops in Penang and
Langkawi in Malaysia. As you wander along white
sands, you'll have time to admire the breath-taking
natural landscapes before unwinding with a drink
in hand. Keen divers will also have the chance to
explore beneath the waves as well as on land. BRAND NEW
& EXCLUSIVE TO