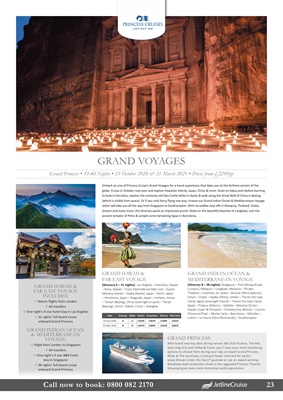 Call now to book: 0800 082 2170 23
GRAND HAWAII &
FAR EAST VOYAGE
(Itinerary A - 31 nights): Los Angeles - Honolulu, Hawaii
- Kona, Hawaii - Cross International Date Line - Guam,
Mariana Islands - Osaka (Kyoto), Japan - Kochi, Japan
- Hiroshima, Japan - Nagasaki, Japan - Incheon, Korea
- Tianjin (Beijing), China (overnight in port) - Tianjin
(Beijing), China - Dalian, China - Shanghai
GRAND INDIAN OCEAN &
MEDITERRANEAN VOYAGE
(Itinerary B - 38 nights): Singapore - Port Kelang (Kuala
Lumpur), Malaysia - Langkawi, Malaysia - Phuket,
Thailand - Colombo, Sri Lanka - Muscat (Mina Qaboos),
Oman - Dubai - Aqaba (Petra), Jordan - Transit the Suez
Canal, Egypt (overnight transit) - Transit the Suez Canal,
Egypt - Piraeus (Athens) - Valletta - Messina (Sicily) -
Naples (Capri & Pompeii) - Civitavecchia (Rome) - Livorno
(Florence/Pisa) - Monte Carlo - Barcelona - Gibraltar -
Lisbon - Le Havre (Paris/Normandy) - Southampton
GRAND VOYAGES
Grand Princess • 33-40 Nights • 23 October 2020 & 21 March 2021 • Prices from £2299pp
GRAND HAWAII &
FAR EAST VOYAGE
INCLUDES:
✥ Return flights from London
✥ All transfers
✥ One night's 4-star hotel stay in Los Angeles
✥ 31 nights' full-board cruise
onboard Grand Princess
GRAND INDIAN OCEAN
& MEDITERRANEAN
VOYAGE:
✥ Flight from London to Singapore
✥ All transfers
✥ One night's 4-star B&B hotel
stay in Singapore
✥ 38 nights' full-board cruise
onboard Grand Princess
Embark on one of Princess Cruise's Grand Voyages for a travel experience that takes you to the farthest corners of the
globe. Cruise in October next year and explore Hawaiian Islands, Japan, China & more. Feast on Kalua pork before learning
to Hula in Honolulu, explore the centuries old Nijo Castle whilst in Kyoto & walk along the Great Wall of China in Beijing
(which is visible from space). Or if you only fancy flying one way, choose our Grand Indian Ocean & Mediterranean Voyage
which will take you all the way from Singapore to Southampton. With incredible stop offs in Malaysia, Thailand, Dubai,
Greece and many more; this itinerary packs an impressive punch. Relax on the beautiful beaches of Langkawi, visit the
ancient temples of Petra & sample some tantalising tapas in Barcelona.
Date Itinerary Nights Interior Oceanview Balcony Mini-Suite
23 Oct 2020 A 33 £2299 £2839 £3489 £4259
21 Mar 2021 B 40 £3479 £4089 £5349 £6929
GRAND PRINCESS:
With brand new top deck dining venues like Slice Pizzeria, The Mix,
Salty Dog Grill and Coffee & Cones you'll have even more tantalising
options to choose from during your stay on board Grand Princess.
Relax at The Sanctuary, a tranquil haven reserved for adults,
enjoy Movies Under the Stars® poolside or see an award-winning
Broadway-style production show in the upgraded Princess Theatre;
showcasing an even more immersive audio experience.