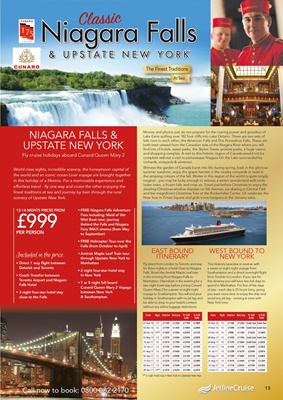 NIAGARA FALLS &
UPSTATE NEW YORK
Fly cruise holidays aboard Cunard Queen Mary 2
World class sights, incredible scenery, the honeymoon capital of
the world and an iconic ocean Liner voyage are brought together
in this holiday of a lifetime. For a memorable experience and
effortless travel - fly one way and cruise the other enjoying the
finest traditions at sea and journey by train through the rural
scenery of Upstate New York.
12-14 NIGHTS PRICES FROM
£999PER PERSON
Movies and photos just do not prepare for the roaring power and grandeur of
Lake Eerie spilling over 182 foot cliffs into Lake Ontario. There are two sets of
falls next to each other; the American Falls and The Horseshoe Falls. These are
both best viewed from the Canadian side of the Niagara River where you will
find lots of hotels, water parks, the Skylon Tower, pristine parks, a huge casino
and shopping complex. A visit to this historic region of Canada would not be
complete without a visit to picturesque Niagara On the Lake surrounded by
orchards, vineyards & wineries!
Witness the garden of Canada burst into life during spring, bask in the glorious
summer sunshine, enjoy the grape harvest in the nearby vineyards or revel in
the amazing colours of the fall. Winter in this region of the world is quite simply
magical - you may be lucky enough to witness a winter wonderland with icicle
laden trees, a frozen falls and crisp air. Travel just before Christmas to enjoy the
dazzling Christmas window displays on 5th Avenue, ice skating in Central Park
and the magnificent Christmas Tree at the Rockerfeller Centre. Or celebrate the
New Year in Times Square and grab some bargains in the January sales.
EAST BOUND
ITINERARY
Date Ngts Interior Balcony Pr Grill
Suite
Q Grill
Suite
07 Nov 16 12 £1149 £1269 £1799 £1899
03 Dec 16 12 £1199 £1369 £1999 £2099
28 Dec 16 13NYR £1249 £1399 £2059 £2129
10 May 17 12 £1379 £1699 £2599 £2929
10 Jun 17 12 £1519 £1799 £2459 £2849
01 Jul 17 12 £1739 £1999 £2799 £3199
07 Aug 17 12 £1399 £1669 £2329 £2759
02 Sep 17 12 £1779 £2099 £2749 £3199
15 Oct 17 12 £1279 £1519 £2179 £2499
03 Dec 17 12 £1349 £1599 £2179 £2449
28 Dec 17 13NYR £1379 £1629 £2199 £2479
NYR 3 night hotel stay in New York to Celebrate New Year.
Fly direct from London to Toronto and stay
for three nights in a hotel close to Niagara
Falls. Board the Amtrak Maple Leaf train
in the morning from Niagara Falls to
Manhattan. Disembark in the evening for a
two night hotel stay before joining Cunard
Queen Mary 2 for a seven or eight night
voyage to Southampton. You will end your
holiday in Southampton with no jet lag and
be able to shop to your heart's content
without any airline luggage restrictions.
WEST BOUND TO
NEW YORK
This itinerary operates in reverse with
a seven or eight night voyage from
Southampton and a direct overnight flight
from Toronto to London. If you opt for
this itinerary you will have two full days to
spend in Manhattan. For five of the days
at sea - each day is 25 hours long, giving
you even more time to enjoy the ship and
avoid any jet lag - arriving in tune with
New York time.
Niagara Falls
& UPSTATE NEW YORK
Classic
The Finest Traditions
At Sea
Included in the price:
• Direct 1 way flight between
Gatwick and Toronto
• Coach Transfer between
Toronto Airport and Niagara
Falls Hotel
• 3 night four-star hotel stay
close to the Falls
• FREE Niagara Falls Adventure
Pass including: Maid of the
Mist Boat tour; journey
Behind the Falls and Niagara
Fury IMAX cinema (from May
to September)
• FREE Helicopter Tour over the
Falls (from October to April)
• Amtrak Maple Leaf Train tour
through Upstate New York to
Manhattan
• 2 night four-star hotel stay
in New York
• 7 or 8 night full board
Cunard Queen Mary 2 Voyage
between New York
& Southampton.
13
Call now to book: 0800 082 2170
Date Ngts Interior Balcony Pr Grill
Suite
Q Grill
Suite
05 Nov 16 13 £1169 £1269 Sold Out Sold Out
19 Nov 16 13 £1099 £1199 Sold Out Sold Out
15 Dec 16 13 £999 £1169 £1829 £1949
08 May 17 13 £1459 £1769 Sold Out Sold Out
24 May 17 13 £1379 £1669 Sold Out £2929
07 Jun 17 14 £1459 £1779 £2499 £2929
21 Jul 17 13 £1399 £1679 £2599 £2879
04 Aug 17 14 £1599 £1889 £2729 £3069
31 Aug 17 13 £1619 £1949 £1199 £1239
14 Sep 17 14 £1719 £2059 £2799 £3236
13 Oct 17 13 £1299 £1559 £2199 £2549