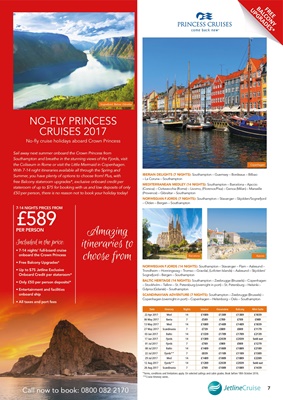 IBERIAN DELIGHTS (7 NIGHTS): Southampton - Guernsey - Bordeaux - Bilbao
- La Coruna - Southampton
MEDITERRANEAN MEDLEY (14 NIGHTS): Southampton - Barcelona - Ajaccio
(Corsica) - Civitavecchia (Rome) - Livorno, (Florence/Pisa) - Genoa (Milan) - Marseille
(Provence) - Gibraltar - Southampton
NORWEGIAN FJORDS (7 NIGHTS): Southampton - Stavanger - Skjolden/Sognefjord
- Olden - Bergen - Southampton
Date Itinerary Nights Interior Oceanview Balcony Mini-Suite
22 Apr 2017 Med 14 £1089 £1389 £1389 £1839
06 May 2017 Iberia 7 £589 £789 £789 £989
13 May 2017 Med 14 £1089 £1489 £1489 £1839
27 May 2017 Scandinavia 7 £739 £889 £889 £1179
03 Jun 2017 Baltic 14 £1339 £1789 £1789 £2139
17 Jun 2017 Fjords 14 £1389 £2039 £2039 Sold out
01 Jul 2017 Fjords 7 £789 £989 £989 £1279
08 Jul 2017 Baltic 14 £1489 £1889 £1889 £2189
22 Jul 2017 Fjords** 7 £839 £1189 £1189 £1389
29 Jul 2017 Med 14 £1489 £1889 £1889 £2289
12 Aug 2017 Fjords** 14 £1289 £2039 £2039 Sold out
26 Aug 2017 Scandinavia 7 £789 £1089 £1089 £1439
*Terms, conditions and limitations apply. On selected sailings and cabin grades. Book before 18th October 2016.
**Cruise itinerary varies.
NO-FLY PRINCESS
CRUISES 2017
No-fly cruise holidays aboard Crown Princess
Sail away next summer onboard the Crown Princess from
Southampton and breathe in the stunning views of the Fjords, visit
the Coliseum in Rome or visit the Little Mermaid in Copenhagen.
With 7-14 night itineraries available all through the Spring and
Summer, you have plenty of options to choose from! Plus, with
free Balcony stateroom upgrades*, exclusive onboard credit per
stateroom of up to $75 for booking with us and low deposits of only
£50 per person, there is no reason not to book your holiday today!
Included in the price:
• 7-14 nights' full-board cruise
onboard the Crown Princess
• Free Balcony Upgrades*
• Up to $75 Jetline Exclusive
Onboard Credit per stateroom*
• Only £50 per person deposits!*
• Entertainment and facilities
onboard ship
• All taxes and port fees
7-14 NIGHTS PRICES FROM
£589PER PERSON
Sognefjord. Below: Gibraltar
Copenhagen
Amazing
itineraries to
choose from NORWEGIAN FJORDS (14 NIGHTS): Southampton - Stavanger - Flam - Aalesund -
Trondheim - Honningsvag - Tromso - Gravdal, (Lofoten Islands) - Aalesund - Skjolden/
Sognefjord - Bergen - Southampton
BALTIC HERITAGE (14 NIGHTS): Southampton - Zeebrugge (Brussels) - Copenhagen
- Stockholm - Tallinn - St. Petersburg (overnight in port) - St. Petersburg - Helsinki -
Gdynia (Gdansk) - Southampton
SCANDINAVIAN ADVENTURE (7 NIGHTS): Southampton - Zeebrugge (Brussels) -
Copenhagen (overnight in port) - Copenhagen - Helsinborg - Oslo - Southampton
Barcelona Ajaccio 7
Call now to book: 0800 082 2170
FREE
BALCONY
UPGRADES*