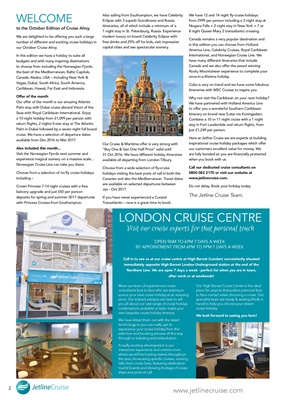 2 WELCOME
to the October Edition of Cruise Ahoy.
We are delighted to be offering you such a large
number of different and exciting cruise holidays in
our October Cruise Ahoy.
In this edition we have a holiday to suite all
budgets and with many inspiring destinations
to choose from including the Norwegian Fjords,
the best of the Mediterranean, Baltic Capitals,
Canada, Alaska, USA - including New York &
Vegas, Dubai, South Africa, South America,
Caribbean, Hawaii, Far East and Indonesia.
Offer of the month
Our offer of the month is our amazing Atlantis
Palm stay with Dubai cruise aboard Vision of the
Seas with Royal Caribbean International. Enjoy
a 10 night holiday from £1,099 per person with
return flights, 2 nights 5-star stay at The Atlantis
Palm in Dubai followed by a seven night full board
cruise. We have a selection of departure dates
available from Dec 2016 to Mar 2017.
Also included this month...
Visit the Norwegian Fjords next summer and
experience magical scenery on a massive scale...
Norwegian Cruise Line can take you there.
Choose from a selection of no-fly cruise holidays
including -
Crown Princess 7-14 night cruises with a free
balcony upgrade and just £50 per person
deposits for spring and summer 2017 departures
with Princess Cruises from Southampton.
Also sailing from Southampton, we have Celebrity
Eclipse with 3 superb Scandinavia and Russia
itineraries, all of which include a minimum of a
1 night stay in St. Petersburg, Russia. Experience
modern luxury on board Celebrity Eclipse with
free drinks and 25% off for kids, visit impressive
capital cities and see spectacular scenery.
Our Cruise & Maritime offer is very strong with
"Buy One & Get One Half Price" valid until
31 Oct 2016. We have different holiday itineraries
available all departing from London Tilbury.
Choose from a wide selection of fly-cruise
holidays visiting the best ports of call in both the
Canaries and also the Mediterranean. Travel dates
are available on selected departures between
Jan - Oct 2017.
If you have never experienced a Cunard
Transatlantic - now is a great time to book.
We have 12 and 14 night fly-cruise holidays
from £999 per person including a 3 night stay at
Niagara Falls + 2 night stay in New York + 7 or
8 night Queen Mary 2 transatlantic crossing.
Canada remains a very popular destination and
in this edition you can choose from Holland
America Line, Celebrity Cruises, Royal Caribbean
International, and Norwegian Cruise Line. We
have many different itineraries that include
Canada and we also offer the award winning
Rocky Mountaineer experience to complete your
once-in-a-lifetime holiday.
Cuba is very on trend and we have some fabulous
itineraries with MSC Cruises to inspire you.
Why not visit the Caribbean on your next holiday?
We have partnered with Holland America Line
to offer you a wonderful Southern Caribbean
itinerary on brand new 5-star ms Koningsdam.
Combine a 10 or 11 night cruise with a 1 night
stay in Fort Lauderdale and return flights, from
just £1,249 per person.
Here at Jetline Cruise we are experts at building
inspirational cruise holiday packages which offer
our customers excellent value for money. We
are fully bonded so you are financially protected
when you book with us.
Call our dedicated cruise consultants on
0800 082 2170 or visit our website at
Do not delay. Book your holiday today.
The Jetline Cruise Team.
Call in to see us at our cruise centre at High Barnet (London) conveniently situated
immediately opposite High Barnet London Underground station at the end of the
Northern Line. We are open 7 days a week - perfect for when you are in town,
after work or at weekends!
Meet our team of experienced cruise
consultants face to face who are waiting to
source your next cruise holiday at an amazing
price. Our trained advisors are here to tell
you all about our vast range of cruise holiday
combinations available or tailor make your
own bespoke cruise holiday itinerary.
We have kitted them out with the latest
technology so you can really get to
experience your cruise holiday from the
selection and booking process all the way
through to ticketing and embarkation.
A really exciting development is our
interactive experience and cinema room
where we will be hosting events throughout
the year, showcasing specific cruises, running
talks from cruise lines, featuring destination
tourist boards and showing footage of cruise
ships and ports of call.
Our High Barnet Cruise Centre is the ideal
place for anyone that prefers personal face
to face contact when choosing a cruise. Our
specialist team are ready & waiting (iPads in
hand) to help you choose your dream
cruise holiday.
We look forward to seeing you here!
OPEN 9AM TO 6PM 7 DAYS A WEEK
BY APPOINTMENT FROM 6PM TO 9PM 7 DAYS A WEEK
LONDON CRUISE CENTRE
Visit our cruise experts for that personal touch