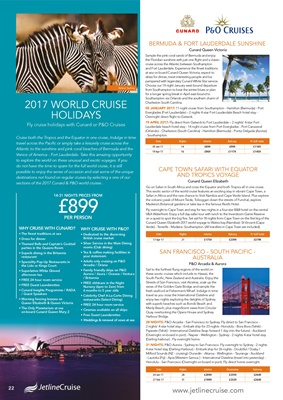 BERMUDA & FORT LAUDERDALE SUNSHINE
Cunard Queen Victoria
Sample the pink coral sands of Bermuda and enjoy
the Floridian sunshine with just one flight and a classic
cruise across the Atlantic between Southampton
and Fort Lauderdale. Experience the finest traditions
at sea on board Cunard Queen Victoria; expect to
dress for dinner, meet interesting people and be
pampered with legendary Cunard White Star service.
Choose our 14 night January west-bound departure
from Southampton to beat the winter blues or plan
for a longer spring break in April east-bound to
Southampton via Orlando and the southern charm of
Charleston South Carolina.
05 JANUARY 2017: 11 night cruise from Southampton - Hamilton (Bermuda) - Port
Everglades (Fort Lauderdale) - 2 nights 4-star Fort Lauderdale Beach hotel stay -
Overnight direct flight to Gatwick.
19 APRIL 2017: Fly direct from Gatwick to Fort Lauderdale - 2 nights' 4-star Fort
Lauderdale beach hotel stay - 14 night cruise from Port Everglades - Port Canaveral
(Orlando) - Charleston (South Carolina) - Hamilton (Bermuda) - Ponta Delgada (Azores)
- Southampton.
Date Nights Interior Balcony Pr Grill Suite
05 Jan 17 14 £899 £999 £1169
19 Apr 17 16 £969 £1179 £1459
2017 WORLD CRUISE
HOLIDAYS
Fly cruise holidays with Cunard or P&O Cruises
Cruise both the Tropics and the Equator in one cruise, Indulge in time
travel across the Pacific or simply take a leisurely cruise across the
Atlantic to the sunshine and pink coral beaches of Bermuda and the
Venice of America - Fort Lauderdale. Take this amazing opportunity
to explore the world on these unusual and exotic voyages. If you
do not have the time to spare for the full world cruise, it is still
possible to enjoy the sense of occasion and visit some of the unique
destinations not found on regular cruises by selecting a one of our
sections of the 2017 Cunard & P&O world cruises .
14-31 NIGHTS PRICES FROM
£899PER PERSON
22
Below: Sydney
WHY CRUISE WITH CUNARD?
• The finest traditions at sea
• Dress for dinner
• Themed Balls and Captain's Cocktail
parties in the Queens Room
• Superb dining in the Britannia
restaurant
• Speciality Pop-Up Restaurants in
the Lido or Kings Court
• Superlative White Gloved
afternoon tea
• FREE 24 hour room service
• FREE Guest Launderettes
• Cunard Insights Programme / RADA
/ Guest Speakers
• Morning fencing lessons on
Queen Elizabeth & Queen Victoria
• The Only Planetarium at sea
on-board Cunard Queen Mary 2
WHY CRUISE WITH P&O?
• Dedicated to the discerning
British cruise market
• Silver Service in the Main Dining
rooms (Club dining)
• Tea & coffee making facilities in
your stateroom
• Adults only cruising on P&O
Arcadia / Oriana
• Family friendly ships on P&O
Aurora / Azura / Oceana / Ventura
/ Britannia
• FREE childcare in the Night
Nursery (6pm to 2am) from
6 months to 5 year olds
• Celebrity Chef A-La-Carte Dining
restaurants (Select Dining)
• FREE 24 hour room service
• Cinemas available on all ships
• Free Guest Launderettes
• Weddings & renewal of vows at sea
CAPE TOWN SAFARI WITH EQUATOR
AND TROPICS VOYAGE
Cunard Queen Elizabeth
Go on Safari in South Africa and cross the Equator and both Tropics all in one cruise.
This exotic sector of the world cruise features an exciting stay in vibrant Cape Town, a
Safari in Africa and the rare chance to Visit Nambia and Cape Verde Island. Plus explore
the volcanic peak of Mount Teide, Toboggan down the streets of Funchal, explore
Madeira's Botanical gardens or take tea in the famous Reid's Hotel.
Fly overnight to Cape Town and stay for two nights in a four-star B&B hotel on the central
V&A Waterfront. Enjoy a full day safari tour with lunch to the Inverdoorn Game Reserve
on a quest to spot the big five. Set sail for 18 nights from Cape Town on the first leg of the
Cunard Queen Elizabeth 2017 world voyage to Walvis bay (Namibia)- St Vincent (Cape
Verde) - Tenerife - Madeira- Southampton. (All transfers in Cape Town are included).
Date Nights Interior Balcony Pr Grill Suite
17 Apr 17 21 £1759 £2399 £3799
SAN FRANCISCO - SOUTH PACIFIC -
AUSTRALIA
P&O Arcadia & Aurora
Sail to the furthest flung regions of the world on
these exotic cruises which include to Hawaii, the
South Pacific, New Zealand and Australia. Enjoy the
Streets of San Francisco, visit Alcatraz, soak up the
views of the Golden Gate Bridge and sample the
fresh seafood at Fisherman's Wharf. Indulge in time
travel as you cross the International Dateline and
enjoy two nights exploring the delights of Sydney
with superb beaches such as Bondii Beach and
Manly Beach; plus magnificent views from Circular
Quay overlooking the Opera House and Sydney
Harbour Bridge.
28 NIGHTS: P&O Arcadia - San Francisco to Sydney. Fly direct to San Francisco -
2 nights' 4-star hotel stay - Embark ship for 23 nights -Honolulu - Bora Bora (Tahiti) -
Papeete (Tahiti) - International Dateline (leap forward 1 day into the future) - Auckland
(Overnight on-board in port) - Napier - Wellington - Sydney - 2 nights 4-star hotel stay
(Darling harbour) . Fly overnight home.
31 NIGHTS: P&O Aurora - Sydney to San Francisco. Fly overnight to Sydney - 2 nights
4-star hotel stay (Darling Harbour) - Embark ship for 26 nights - Doubtful / Dusky /
Milford Sounds (NZ - cruising)- Dunedin - Akaroa - Wellington - Tauranga - Auckland
- Lautoka (Fiji) - Apia (Western Samoa ) - International Dateline (travel into yesterday) -
Honolulu - San Francisco (Overnight on-board in port). Fly direct home overnight.
Date Nights Interior Oceanview Balcony
24 Jan 17 28 £2099 £2359 £2649
27 Feb 17 31 £1999 £2329 £2649