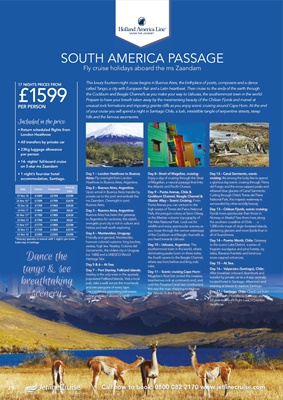 Call now to book: 0800 082 2170 www.jetlinecruise.com
28
SOUTH AMERICA PASSAGE
Fly cruise holidays aboard the ms Zaandam
This luxury fourteen-night cruise begins in Buenos Aires, the birthplace of poets, composers and a dance
called Tango; a city with European flair and a Latin heartbeat. Then cruise to the ends of the earth through
the Cockburn and Beagle Channel's as you make your way to Ushuaia, the southernmost town in the world.
Prepare to have your breath taken away by the mesmerising beauty of the Chilean Fjords and marvel at
unusual rock formations and imposing granite cliffs as you enjoy scenic cruising around Cape Horn. At the end
of your cruise you will spend a night in Santiago Chile, a lush, irresistible tangle of serpentine streets, steep
hills and the famous ascensores.
Included in the price:
• Return scheduled flights from
London Heathrow
• All transfers by private car
• 23Kg luggage allowance
per person
• 14- nights' full-board cruise
on 5-star ms Zaandam
• 1 night's four-star hotel
accommodation, Santiago.
17 NIGHTS PRICES FROM
£1599PER PERSON
Day 1 - London Heathrow to Buenos
Aires: Fly overnight from London
Heathrow to Buenos Aires, Argentina.
Day 2 - Buenos Aires, Argentina:
Upon arrival in Buenos Aires transfer by
private car to the port and embark the
ms Zaandam. Overnight in port,
Buenos Aires.
Day 3 - Buenos Aires, Argentina:
Buenos Aires has been the gateway
to Argentina for centuries; this stylish,
energetic port city is rich in culture and
history and well worth exploring
Day 4 - Montevideo, Uruguay:
Friendly and genteel, Montevideo
honours colonial customs: long lunches,
siestas, high tea. Nearby: Colonia del
Sacramento, the oldest city in Uruguay
(ca. 1680) and a UNESCO World
Heritage Site.
Day 5 & 6 - At Sea.
Day 7 - Port Stanley, Falkland Islands:
Stanley is the only town in the sparsely
populated Falkland Islands. Visit a local
pub, take a walk across the moorlands
and see penguins of every type.
Sea conditions permitting (otherwise
scenic cruising Falkland Sound)
Date Interior Oceanview
Veranda
Suite
07 Nov 16 £1699 £2199 £2599
20 Nov 16* £1599 £1799 £2479
05 Dec 16 £1799 £1949 £2629
20 Feb 17 £1849 £2049 SOLD
05 Mar 17* £1799 £1999 £2629
20 Mar 17 £1799 £1949 SOLD
15 Nov 17* £1779 £1899 £2599
30 Nov 17 £1749 £1899 £2579
02 Mar 18 £2399 £2559 £3399
*Itinerary operates in reverse with 1 night's pre-cruise
hotel stay in Santiago
Day 8- Strait of Magellan, cruising:
Enjoy a day of cruising through the Strait
of Magellan, a natural passage that links
the Atlantic and Pacific Oceans.
Day 9 - Punta Arenas, Chile &
Cockburn Channel, Beagle Channel &
Glacier Alley - Scenic Cruising: From
Punta Arenas you can venture to the
high scarps of Torres del Paine National
Park, the penguin colony at Seno Otway,
or the Martian volcanic topography of
Pali Aike National Park. Look out for
wildlife and enjoy spectacular scenery as
you cruise through the narrow waterways
of the Cockburn and Beagle channel's as
you head towards Ushuaia.
Day 10 - Ushuaia, Argentina: The
southernmost town in the world, where
dominating peaks loom on three sides;
the fourth opens to the Beagle Channel,
where sea lions bellow and king crab
rules.
Day 11 - Scenic cruising Cape Horn:
Magellan's fleet first circled this massive,
treacherous rock at continent's end, and
until the Panama Canal was constructed,
this was the main shipping route from
the Atlantic to the Pacific.
Day 12 - Canal Sarmiento, scenic
cruising: Be among the lucky few to spend
a glorious day scenic cruising through Tierra
del Fuego and the snow-capped peaks and
ethereal blue glaciers of Canal Sarmiento.
Cutting through Chile's Torres del Paine
National Park, this majestic waterway is
surrounded by other-worldly beauty.
Day 13 - Chilean Fjords, scenic cruising:
Fjords more spectacular than those in
Norway or Alaska? See them here along
the southern coastline of Chile . . . a
1,000-mile maze of virgin-forested islands,
glistening glaciers and more fjords than in
all of Scandinavia.
Day 14 - Puerto Montt, Chile: Gateway
to the scenic Lake District, a series of
fragrant eucalyptus and pine forests, icy
lakes, Bavarian hamlets and luminous
snow-capped volcanoes.
Day 15 - At Sea.
Day 16 - Valparaiso (Santiago), Chile:
After breakfast onboard disembark and
transfer by private car to a 4-star centrally
located hotel in Santiago. Afternoon and
evening at leisure to explore Santiago.
Day 17 - Santiago, Chile: Check out from
your hotel and transfer to Santiago airport
for your overnight flight back to London
Heathrow.
Dance the
tango & see
breathtaking
scenery