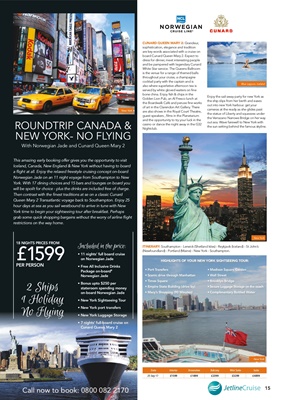 CUNARD QUEEN MARY 2: Grandeur,
sophistication, elegance and tradition
are key words associated with a cruise on
board Cunard Queen Mary 2. Expect to
dress for dinner, meet interesting people
and be pampered with legendary Cunard
White Star service. The Queens Ballroom
is the venue for a range of themed balls
throughout your cruise, a champagne
cocktail party with the captain and is
also where superlative afternoon tea is
served by white gloved waiters on fine
bone china. Enjoy fish & chips in the
Golden Lion Pub, an Al Fresco lunch at
the Boardwalk Café and peruse fine works
of art in the Clarendon Art Gallery. There
are also shows in the Royal Court Theatre,
guest speakers , films in the Planetarium
and the opportunity to try your luck in the
casino or dance the night away in the G32
Nightclub.
Date Interior Oceanview Balcony Mini Suite Suite
25 Sep 17 £1599 £1899 £2399 £3299 £4899
ROUNDTRIP CANADA &
NEW YORK- NO FLYING
With Norwegian Jade and Cunard Queen Mary 2
This amazing early booking offer gives you the opportunity to visit
Iceland, Canada, New England & New York without having to board
a flight at all. Enjoy the relaxed freestyle cruising concept on-board
Norwegian Jade on an 11 night voyage from Southampton to New
York. With 17 dining choices and 15 bars and lounges on board you
will be spoilt for choice - plus the drinks are included free of charge.
Then contrast with the finest traditions at se on a classic Cunard
Queen Mary 2 Transatlantic voyage back to Southampton. Enjoy 25
hour days at sea as you sail westbound to arrive in tune with New
York time to begin your sightseeing tour after breakfast. Perhaps
grab some quick shopping bargains without the worry of airline flight
restrictions on the way home.
Enjoy the sail-away party for new York as
the ship slips from her berth and eases
out into new York harbour. get your
cameras at the ready as she glides past
the statue of Liberty and squeezes under
the Verrazano Narrows Bridge on her way
out sea. Wave farewell to New York with
the sun setting behind the famous skyline.
18 NIGHTS PRICES FROM
£1599PER PERSON
New York
New York
Blue Lagoon, Iceland
2 Ships
1 Holiday
No Flying
ITINERARY: Southampton - Lerwick (Shetland Isles) - Reykjavik (Iceland) - St John's
(Newfoundland) - Portland (Maine) - New York - Southampton.
New York
HIGHLIGHTS OF YOUR NEW YORK SIGHTSEEING TOUR:
Included in the price:
• 11 nights' full board cruise
on Norwegian Jade
• Free All Inclusive Drinks
Package on-board#
Norwegian Jade
• Bonus upto $250 per
stateroom spending money
on-board Norwegian Jade
• New York Sightseeing Tour
• New York port transfers
• New York Luggage Storage
• 7 nights' full-board cruise on
Cunard Queen Mary 2
15
Call now to book: 0800 082 2170
• Port Transfers
• Scenic drive through Manhattan
• Times Square
• Empire State Building (drive by)
• Macy's Shopping (90 Minutes)
• Madison Square Garden
• Wall Street
• Brooklyn Bridge
• Secure Luggage Storage on the coach
• Complimentary Bottled Water