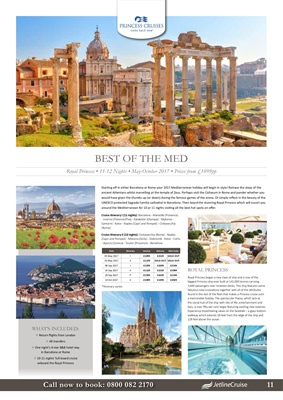 Call now to book: 0800 082 2170 11
Cruise itinerary I (11 nights): Barcelona - Marseille (Provence)
- Livorno (Florence/Pisa) - Katakolon (Olympia) - Mykonos -
Santorini - Kotor - Naples (Capri and Pompeii) - Civitavecchia
(Rome)
Cruise itinerary II (10 nights): Civitavecchia (Rome) - Naples
(Capri and Pompeii) - Messina (Sicily) - Dubrovnik - Kotor - Corfu
- Ajaccio (Corsica) - Toulon (Provence) - Barcelona
BEST OF THE MED
Royal Princess • 11-12 Nights • May-October 2017 • Prices from £1099pp
WHAT'S INCLUDED:
✥ Return flights from London
✥ All transfers
✥ One night's 4-star B&B hotel stay
in Barcelona or Rome
✥ 10-11 nights' full-board cruise
onboard the Royal Princess
Starting off in either Barcelona or Rome your 2017 Mediterranean holiday will begin in style! Retrace the steps of the
ancient Athenians whilst marvelling at the temple of Zeus. Perhaps visit the Coliseum in Rome and ponder whether you
would have given the thumbs up (or down) during the famous games of the arena. Or simply reflect in the beauty of the
UNESCO protected Sagrada Familia cathedral in Barcelona. Then board the stunning Royal Princess which will escort you
around the Mediterranean for 10 or 11 nights visiting all the best hot spots on offer.
Date Itinerary Interior Balcony Mini-Suite
05 May 2017 I £1099 £1529 SOLD OUT
16 May 2017 II £1129 SOLD OUT SOLD OUT
08 Sep 2017 I £1299 £1699 £2149
19 Sep 2017 II £1139 £1539 £1999
29 Sep 2017 I* £1299 £1639 £2149
10 Oct 2017 II £1099 £1499 £2029
*Itinerary varies.
ROYAL PRINCESS
Royal Princess began a new class of ship and is one of the
biggest Princess ship ever built at 141,000 tonnes carrying
3,600 passengers over nineteen decks. This ship features some
fabulous new innovations together with all of the attributes
found in the rest of the fleet that makes a Princess cruise such
a memorable holiday. The spectacular Piazza, which acts as
the social hub of the ship with lots of life, entertainment and
bars, is over fifty per cent larger featuring exciting new eateries.
Experience breathtaking views on the SeaWalk - a glass bottom
walkway which extends 28 feet from the edge of the ship and
128 feet above the ocean.