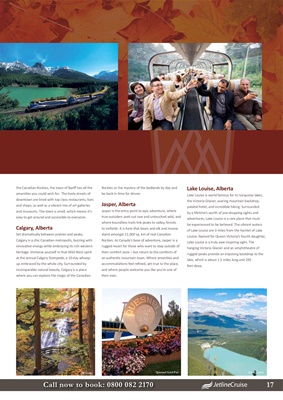 Call now to book: 0800 082 2170 17
Whistler Quesnel Gold Pan Lake Louise
the Canadian Rockies, the town of Banff has all the
amenities you could wish for. The lively streets of
downtown are lined with top class restaurants, bars
and shops, as well as a vibrant mix of art galleries
and museums. The town is small, which means it's
easy to get around and accessible to everyone.
Calgary, Alberta
Set dramatically between prairies and peaks,
Calgary is a chic Canadian metropolis, buzzing with
innovative energy while embracing its rich western
heritage. Immerse yourself in that Wild West spirit
at the annual Calgary Stampede, a 10 day whoopup embraced
by the whole city. Surrounded by
incomparable natural beauty, Calgary is a place
where you can explore the magic of the Canadian
Rockies or the mystery of the badlands by day and
be back in time for dinner.
Jasper, Alberta
Jasper is the entry point to epic adventure, where
true outsiders seek out raw and untouched wild, and
where boundless trails link peaks to valley, forests
to icefields. It is here that bears and elk and moose
stand amongst 11,000 sq. km of real Canadian
Rockies. As Canada's base of adventure, Jasper is a
rugged resort for those who want to step outside of
their comfort zone - but return to the comforts of
an authentic mountain town. Where amenities and
accommodations feel refined, yet true to the place,
and where people welcome you like you're one of
their own.
Lake Louise, Alberta
Lake Louise is world famous for its turquoise lakes,
the Victoria Glacier, soaring mountain backdrop,
palatial hotel, and incredible hiking. Surrounded
by a lifetime's worth of jaw-dropping sights and
adventures, Lake Louise is a rare place that must
be experienced to be believed. The vibrant waters
of Lake Louise are 3 miles from the hamlet of Lake
Louise. Named for Queen Victoria's fourth daughter,
Lake Louise is a truly awe-inspiring sight. The
hanging Victoria Glacier and an amphitheatre of
rugged peaks provide an imposing backdrop to the
lake, which is about 1.5 miles long and 295
feet deep.