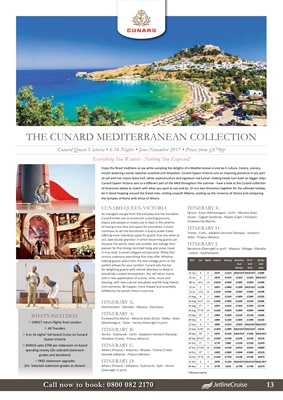 Call now to book: 0800 082 2170 13
CUNARD QUEEN VICTORIA
An indulgent escape from the everyday and the mundane.
Cunard invites you to encounter surprising pursuits,
places and people or simply just to bask in the serenity
of having more time and space for yourselves. Cunard
continues to set the benchmark in luxury ocean travel,
offering more individual space for guests than any other at
sea. Spectacular grandeur in which discerning guests can
discover the world, meet one another and indulge their
passion for fine dining, enriched living and ocean travel
in true style. Cunard's elegant and personal 'White Star'
service underpins everything that they offer. Whether
helping guests select from the best vintage ports or the
perfect pillows for your comfort, Cunard sets the bar
for delighting guests with refined attention to detail in
beautifully curated atmospheres. You will return home
with a new appreciation of cuisine, wine, music and
dancing, with new cultural anecdotes and life-long friends
and memories. Be happier, more relaxed and essentially
fulfilled by the world's finest cruise line.
ITINERARY X:
Southampton - Gibraltar - Majorca - Barcelona.
ITINERARY A:
Civitavecchia (Rome) - Messina Strait (Sicily) - Malta - Kotor
(Montenegro) - Zadar - Venice (Overnight in port).
ITINERARY B:
Venice - Dubrovnik - Corfu - Katakolon (Ancient Olympia) -
Heraklion (Crete) - Piraeus (Athens).
ITINERARY C:
Athens (Piraeus) - Mykonos - Rhodes - Chania (Crete) -
Sarande (Albania) - Piraeus (Athens).
ITINERARY D:
Athens (Piraeus) - Kefalonia - Dubrovnik - Split - Venice
(Overnight in port).
THE CUNARD MEDITERRANEAN COLLECTION
Cunard Queen Victoria • 6-14 Nights • June-November 2017 • Prices from £679pp
Everything You Wanted - Nothing You Expected!
WHAT'S INCLUDED:
✥ DIRECT return flights from London
✥ All Transfers
✥ 6 to 14 nights' full-board Cruise on Cunard
Queen Victoria
✥ BONUS upto $700 per stateroom on board
spending money (On selected stateroom
grades and durations)
✥ FREE stateroom upgrades
(On Selected stateroom grades as shown)
Rhodes
Enjoy the finest traditions at sea while sampling the delights of a Mediterranean cruise be it culture, history, scenery,
mouth watering cuisine, beaches sunshine and relaxation. Cunard Queen Victoria cuts an imposing presence in any port
of call with her classic black hull, white superstructure and signature red funnel- making heads turn even on bigger ships.
Cunard Queen Victoria sails to a different part of the Med throughout the summer - have a look at the Cunard collection
of itineraries below to match with what you want to see and do. Or mix two itineraries together for the ultimate holiday
be it island hopping around the Greek Isles, visiting unspoilt Albania, soaking up the romance of Venice and comparing
the temples of Rome with those of Athens.
ITINERARY E:
Venice - Kotor (Montenegro) - Corfu - Messina Strait
(Sicily) - Cagliari (Sardinia) - Naples (Capri / Pompeii) -
Civitavecchia (Rome).
ITINERARY H:
Trieste - Corfu - Kataklon (Ancient Olympia) - Santorini -
Volos - Piraeus (Athens).
ITINERARY J:
Barcelona (Overnight in port) - Majorca - Malaga - Gibraltar
- Lisbon - Southampton.
2017 Itin Nights Interior Balcony Britannia
Club
Balcony
P2 Pr'
Grill
Suite
Q6 Qu'
Grill
Suite
22 Jun X 6 £679 £1219 SOLD OUT SOLD OUT £2089
01 Jul A 7 £879 £1559 £2329 £2329 SOLD OUT
08 Jul B+C 14 £1259 £1949 £3299 £3299 £4399
15 Jul C 7 £875 £1069 £1599 SOLD OUT £2189
15 Jul C+D 14 £1559 £1949 £3399 £3399 £4599
19 Aug H 7 £969 £1169 £1949 £1949 £2529
19 Aug H+C* 14 £1649 £1949 £3199 £3199 £4469
26 Aug C* 7 £879 £1019 £1559 £1559 £2139
26 Aug C*+D 14 £1529 £2039 £3399 £3399 £4469
02 Sep D* 7 £969 £1299 £2139 £2139 £2669
09 Sep E 7 £949 £1169 £1949 £1949 £2529
23 Sep A 7 £859 £1219 £2329 SOLD OUT SOLD OUT
23 Sep A+B* 14 £1459 £1999 SOLD OUT SOLD OUT £4619
30 Sep B* 7 £879 £1169 SOLD OUT £1949 SOLD OUT
30 Sep B*+C* 14 £1259 £1749 £3199 £3199 £4129
07 Oct C* 7 £779 £969 £1559 £1559 £1949
07 Oct C*+D* 14 £1259 £1749 £2919 £2919 £3889
14 Oct D* 7 £839 £1069 £1849 £1849 £2329
14 Oct D*+E 14 £1259 £1749 £3199 £3199 £4079
21 Oct E 7 £879 £1169 SOLD OUT SOLD OUT SOLD OUT
04 Nov J 9 £779 £919 £1799 £1799 £2379
* Itinerary varies
Cunard Queen Victoria