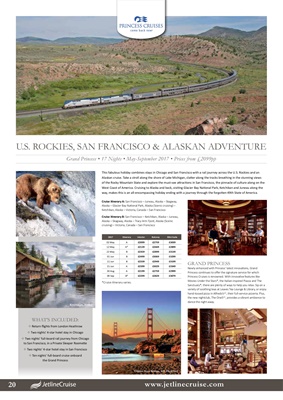 20U.S. ROCKIES, SAN FRANCISCO & ALASKAN ADVENTURE
Grand Princess • 17 Nights • May-September 2017 • Prices from £2099pp
WHAT'S INCLUDED:
✥ Return flights from London Heathrow
✥ Two nights' 4-star hotel stay in Chicago
✥ Two nights' full-board rail journey from Chicago
to San Francisco, in a Private Sleeper Roomette
✥ Two nights' 4-star hotel stay in San Francisco
✥ Ten nights' full-board cruise onboard
the Grand Princess
This fabulous holiday combines stays in Chicago and San Francisco with a rail journey across the U.S. Rockies and an
Alaskan cruise. Take a stroll along the shore of Lake Michigan, clatter along the tracks breathing in the stunning views
of the Rocky Mountain State and explore the must-see attractions in San Francisco, the pinnacle of culture along on the
West Coast of America. Cruising to Alaska and back, visiting Glacier Bay National Park, Ketchikan and Juneau along the
way, makes this is an all-encompassing holiday ending with a journey through the forgotten 49th State of America.
Ketchikan, Alaska
2017 Itinerary Interior Balcony Mini-Suite
02 May A £2099 £2759 £3039
12 May A* £2139 £2669 £2899
22 May B £2359 £2899 £3139
01 Jun B £2499 £3069 £3299
11 Jun B £2339 £2949 £3199
21 Jun A £2399 £3029 £3349
30 Aug A £2199 £2759 £2999
09 Sep B* £2299 £2829 £3079
*Cruise itinerary varies.
GRAND PRINCESS
Newly enhanced with Princess' latest innovations, Grand
Princess continues to offer the signature service for which
Princess Cruises is renowned. With innovative features like
Movies Under the Stars®, the Italian-inspired Piazza and The
Sanctuary®, there are plenty of ways to help you relax. Sip on a
variety of soothing teas at Leaves Tea Lounge & Library, or enjoy
hand-tossed pizza in Alfredo'ssm, their full-service pizzeria. Plus,
the new nightclub, The One5sm, provides a vibrant ambience to
dance the night away.
Cruise itinerary A: San Francisco - Juneau, Alaska - Skagway,
Alaska - Glacier Bay National Park, Alaska (Scenic cruising) -
Ketchikan, Alaska - Victoria, Canada - San Francisco
Cruise itinerary B: San Francisco - Ketchikan, Alaska - Juneau,
Alaska - Skagway, Alaska - Tracy Arm Fjord, Alaska (Scenic
cruising) - Victoria, Canada - San Francisco
Golden Gate Bridge, San Francisco