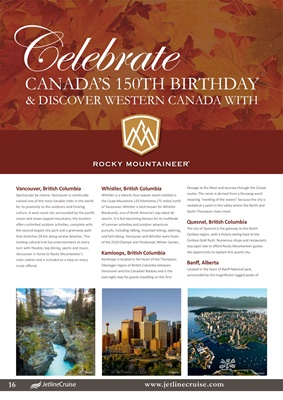 16 CANADA'S 150TH BIRTHDAY
& DISCOVER WESTERN CANADA WITHCelebrate
Jasper Calgary Vancouver
Vancouver, British Columbia
Spectacular by nature, Vancouver is continually
named one of the most liveable cities in the world
for its proximity to the outdoors and thriving
culture. A west coast city surrounded by the pacific
ocean and snow-capped mountains, the location
offers unlimited outdoor activities, complete with
the second largest city park and a greenway path
that stretches 28 Km along serene beaches. The
inviting cultural hub has entertainment at every
turn with theatre, top dining, sports and music.
Vancouver is home to Rocky Mountaineer's
main station and is included as a stop on every
route offered.
Whistler, British Columbia
Whistler is a vibrant, four-season resort nestled in
the Coast Mountains 120 kilometres (75 miles) north
of Vancouver. Whistler is best known for Whistler
Blackcomb, one of North America's top-rated ski
resorts. It is fast becoming famous for its multitude
of summer activities and outdoor adventure
pursuits, including rafting, mountain biking, ziplining,
and heli-hiking. Vancouver and Whistler were hosts
of the 2010 Olympic and Paralympic Winter Games.
Kamloops, British Columbia
Kamloops is located in the heart of the Thompson
Okanagan region of British Columbia between
Vancouver and the Canadian Rockies and is the
overnight stop for guests travelling on the First
Passage to the West and Journey through the Clouds
routes. The name is derived from a Shuswap word
meaning "meeting of the waters" because the city is
nestled at a point in the valley where the North and
South Thompson rivers meet.
Quesnel, British Columbia
The city of Quesnel is the gateway to the North
Cariboo region, with a history dating back to the
Cariboo Gold Rush. Numerous shops and restaurants
stay open late to afford Rocky Mountaineer guests
the opportunity to explore this quaint city.
Banff, Alberta
Located in the heart of Banff National park,
surrounded by the magnificent rugged peaks of