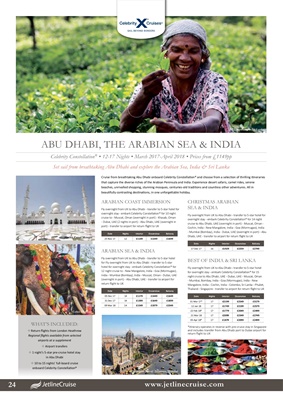 24
ARABIAN COAST IMMERSION
Fly overnight from UK to Abu Dhabi - transfer to 5-star hotel for
overnight stay - embark Celebrity Constellation® for 10 night
cruise to - Muscat, Oman (overnight in port) - Khasab, Oman
- Dubai, UAE (2 nights in port) - Abu Dhabi, UAE (overnight in
port) - transfer to airport for return flight to UK
ABU DHABI, THE ARABIAN SEA & INDIA
Celebrity Constellation® • 12-17 Nights • March 2017-April 2018 • Prices from £1149pp
Set sail from breathtaking Abu Dhabi and explore the Arabian Sea, India & Sri Lanka
WHAT'S INCLUDED:
✥ Return flights from London Heathrow
Regional flights available from selected
airports at a supplement
✥ Airport transfers
✥ 1 night's 5-star pre-cruise hotel stay
in Abu Dhabi
✥ 10 to 15 nights' full-board cruise
onboard Celebrity Constellation®
Cruise from breathtaking Abu Dhabi onboard Celebrity Constellation® and choose from a selection of thrilling itineraries
that capture the diverse riches of the Arabian Peninsula and India. Experience desert safaris, camel rides, serene
beaches, unrivalled shopping, stunning mosques, centuries-old traditions and countless other adventures. All in
beautifully contrasting destinations, in one unforgettable holiday.
Tea picking in Sri Lanka
Cohin Elephant
Chatrapati Shivaji Terminus, Mumbai
Date Nights Interior Oceanview Balcony
25 Nov 17 12 £1149 £1349 £1699
ARABIAN SEA & INDIA
Fly overnight from UK to Abu Dhabi - transfer to 5-star hotel
for Fly overnight from UK to Abu Dhabi - transfer to 5-star
hotel for overnight stay - embark Celebrity Constellation® for
12 night cruise to - New Mangalore, India - Goa (Mormugao),
India - Mumbai (Bombay), India - Muscat, Oman - Dubai, UAE
(overnight in port) - Abu Dhabi, UAE - transfer to airport for
return flight to UK
Date Nights Interior Oceanview Balcony
05 Dec 17 14 £1179 £1449 £1649
31 Dec 17 14 £1399 £1649 £1899
09 Mar 18 14 £1549 £1979 £2349
CHRISTMAS ARABIAN
SEA & INDIA
Fly overnight from UK to Abu Dhabi - transfer to 5-star hotel for
overnight stay - embark Celebrity Constellation® for 14 night
cruise to Abu Dhabi, UAE (overnight in port) - Muscat, Oman -
Cochin, India - New Mangalore, India - Goa (Mormugao), India
- Mumbai (Bombay), India - Dubai, UAE (overnight in port) - Abu
Dhabi, UAE - transfer to airport for return flight to UK
Date Nights Interior Oceanview Balcony
17 Dec 17 16 £1929 £2259 £2749
BEST OF INDIA & SRI LANKA
Fly overnight from UK to Abu Dhabi - transfer to 5-star hotel
for overnight stay - embark Celebrity Constellation® for 15
night cruise to Abu Dhabi, UAE - Dubai, UAE - Muscat, Oman
- Mumbai, Bombay, India - Goa (Mormugao), India - New
Mangalore, India - Cochin, India - Colombo, Sri Lanka - Phuket,
Thailand - Singapore - transfer to airport for return flight to UK
Date Nights Interior Oceanview Balcony
31 Mar 17* 17 £2199 £2549 £3179
12 Jan 18 17 £1749 £2199 £2579
22 Feb 18* 17 £1779 £2049 £2499
21 Mar 18 17 £2099 £2349 £2749
05 Apr 18* 17 £1879 £2099 £2499
*itinerary operates in reverse with pre-cruise stay in Singapore
and includes transfer from Abu Dhabi port to Dubai airport for
return flight to UK
Sheikh Zayed Mosque