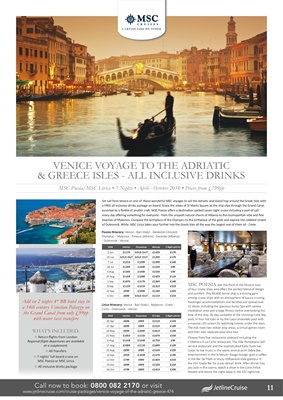 WHAT'S INCLUDED:
✥ Return flights from London
Regional flight departures are available
at a supplement.
✥ All Transfers
✥ 7 nights' full board cruise on
MSC Poesia or MSC Lirica
✥ All inclusive drinks package
MSC POESIA was the third of the Musica class
of four cruise ships and offers the perfect blend of design
and comfort. This 89,600 tonne ship is a shining gem
among cruise ships with an atmosphere of luxury cruising.
Passenger accommodations and facilities are spread over
12 decks; including the spacious Aurea Spa with serene
meditation area and a large fitness centre overlooking the
bow of the ship. By day sunbathe at the stunning Coral Bay
pool, in four hot tubs or by the Cayo Levantado pool with
a massive LED screen for watching movies under the stars.
The kids have two indoor play areas, a virtual games room
and their own separate pool area too!
Choose from five restaurants onboard including the
L'Obelisco A-La-Carte restaurant, The Villa Pompeiana selfservice
restaurant and the sophisticated Kaito Sushi bar.
Listen to live music in the exotic animal-print Zebra Bar,
entertainment in the la Moulin Rouge lounge, grab a coffee
in the Bar De Poeti or enjoy Hollywood-style glamour in
the chic Giada Bar for a pre-dinner drink. After dinner tray
you luck in the casino, watch a show in the Carlo Felice
theatre and dance the night away in the S32 nightclub.
VENICE VOYAGE TO THE ADRIATIC
& GREECE ISLES - ALL INCLUSIVE DRINKS
MSC Poesia/MSC Lirica • 7 Nights • April - October 2018 • Prices from £799pp
Poesia Itinerary: Venice - Bari (Italy) - Katakolon (Ancient
Olympia) - Mykonos - Pireaus (Athens) - Sarande (Albania)
- Dubrovnik - Venice.
Add on 2 nights 4* BB hotel stay in
a 14th century Venetian Palazzo on
the Grand Canal from only £99pp
with water taxi transfers
2018 Interior Oceanview Balcony 2 Night add On
2 Jun £1179 SOLD OUT £1429 £179
23 Jun SOLD OUT SOLD OUT £1299 £179
7 Jul £1219 £1299 £1399 £149
28 Jul £1349 £1449 £1539 £99
4 Aug £1349 £1449 £1539 £99
25 Aug £1169 £1289 £1429 £119
1 Sep £1079 £1179 £1269 £149
8 Sep £1129 £1219 £1319 £219
22 Sep £999 £1099 £1189 £229
6 Oct £899 SOLD OUT £1119 £219
Set sail from Venice on one of these wonderful MSC voyages to sail the Adriatic and island hop around the Greek Isles with
a FREE all-inclusive drinks package on board. Enjoy the views of St Marks Square as the ship slips through the Grand Canal
escorted by a flotilla of smaller craft. MSC Poesia offers a destination packed seven night cruise including a port of call
every day offering something for everyone - from the unspoilt natural charm of Albania to the cosmopolitan vibe and fine
beaches of Mykonos. Compare the birthplace of the Olympics to the birthplace of the gods and explore the cobbled streets
of Dubrovnik. While MSC Lirica takes your further into the Greek Isles all the way the largest one of them all - Crete.
Lirica Itinerary: Venice - Bari (Italy) - Mykonos - Crete -
Corfu - Dubrovnik - Venice.
2018 Interior Oceanview S2 Suite 2 Night add On
20 Apr £899 £999 £1519 £159
27 Apr £899 £999 £1519 £189
18 May £999 £1099 £1619 £149
25 May £1059 £1159 £1679 £239
3 Aug £1149 £1249 £1759 £99
17 Aug £1099 £1119 £1699 £129
31 Aug £899 £999 £1529 £159
14 Sep £959 £1059 £1579 £149
12 Oct £799 £999 £1429 £219
19 Oct £899 £999 £1529 £159
26 Oct £799 £899 £1419 £239
11
Call now to book: 0800 082 2170 or visit
www.jetlinecruise.com/cruise-packages/venice-voyage-of-the-adriatic-greece-474