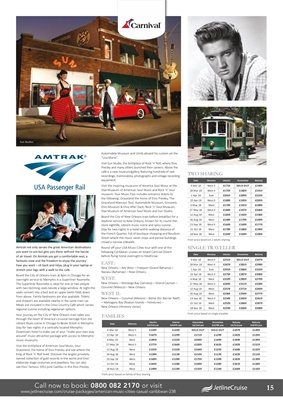 Date Itinerary Interior Oceanview Balcony
4 Mar 18 West II £1719 SOLD OUT £1999
18 Mar 18 West II £1759 £1829 £1919
1 Apr 18 East £2019 £2099 £2229
22 Apr 18 West II £1899 £1959 £2059
6 May 18 West £1749 £1919 £1889
27 May 18 West II £1849 £1979 £2069
12 Aug 18 West £1859 £1929 £1989
26 Aug 18 West £1689 £1799 £1899
23 Sep 18 West II £1649 £1699 £1779
21 Oct 18 West £1789 £1869 £1969
18 Nov 18 West £1649 £1699 £1809
From price based on 2 adults sharing
Amtrak not only serves the great American destinations
you want to see but gets you there without the hassle
of air travel. On Amtrak you get a comfortable seat, a
fantastic view and the freedom to enjoy the journey
how you want - sit back and relax, plug in your laptop or
stretch your legs with a walk to the café.
Board the City of Orleans train at 8pm in Chicago for an
overnight service to Memphis in a Superliner Roomette.
The Superliner Roomette is ideal for one or two people
with two reclining seats beside a large window. At night the
seats convert into a bed and an upper berth folds down
from above. Family bedrooms are also available. Toilets
and showers are available nearby in the same train car.
Meals are included in the Cross Country Café which serves
regional cuisine including vegetarian options.
Your journey on the City of New Orleans train takes you
through the heart of America's musical heritage from the
vibrant Blues scene in Chicago to Beale Street in Memphis.
Stay for two nights in a centrally located Memphis
Downtown hotel to make use of your "make your own way
around" music attraction package with access to Memphis'
music museums.
Visit the birthplace of American Soul Music, tour
Graceland, the home of Elvis Presley and see where the
King of Rock 'n' Roll lived. Discover the largest privatelyowned
collection of gold records in the world and Elvis'
elaborate stage costumes and jewellery. You can also
see Elvis' famous 1955 pink Cadillac in the Elvis Presley
Automobile Museum and climb aboard his custom jet the
"Lisa Marie".
Visit Sun Studio, the birthplace of Rock 'n' Roll, where Elvis
Presley and many others launched their careers. Above the
café is a new museum/gallery featuring hundreds of rare
recordings, memorabilia, photographs and vintage recording
equipment.
Visit the inspiring museums of America Soul Music at the
Stax Museum of American Soul Music and Rock 'n' Soul
museum. Your Music Pass includes entrance tickets to
the following: Graceland the home of Elvis Presley, The
Graceland Mansion Tour, Automobile Museum, Sincerely
Elvis Museum & Elvis After Dark, Rock 'n' Soul Museum,
Stax Museum of American Soul Music and Sun Studio.
Board the City of New Orleans train before breakfast for a
daytime service to New Orleans, known for its round-theclock nightlife,
vibrant music scene and spicy cuisine.
Stay for two nights in a hotel within walking distance of
the French Quarter, full of boutique shopping and Bourbon
Street where the music never stops and period buildings
crowd a narrow sidewalk.
Round off your USA Music Cities tour with one of the
following Caribbean cruises on board Carnival Dream
before flying home overnight to Heathrow:
EAST:
New Orleans - Key West - Freeport (Grand Bahama) -
Nassau (Bahamas) - New Orleans
WEST:
New Orleans - Montego Bay (Jamaica) - Grand Cayman -
Cozumel (Mexico) - New Orleans
WEST II:
New Orleans - Cozumel (Mexico) - Belize (for Barrier Reef)
- Mahogany Bay (Roatan Islands - Honduras) -
New Orleans (Itinerary varies)
Sun Studios
Memphis
Date Itinerary Interior Oceanview Balcony
4 Mar 18 West II £2519 SOLD OUT £3079
18 Mar 18 West II £2679 £2819 £2989
1 Apr 18 East £2919 £3069 £3339
22 Apr 18 West II £2759 £2879 £3089
6 May 18 West £2529 £2859 £2799
27 May 18 West II £2839 £3119 £3289
12 Aug 18 West £2579 £2719 £2839
26 Aug 18 West £2369 £2599 £2779
23 Sep 18 West II £2349 £2459 £2619
21 Oct 18 West £2529 £2669 £2879
18 Nov 18 West £2549 £2669 £2889
From price based on single traveller
Date Itinerary
Interior
1st/2nd pax
Interior
3rd/4th pax
Oceanview
1st/2nd pax
Oceanview
3rd/4th pax
Balcony
1st/2nd pax
Balcony
3rd/4th pax
4 Mar 18 West II £1599 £1439 SOLD OUT SOLD OUT £1879 £1499
22 Apr 18 West II £1679 £1299 £1719 £1299 £1829 £1299
6 May 18 West £1859 £1559 £2049 £1499 £1899 £1399
27 May 18 West II £1779 £1669 £1839 £1629 £1929 £1519
12 Aug 18 West £1559 £1329 £1649 £1259 £1689 £1229
26 Aug 18 West £1399 £1139 £1539 £1139 £1629 £1139
23 Sep 18 West £1699 £1399 £1759 £1399 £1829 £1399
21 Oct 18 West £1649 £1289 £1699 £1289 £1819 £1289
18 Nov 18 West £1499 £1169 £1559 £1169 £1669 £1169
From price based on family of four sharing
SINGLE TRAVELLER
FAMILIES
TWO SHARING
15
Call now to book: 0800 082 2170 or visit
www.jetlinecruise.com/cruise-packages/american-music-cities-casual-caribbean-238