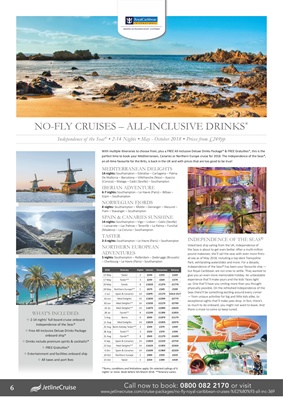 MEDITERRANEAN DELIGHTS
14 nights: Southampton - Gibraltar - Cartagena - Palma
De Mallorca - Barcelona - Villefranche (Nice) - Ajaccio
(Corsica) - Malaga - Cadiz (Seville) - Southampton
IBERIAN ADVENTURE
6-7 nights: Southampton - Le Havre (Paris) - Bilbao -
Gijon - Southampton
NORWEGIAN FJORDS
8 nights: Southampton - Molde - Geiranger - Alesund -
Flam - Stavanger - Southampton
SPAIN & CANARIES SUNSHINE
14 nights: Southampton - Vigo - Lisbon - Cadiz (Seville)
- Lanzarote - Las Palmas - Tenerife - La Palma - Funchal
(Madeira) - La Coruna - Southampton
TASTER
2-3 nights: Southampton - Le Havre (Paris) - Southampton
NORTHERN EUROPEAN
ADVENTURES
5 nights: Southampton - Rotterdam - Zeebrugge (Brussels)
- Cherbourg - Le Havre (Paris) - Southampton
2018 Itinerary Nights Interior Oceanview Balcony
15 May Taster 2 £249 £259 £269
17 May Taster** 3 £299 £339 £379
20 May Fjords 8 £1029 £1279 £1779
28 May Northern Europe** 5 £479 £549 £599
2 Jun Spain & Canaries 14 £1879 £2179 SOLD OUT
16 Jun Med Delights 14 £1839 £2299 £2779
30 Jun Med Delights** 14 £1939 £2179 £2799
14 Jul Med Delights** 14 £1879 £2099 £2629
28 Jul Fjords** 8 £1299 £1399 £1859
5 Aug Iberia 6 £949 £1079 £1179
11 Aug Med Delights 14 £2029 £2459 £2979
25 Aug Bank Holiday Taster** 3 £349 £379 £449
28 Aug Taster** 3 £329 £379 £399
31 Aug Fjords** 8 £949 £1179 £1699
8 Sep Spain & Canaries 14 £1859 £2159 £2759
22 Sep Med Delights** 14 £1629 £1929 £2369
6 Oct Spain & Canaries 14 £1699 £1969 £2329
20 Oct Northern Europe 5 £489 £559 £659
25 Oct Taster 3 £359 £399 £439
NO-FLY CRUISES - ALL-INCLUSIVE DRINKS*
Independence of the Seas® • 2-14 Nights • May - October 2018 • Prices from £249pp
WHAT'S INCLUDED:
✥ 2-14 nights' full-board cruise onboard
Independence of the Seas®
✥ Free All-Inclusive Deluxe Drinks Package
onboard ship*
✥ Drinks include premium spirits & cocktails!*
✥ FREE Gratuities*
✥ Entertainment and facilities onboard ship
✥ All taxes and port fees
With multiple itineraries to choose from, plus a FREE All-Inclusive Deluxe Drinks Package* & FREE Gratuities*, this is the
perfect time to book your Mediterranean, Canaries or Northern Europe cruise for 2018. The Independence of the Seas®,
an all-time favourite for the Brits, is back in the UK and with prices that are too good to be true!
INDEPENDENCE OF THE SEAS®
Voted best ship sailing from the UK, Independence of
the Seas is about to get even better. After a multi-million
pound makeover, she'll sail the seas with even more firstsat-sea
as of May 2018, including a top deck Trampoline
Park, exhilarating waterslides and more. For a decade,
Independence of the Seas® has been your favourite ship -
but Royal Caribbean are not ones to settle. They wanted to
give you an even more memorable holiday. An unbeatable
experience that'll make yours and the kids' faces light
up. One that'll have you smiling more than you thought
physically possible. On the refreshed Independence of the
Seas there'll be something exciting around every corner
- from unique activities for big and little kids alike, to
exceptional sights that'll make jaws drop. In fact, there's
so much to do onboard, you might not want to leave. And
there is more to come so keep tuned.
*Terms, conditions and limitations apply. On selected sailings of 6
nights' or more. Book before 5th March 2018. **Itinerary varies.
6 Call now to book: 0800 082 2170 or visit
www.jetlinecruise.com/cruise-packages/no-fly-royal-caribbean-cruises-%e2%80%93-all-inc-369