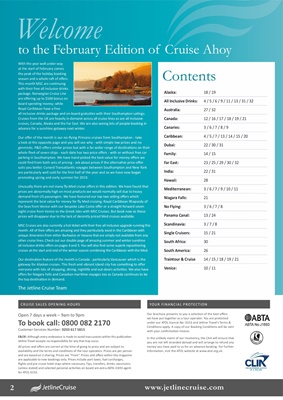 2 Open 7 days a week - 9am to 9pm
To book call: 0800 082 2170
Customer Services Number: 0203 617 5815
E&OE: Although every endeavour is made to avoid inaccuracies within this publication
Jetline Travel accepts no responsibility for any that may occur.
All prices and offers are correct at the time of going to press and are subject to
availability and the terms and conditions of the tour operators. Prices are per person
and are based on 2 sharing. Prices are "From". Prices and offers within this magazine
are applicable to new bookings only. Prices include port taxes, fuel surcharges,
flights and pre cruise hotel stays where necessary. Tips, transfers, drinks, excursions
(unless stated) and selected personal activities on board are extra.ABTA J1693 agent
for ATOL 6153.
CRUISE SALES OPENING HOURS
Our brochure presents to you a selection of the best offers
we have put together as a tour operator. You are protected
under our ATOL licence No: 6153 and Jetline Travel's Terms &
Conditions apply. A copy of our Booking Conditions will be sent
with your confirmation invoice.
In the unlikely event of our insolvency, the CAA will ensure that
you are not left stranded abroad and will arrange to refund any
money you have paid to us for an advance booking. For further
information, visit the ATOL website at www.atol.org.uk.
YOUR FINANCIAL PROTECTION
Alaska: 18 / 19
All Inclusive Drinks: 4 / 5 / 6 / 9 / 11 / 13 / 31 / 32
Australia: 27 / 32
Canada: 12 / 16 / 17 / 18 / 19 / 21
Canaries: 3 / 6 / 7 / 8 / 9
Caribbean: 4 / 5 / 7 / 13 / 14 / 15 / 20
Dubai: 22 / 30 / 31
Family: 14 / 15
Far East: 23 / 25 / 29 / 30 / 32
India: 22 / 31
Hawaii: 28
Mediterranean: 3 / 6 / 7 / 9 / 10 / 11
Niagara Falls: 21
No Flying: 3 / 6 / 7 / 8
Panama Canal: 13 / 24
Scandinavia: 3 / 7 / 8
Single Cruisers: 15 / 21
South Africa: 30
South America: 26
Traintour & Cruise 14 / 15 / 18 / 19 / 21
Venice: 10 / 11
Contents
With the year well under way
at the start of February comes
the peak of the holiday booking
season and a whole raft of offers.
This month MSC are continuing
with their free all Inclusive drinks
package. Norwegian Cruise Line
are offering up to $500 bonus on
board spending money; while
Royal Caribbean have a free
all inclusive drinks package and on-board gratuities with their Southampton sailings.
Cruises from the UK are heavily in demand across all cruise lines as are all inclusive
cruises, Canada, Alaska and the Far East. We are also seeing lots of people booking in
advance for a sunshine getaway next winter.
Our offer of the month is our no-flying Princess cruises from Southampton - take
a look at the opposite page and you will see why - with simple low prices and no
gimmicks. P&O offers similar prices but with a far wider range of destinations on their
whole fleet of seven ships - each date has two price offers - with or without free car
parking in Southampton. We have hand-picked the best value for money offers we
could find from both sets of pricing - ask about prices if the alternative price offer
suits you better. Cunard Transatlantic voyages between Southampton and New York
are particularly well sold for the first half of the year and so we have now began
promoting spring and early summer for 2019.
Unusually there are not many fly-Med cruise offers in this edition. We have found that
prices are abnormally high on most products we would normally sell due to heavy
demand from US passengers. We have featured our top two selling offers which
represent the best value for money for fly Med cruising. Royal Caribbean Rhapsody of
the Seas from Venice with our bespoke Lake Como offer or a straight forward seven
night cruise from Venice to the Greek Isles with MSC Cruises. But book now as these
prices will disappear due to the lack of decently priced Med cruises available.
MSC Cruises are also currently a hot ticket with their free all inclusive upgrade running this
month. All of their offers are amazing and they particularly excel in the Caribbean with
unique itineraries from either Barbados or Havana that are simply not available from any
other cruise lines. Check out our double page of amazing summer and winter sunshine
all inclusive drinks offers on pages 4 and 5. You will also find some superb repositioning
cruises at the start and end of the winter season combining the Caribbean with the Med.
Our destination feature of the month is Canada - particularly Vancouver which is the
gateway for Alaskan cruises. This fresh and vibrant island city has something to offer
everyone with lots of shopping, dining, nightlife and out-doors activities. We also have
offers for Niagara Falls and Canadian maritime voyages too as Canada continues to be
the top destination in demand.
The Jetline Cruise Team
Welcome to the February Edition of Cruise Ahoy