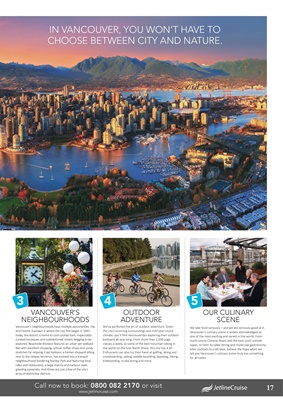 VANCOUVER'S
NEIGHBOURHOODS
Vancouver's neighbourhoods have multiple personalities. Hip
and historic Gastown is where the city first began in 1867;
today, the district is home to cool cocktail bars, impeccably
curated boutiques and cobblestoned streets begging to be
explored. Beachside Kitsilano features an urban yet laidback
feel with excellent shopping, artisan coffee shops and sandy
stretches for relaxing. Coal Harbour, a former shipyard sitting
next to the railway terminus, has evolved into a tranquil
neighbourhood bordering Stanley Park and featuring local
cafes and restaurants, a large marina and harbour seals
greeting passersby. And those are just a few of the city's
array of distinctive districts
OUTDOOR
ADVENTURE
We've perfected the art of outdoor adventure. Given
the city's stunning surroundings and mild year-round
climate, you'll find Vancouverites exploring their outdoor
backyard all year long. From more than 1,500 yoga
classes a week, to some of the best mountain biking in
the world on the lush North Shore, this city has it all.
Enthusiasts can also try their hand at golfing, skiing and
snowboarding, sailing, paddle boarding, kayaking, hiking,
kiteboarding, scuba diving and more.
OUR CULINARY
SCENE
We take food seriously - and we are seriously good at it.
Vancouver's culinary scene is widely acknowledged as
one of the most exciting and varied in the world. From
multi-course Chinese feasts and the best sushi outside
Japan, to farm-to-table dining and molecular gastronomy,
killer cocktails to craft beer, believe the hype when we
tell you Vancouver's culinary scene truly has something
for all tastes.
IN VANCOUVER, YOU WON'T HAVE TO
CHOOSE BETWEEN CITY AND NATURE.
3 4 5
17
Call now to book: 0800 082 2170 or visit