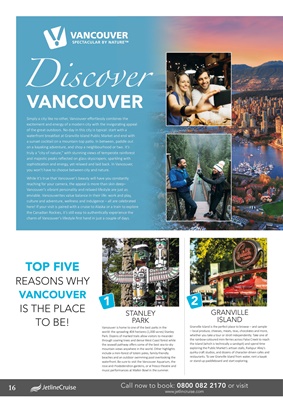 Simply a city like no other, Vancouver effortlessly combines the
excitement and energy of a modern city with the invigorating appeal
of the great outdoors. No day in this city is typical: start with a
waterfront breakfast at Granville Island Public Market and end with
a sunset cocktail on a mountain-top patio. In between, paddle out
on a kayaking adventure, and shop a neighbourhood or two. It's
truly a "city of nature," with stunning views of temperate rainforest
and majestic peaks reflected on glass skyscrapers; sparkling with
sophistication and energy, yet relaxed and laid back. In Vancouver,
you won't have to choose between city and nature.
While it's true that Vancouver's beauty will have you constantly
reaching for your camera, the appeal is more than skin deep-
Vancouver's vibrant personality and relaxed lifestyle are just as
enviable. Vancouverites value balance in their life: work and play,
culture and adventure, wellness and indulgence - all are celebrated
here! If your visit is paired with a cruise to Alaska or a train to explore
the Canadian Rockies, it's still easy to authentically experience the
charm of Vancouver's lifestyle first hand in just a couple of days.
STANLEY
PARK
Vancouver is home to one of the best parks in the
world: the sprawling 404 hectares (1,000 acres) Stanley
Park. Dozens of marked trails allow visitors to meander
through soaring trees and dense West Coast forest while
the seawall pathway offers some of the best sea-to-sky
mountain views anywhere in the world. Other highlights
include a mini-forest of totem poles, family-friendly
beaches and an outdoor swimming pool overlooking the
waterfront. Be sure to visit the Vancouver Aquarium, the
rose and rhododendron gardens, or al fresco theatre and
music performances at Malkin Bowl in the summer.
Discover
VANCOUVER
TOP FIVE
REASONS WHY
VANCOUVER
IS THE PLACE
TO BE!
GRANVILLE
ISLAND
Granville Island is the perfect place to browse - and sample
- local produce, cheeses, meats, teas, chocolates and more,
whether you take a tour or stroll independently. Take one of
the rainbow-coloured mini-ferries across False Creek to reach
the Island (which is technically a sandspit) and spend time
exploring the Public Market's artisan stalls, Railspur Alley's
quirky craft studios, and dozens of character-driven cafes and
restaurants. To see Granville Island from water, rent a kayak
or stand-up paddleboard and start exploring.
1 2
16 Call now to book: 0800 082 2170 or visit