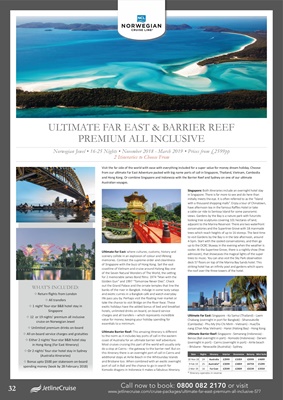 3232
Ultimate Far East: Singapore - Ko Samui (Thailand) - Laem
Chabang (overnight in port for Bangkok) - Sihanoukville
(Cambodia) - Phu My (Ho Chi Minh - Vietnam) - Hue/Da
nang (Chan May Vietnam) - Hanoi (Halong Bay) - Hong Kong.
Ultimate Barrier Reef: Singapore - Semarang (Indonesia) -
Benoa (Bali overnight in port) - Komodo (Indonesia) - Darwin
(overnight in port) - Cairns (overnight in port) - Airlie beach
- Brisbane - Newcastle (Australia) - Sydney.
ULTIMATE FAR EAST & BARRIER REEF
PREMIUM ALL INCLUSIVE
Norwegian Jewel • 16-25 Nights • November 2018 - March 2019 • Prices from £2599pp
2 Itineraries to Choose From
WHAT'S INCLUDED:
✥ Return flights from London
✥ All transfers
✥ 1 night' four-star B&B hotel stay in
Singapore
✥ 12 or 19 nights' premium all inclusive
cruise on Norwegian Jewel
✥ Unlimited premium drinks on-board
✥ All on-board service charges and gratuities
✥ Either 2 nights' four-star B&B hotel stay
in Hong Kong (Far East Itinerary)
✥ Or 2 nights' four-star hotel stay in Sydney
(Australia itineraries)
✥ Bonus upto $500 per stateroom on-board
spending money (book by 28 February 2018)
Visit the far side of the world with ease with everything included for a super value for money dream holiday. Choose
from our ultimate Far East Adventure packed with big name ports of call in Singapore, Thailand, Vietnam, Cambodia
and Hong Kong. Or combine Singapore and Indonesia with the Barrier Reef and Sydney on one of our ultimate
Australian voyages.
Date Nights Itinerary Interior Oceanview Balcony Mini Suite
10 Nov 18 24 Australia £2999 £3359 £3999 £4699
9 Feb 19 25 Australia* £3399 £3859 £4759 £5299
2 Mar 19 16 Far East £2599 £2839 £3239 £3559
* Itinerary operates in reverse
Ultimate Far East: where cultures, customs, history and
scenery collide in an explosion of colour and lifelong
memories. Contrast the supreme order and cleanliness
of Singapore with the buzz of Hong Kong. Sail the vast
coastline of Vietnam and cruise around Halong Bay one
of the Seven Natural Wonders of The World, the setting
for 2 memorable James Bond films: 1974 "Man with the
Golden Gun" and 1997 "Tomorrow Never Dies". Check
out the Grand Palace and the ornate temples that line the
banks of the river in Bangkok. Indulge in some tasty satays
and exotic curries in a Bangkok café and watch everyday
life pass you by. Perhaps visit the floating river market or
take the chance to visit Bridge on the River Kwai. These
exotic holidays have the added bonus of bed and breakfast
hotels, unlimited drinks on-board, on-board service
charges and all transfers - which represents incredible
value for money; keeping your holiday spending for
essentials to a minimum.
Ultimate Barrier Reef: This amazing itinerary is different
to the norm as it includes key ports of call in the eastern
coast of Australia for an ultimate barrier reef adventure.
Most cruises cruising this part of the world will usually only
do a stop at Cairns - the gateway to the barrier reef. But on
this itinerary there is an overnight port of call in Cairns and
additional stops at Airlie Beach in the Whitsunday Islands
and Brisbane too. When combined with an exotic overnight
port of call in Bali and the chance to go in search for
Komodo dragons in Indonesia it makes a fabulous itinerary.
Singapore: Both itineraries include an overnight hotel stay
in Singapore. There is far more to see and do here than
initially meets the eye. It is often referred to as the "Island
with a thousand shopping malls". Enjoy a tour of Chinatown,
have afternoon tea in the famous Raffles Hotel or take
a cable car ride to Sentosa Island for some panoramic
views. Gardens by the Bay is a nature park with futuristic
looking tree sculptures covering 101 hectares of land,
adjacent to the Marina Reservoir. There are two waterfront
conservatories and the Supertree Grove with 18 manmade
trees which reach heights of up to 16 storeys. The best time
to visit Gardens by the Bay is in the late afternoon, around
4-5pm. Start with the cooled conservatories, and then go
up to the OCBC Skyway in the evening when the weather is
cooler. At the Supertree Grove, there is a nightly show (free
admission), that showcases the magical lights of the super
trees to music. You can also visit the Sky Park observation
deck 57 floors on top of the Marina Bay Sands hotel. This
striking hotel has an infinity pool and gardens which spans
the roof over the three towers of the hotel.
Call now to book: 0800 082 2170 or visit
www.jetlinecruise.com/cruise-packages/ultimate-far-east-premium-all-inclusive-577