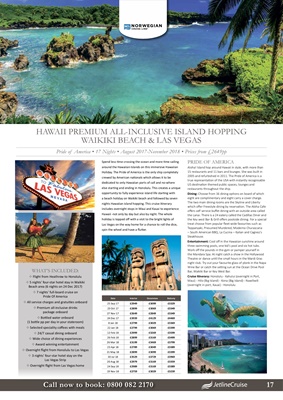 Call now to book: 0800 082 2170 17
PRIDE OF AMERICA
Aloha! Island hop around Hawaii in style, with more than
15 restaurants and 11 bars and lounges. She was built in
2005 and refurbished in 2011. The Pride of America is a
true representation of the USA with instantly recognisable
US destination themed public spaces, lounges and
restaurants throughout the ship.
Dining: Choose from 16 dining options on board of which
eight are complimentary and eight carry a cover charge.
The two main dining rooms are the Skyline and Liberty
which offer Freestyle dining by reservation. The Aloha Cafe
offers self service buffet dining with an outside area called
the Lanai. There is a 24 eatery called the Cadillac Diner and
the Key west Bar & Grill offers poolside dining. For a special
treat choose from popular fleet-wide favourites such as
Teppanyaki, Presumed Murdered, Moderno Churascaria
- South American BBQ, La Cucina - Italian and Cagney's
Steakhouse.
Entertainment: Cool off in the Hawaiian sunshine around
three swimming pools, one kid's pool and six hot tubs.
Work off the pounds in the gym or pamper yourself in
the Mandara Spa. At night catch a show in the Hollywood
Theatre or dance until the small hours in the Mardi Gras
night club. Try out your favourite glass of plonk in the Napa
Wine Bar or catch the setting sun at the Ocean Drive Pool
Bar, Waikiki Bar or Key West Bar.
Cruise Itinerary: Honolulu - Kahului (overnight in Port,
Maui) - Hilo (Big Island) - Kona (Big Island) - Nawiliwili
(overnight in port, Kauai) - Honolulu
Spend less time crossing the ocean and more time sailing
around the Hawaiian Islands on this immersive Hawaiian
Holiday. The Pride of America is the only ship completely
crewed by American nationals which allows it to be
dedicated to only Hawaiian ports of call and no-where
else starting and ending in Honolulu. This creates a unique
opportunity to fully experience island life starting with
a beach holiday on Waikiki beach and followed by seven
nights Hawaiian island hopping. This cruise itinerary
includes overnight stops in Maui and Kauai to experience
Hawaii -not only by day but also by night. The whole
holiday is topped off with a visit to the bright lights of
Las Vegas on the way home for a chance to roll the dice,
spin the wheel and have a flutter.
Date Interior Oceanview Balcony
25 Sep 17 £2949 £3099 £3329
23 Oct 17 £2899 £3069 £3349
27 Nov 17 £2649 £2849 £3349
24 Dec 17 £3939 £4129 £4469
8 Jan 18 £2799 £3029 £3369
22 Jan 18 £2799 £3069 £3399
12 Feb 18 £2999 £3269 £3599
26 Feb 18 £2899 £3169 £3499
26 Mar 18 £3199 £3469 £3799
23 Apr 18 £2789 £3049 £3389
21 May 18 £2899 £3099 £3399
30 Jul 18 £3529 £3729 £3969
20 Aug 18 £2979 £3169 £3359
24 Sep 18 £2989 £3169 £3389
19 Nov 18 £2759 £3029 £3239
HAWAII PREMIUM ALL-INCLUSIVE ISLAND HOPPING
WAIKIKI BEACH & LAS VEGAS
Pride of America • 17 Nights • August 2017-November 2018 • Prices from £2649pp
WHAT'S INCLUDED:
✥ Flight from Heathrow to Honolulu
✥ 5 nights' four-star hotel stay in Waikiki
Beach area (6 nights on 24 Dec 2017)
✥ 7 nights' full-board cruise on
Pride Of America
✥ All service charges and gratuities onboard
✥ Premium all-inclusive drinks
package onboard
✥ Bottled water onboard
(1 bottle pp per day in your stateroom)
✥ Selected speciality coffees with meals
✥ 24/7 casual dining onboard
✥ Wide choice of dining experiences
✥ Award winning entertainment
✥ Overnight flight from Honolulu to Las Vegas
✥ 3 nights' four-star hotel stay on the
Las Vegas Strip
✥ Overnight flight from Las Vegas home
Kauai