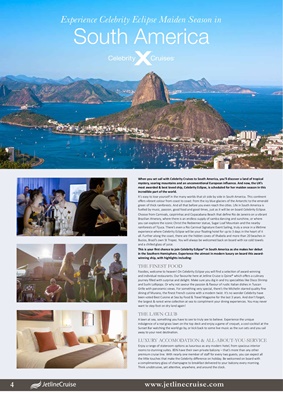 4
When you set sail with Celebrity Cruises to South America, you'll discover a land of tropical
mystery, soaring mountains and an unconventional European influence. And now, the UK's
most awarded & best loved ship, Celebrity Eclipse, is scheduled for her maiden season in this
incredible part of the world.
It's easy to lose yourself in the many worlds that sit side by side in South America. This continent
offers vibrant colour from coast to coast: from the icy blue glaciers of the Antarctic to the emerald
green of thick rainforests. And all that before you even reach the cities. Life in South America is
fuelled by music, passion, good food and good times, just as it will be on board Celebrity Eclipse.
Choose from Carnivals, caipirinhas and Copacabana Beach that define Rio de Janeiro on a vibrant
Brazilian itinerary, where there is an endless supply of samba dancing and sunshine, or where
you can explore the iconic Christ the Redeemer statue, Sugar Loaf Mountain and the nearby
rainforests of Tijuca. There's even a Rio Carnival Signature Event Sailing, truly a once in a lifetime
experience where Celebrity Eclipse will be your floating hotel for up to 3 days in the heart of it
all. Further along the coast, there are the hidden coves of Ilhabela and more than 20 beaches in
Buzios, Brazil's own St Tropez. You will always be welcomed back on board with ice cold towels
and a chilled glass of juice.
This is your first chance to join Celebrity Eclipse® in South America as she makes her debut
in the Southern Hemisphere. Experience the utmost in modern luxury on board this awardwinning ship, with highlights
including:
THE FINEST FOOD
Foodies, welcome to heaven! On Celebrity Eclipse you will find a selection of award-winning
and individual restaurants. Our favourite here at Jetline Cruise is Qsine® which offers a culinary
journey filled with surprise and delight. Make sure you dig in and try specialities like Disco Shrimp
and Sushi Lollipops. Or why not savour the passion & flavour of rustic Italian dishes in Tuscan
Grille with panoramic views. For something very special, there's the Michelin starred quality fine
dining of Murano, the finest French cuisine with a modern twist. It's no wonder Celebrity have
been voted Best Cuisine at Sea by Food & Travel Magazine for the last 3 years. And don't forget,
the largest & rarest wine collection at sea to compliment your dining experiences. You may never
want to step foot on dry land again!
THE LAWN CLUB
A lawn at sea, something you have to see to truly see to believe. Experience the unique
indulgence of a real grass lawn on the top deck and enjoy a game of croquet, a cool cocktail at the
Sunset Bar watching the world go by, or kick back to some live music as the sun sets and you sail
away to your next destination.
LUXURY ACCOMODATION & ALL-ABOUT-YOU-SERVICE
Enjoy a range of stateroom options as luxurious as any modern hotel, from spacious interior
rooms to stunning suites. 85% have their own private balcony - that's more than any other
premium cruise line. With nearly one member of staff for every two guests, you can expect all
the little touches that make the Celebrity difference on holiday. Be welcomed on board with
a complimentary glass of champagne to breakfast delivered to your balcony every morning.
Think unobtrusive, yet attentive, anywhere, and around the clock.
Experience Celebrity Eclipse Maiden Season in
South America