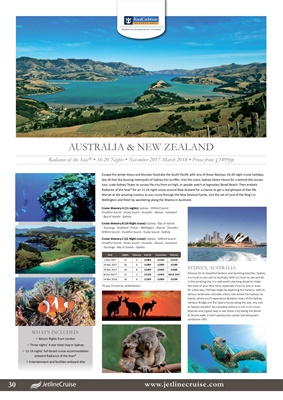 30
Cruise itinerary A (11 nights): Sydney - Milford Sound -
Doubtful Sound - Dusky Sound - Dunedin - Akaroa - Auckland
- Bay of Islands - Sydney
Cruise itinerary B (14 Night cruise): Sydney - Bay of Islands
- Tauranga - Auckland - Picton - Wellington - Akaroa - Dunedin -
Milford Sound - Doubtful Sound - Dusky Sound - Sydney
Cruise itinerary C (12 Night cruise): Sydney - Milford Sound -
Doubtful Sound - Dusky Sound - Dunedin - Akaroa - Auckland
- Tauranga - Bay of Islands - Sydney
AUSTRALIA & NEW ZEALAND
Radiance of the Seas® • 16-20 Nights • November 2017-March 2018 • Prices from £1899pp
WHAT'S INCLUDED:
✥ Return flights from London
✥ Three nights' 4-star hotel stay in Sydney
✥ 11-14 nights' full-board cruise accommodation
onboard Radiance of the Seas®
✥ Entertainment and facilities onboard ship
Escape the winter blues and discover Australia the South Pacific with one of these fabulous 16-20 night cruise holidays.
See all that the buzzing metropolis of Sydney has to offer. Visit the iconic Sydney Opera House for a behind-the-scenes
tour, scale Sydney Tower to survey the city from on high, or people watch at legendary Bondi Beach. Then embark
Radiance of the Seas® for an 11-14 night cruise around New Zealand for a chance to get a real glimpse of Kiwi life.
Marvel at the amazing scenery as you cruise through the New Zealand Fjords, visit the set of Lord of the Ring's in
Wellington and finish by wandering along the Marina in Auckland.
Date Nights Itinerary Interior Oceanview Balcony
2 Nov 2017 17 A £1969 £2149 £2379
14 Nov 2017 16 A £1899 £2099 £2389
24 Nov 2017 20 B £2299 £2439 £2689
18 Dec 2017* 17 C £3129 £3359 SOLD OUT
14 Mar 2018 16 A £1939 £2069 £2299
*Enjoy Christmas celebrations!
SYDNEY, AUSTRALIA
Famous for its beautiful harbour and stunning beaches, Sydney
is a must on any visit to Australia. With so much to see and do
in this amazing city, it is well worth planning ahead to make
the most of your time here, especially if you're only in town
for a few days. Perhaps begin by exploring the harbour, with its
famous landmarks and take a ferry ride across the harbour to
Manly, where you'll experience fantastic views of the Sydney
Harbour Bridge and the Opera House along the way. Any visit
to Sydney wouldn't be complete without a visit to its iconic
beaches and a great way to see these is by taking the Bondi
to Bronte walk, a short spectacular coastal trail along epic
sandstone cliffs.
Isle of Pines