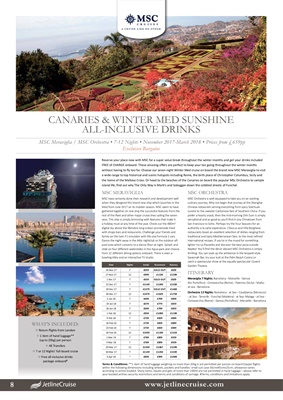 8
MSC MERAVIGLIA
MSC have certainly done their research and development well
when they designed this brand new ship which launches in the
Med from June 2017 on its maiden season. MSC seem to have
gathered together on one ship the successful features from the
rest of the fleet and other major cruise lines sailing the seven
seas. This ship is simply brimming with features that make it
a holiday must at any time of the year. Check out the 480m2
digital sky above the 96metre long indoor promenade lined
with shops bars and restaurants. Challenge your friends and
family on the twin F1 simulator with life-size Formula 1 cars.
Dance the night away in the Attic nightclub or the outdoor aft
pool area which converts to a dance-floor at night. Splash and
slide on four different waterslides in the Aqua-park and choose
from 12 different dining options onboard. There is even a
bowling Alley and an interactive TV studio.
MSC ORCHESTRA
MSC Orchestra is well equipped to take you on an exciting
culinary journey. Why not begin that journey at the Shanghai
Chinese restaurant serving everything from spicy Szechuan
cuisine to the sweeter Cantonese fare of Southern China. If you
prefer a hearty snack, then the mid-morning Dim Sum is simply
sensational and as good as you'll find in any Chinatown from
San Francisco to Soho. Perhaps try the Four Seasons for an
authentic a la carte experience. L'Ibiscus and Villa Borghese
restaurants boast an excellent selection of dishes ranging from
traditional and tasty Mediterranean fare, to the most refined
international recipes. If you're in the mood for something
lighter try La Piazzetta and discover the best pizza outside
Naples! You'll find the décor aboard MSC Orchestra is simply
thrilling. You can soak up the ambience in the leopard-style
Savannah Bar, try your luck at the Palm Beach Casino or
catch a spectacular show at the equally spectacular Covent
Garden Theatre.
ITINERARY
Meraviglia 7 Nights: Barcelona - Marseille - Genoa
(for Portofino) - Civitavecchia (Rome) - Palermo (Sicily) - Malta -
at sea - Barcelona
Orchestra 12 Nights: Barcelona - at Sea - Casablanca (Morocco)
- at Sea - Tenerife - Funchal (Madeira) - at Sea- Malaga - at Sea -
Civitavecchia (Rome) - Genoa (Portofino) - Marseille - Barcelona
CANARIES & WINTER MED SUNSHINE
ALL-INCLUSIVE DRINKS
MSC Meraviglia / MSC Orchestra • 7-12 Nights • November 2017-March 2018 • Prices from £659pp
Excluisve Bargains
WHAT'S INCLUDED:
✥ Return flights from London
✥ 1 item of hand luggage**
(up to 20kg) per person
✥ All Transfers
✥ 7 or 12 Nights' full-board cruise
✥ Free all-inclusive drinks
package onboard#
Madeira
Reserve your place now with MSC for a super value break throughout the winter months and get your drinks included
FREE of CHARGE onboard. These amazing offers are perfect to keep your tan going throughout the winter months
without having to fly too far. Choose our seven night Winter Med cruise on board the brand new MSC Meraviglia to visit
a wide range to top historical and scenic hotspots including Rome, the birth place of Christopher Columbus, Sicily and
the home of the Maltese Cross. Or head to the beaches of the Canaries on board the popular MSc Orchestra to sample
island life, find out why The Only Way Is Marb's and toboggan down the cobbled streets of Funchal.
xxxx
Terms & Conditions: **1 item of hand luggage weighing no more than 20kg is are permitted per person on board Easyjet flights
within the following dimensions including wheels, pockets and handles: small suit case 56cmx45cmx25cm; allowance varies
according to airline booked. Sharp items, liquids and gels of more than 100ml are not permitted in hand luggage - please refer to
your booked airlines security restrictions and terms and conditions of carriage. #Terms, conditions and limitations apply.
Norwegian Spirit
Date Nights Inside Oceanview Balcony
24 Nov 17 7 £659 SOLD OUT £829
27 Nov 17 12 £999 £1139 £1299
1 Dec 17 7 £659 SOLD OUT £829
22 Dec 17 7 £1149 £1249 £1339
29 Dec 17 7 £1279 SOLD OUT £1469
30 Dec 17 12 £1479 £1629 £1759
5 Jan 18 7 £699 £799 £899
19 Jan 18 7 £679 £779 £859
26 Jan 18 7 £699 £799 £859
1 Feb 18 12 £959 £1099 £1199
9 Feb 18 7 £739 £839 £889
16 Feb 18 7 £739 £839 £889
23 Feb 18 7 £739 £839 £889
24 Feb 18 12 £1039 £1199 £1319
2 Mar 19 7 £789 £899 £939
9 Mar 18 7 £789 £899 £939
29 Mar 17 12 £1349 £1467 £1599
30 Mar 17 7 £1149 £1250 £1339
6 Apr 18 7 £899 £999 £1069