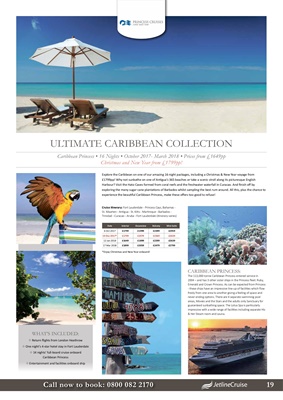 Call now to book: 0800 082 2170 19
Cruise itinerary: Fort Lauderdale - Princess Cays, Bahamas -
St. Maarten - Antigua - St. Kitts - Martinique - Barbados -
Trinidad - Curacao - Aruba - Fort Lauderdale (itinerary varies)
WHAT'S INCLUDED:
✥ Return flights from London Heathrow
✥ One night's 4-star hotel stay in Fort Lauderdale
✥ 14 nights' full-board cruise onboard
Caribbean Princess
✥ Entertainment and facilities onboard ship
Explore the Caribbean on one of our amazing 16 night packages, including a Christmas & New Year voyage from
£1799pp! Why not sunbathe on one of Antigua's 365 beaches or take a scenic stroll along its picturesque English
Harbour? Visit the Hato Caves formed from coral reefs and the freshwater waterfall in Curacao. And finish off by
exploring the many sugar cane plantations of Barbados whilst sampling the best rum around. All this, plus the chance to
experience the beautiful Caribbean Princess, make these offers too good to refuse!
Date Interior Oceanview Balcony Mini-Suite
6 Oct 2017 £1799 £1999 £2399 £2959
19 Dec 2017* £1799 £2079 £2369 £2639
12 Jan 2018 £1649 £1899 £2299 £2639
17 Mar 2018 £1899 £2059 £2479 £2799
CARIBBEAN PRINCESS:
The 113,000 tonne Caribbean Princess entered service in
2004 - and has 3 other sister ships in the Princess fleet: Ruby,
Emerald and Crown Princess. As can be expected from Princess
- these ships have an impressive line-up of facilities which flow
freely from one area to another giving a feeling of space and
never ending options. There are 4 separate swimming pool
areas, Movies and the Stars and the adults only Sanctuary for
guaranteed sunbathing space. The Lotus Spa is particularly
impressive with a wide range of facilities including separate His
& Her Steam room and sauna.
ULTIMATE CARIBBEAN COLLECTION
Caribbean Princess • 16 Nights • October 2017- March 2018 • Prices from £1649pp
Christmas and New Year from £1799pp!
*Enjoy Christmas and New Year onboard!