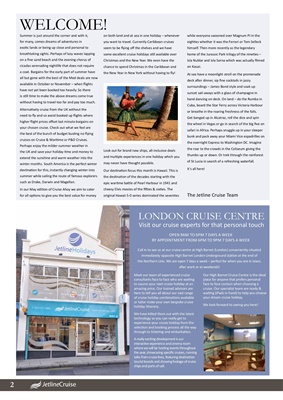 2
Call in to see us at our cruise centre at High Barnet (London) conveniently situated
immediately opposite High Barnet London Underground station at the end of
the Northern Line. We are open 7 days a week - perfect for when you are in town,
after work or at weekends!
Meet our team of experienced cruise
consultants face to face who are waiting
to source your next cruise holiday at an
amazing price. Our trained advisors are
here to tell you all about our vast range
of cruise holiday combinations available
or tailor make your own bespoke cruise
holiday itinerary.
We have kitted them out with the latest
technology so you can really get to
experience your cruise holiday from the
selection and booking process all the way
through to ticketing and embarkation.
A really exciting development is our
interactive experience and cinema room
where we will be hosting events throughout
the year, showcasing specific cruises, running
talks from cruise lines, featuring destination
tourist boards and showing footage of cruise
ships and ports of call.
Our High Barnet Cruise Centre is the ideal
place for anyone that prefers personal
face to face contact when choosing a
cruise. Our specialist team are ready &
waiting (iPads in hand) to help you choose
your dream cruise holiday.
We look forward to seeing you here!
OPEN 9AM TO 6PM 7 DAYS A WEEK
BY APPOINTMENT FROM 6PM TO 9PM 7 DAYS A WEEK
LONDON CRUISE CENTRE
Visit our cruise experts for that personal touch
Summer is just around the corner and with it,
for many, comes dreams of adventures in
exotic lands or being up close and personal to
breathtaking sights. Perhaps of lazy waves lapping
on a fine sand beach and the evening chorus of
cicadas serenading nightlife that does not require
a coat. Bargains for the early part of summer have
all but gone with the best of the Med deals are now
available in October or November - when flights
have not yet been booked too heavily. So there
is still time to make the above dreams come true
without having to travel too far and pay too much.
Alternatively cruise from the UK without the
need to fly and so avoid booked up flights where
higher flight prices offset last minute bargains on
your chosen cruise. Check out what we feel are
the best of the bunch of budget busting no flying
cruises on Cruise & Maritime or P&O Cruises.
Perhaps enjoy the milder summer weather in
the UK and save your holiday time and money to
extend the sunshine and warm weather into the
winter months. South America is the perfect winter
destination for this, instantly changing winter into
summer while sailing the route of famous explorers
such as Drake, Darwin and Magellan.
In our May edition of Cruise Ahoy we aim to cater
for all options to give you the best value for money
on both land and at sea in one holiday - whenever
you want to travel. Currently Caribbean cruises
seem to be flying off the shelves and we have
some excellent cruise holidays still available over
Christmas and the New Year. We even have the
chance to spend Christmas in the Caribbean and
the New Year in New York without having to fly!
Look out for brand new ships, all-inclusive deals
and multiple experiences in one holiday which you
may never have thought possible.
Our destination focus this month is Hawaii. This is
the destination of the decades starting with the
epic wartime battle of Pearl Harbour in 1941 and
cheesy Elvis movies of the fifties & sixties. The
original Hawaii 5-0 series dominated the seventies
while everyone swooned over Magnum PI in the
eighties whether it was the Ferrari or Tom Selleck
himself. Then more recently as the legendary
home of the Jurassic Park trilogy of the nineties -
Isla Nublar and Isla Sorna which was actually filmed
on Kauai.
At sea have a moonlight stroll on the promenade
deck after dinner, sip fine cocktails in jazzy
surroundings - James Bond style and soak up
sunset sail-aways with a glass of champagne in
hand dancing on deck. On land - do the Rumba in
Cuba, board the Star Ferry across Victoria Harbour
or breathe in the roaring freshness of the falls.
Get banged up in Alcatraz, roll the dice and spin
the wheel in Vegas or go in search of the big five on
safari in Africa. Perhaps snuggle up in your sleeper
bunk and pack away your Miami Vice espadrilles on
the overnight Express to Washington DC. Imagine
the roar to the crowds in the Coliseum giving the
thumbs up or down. Or trek through the rainforest
of St Lucia in search of a refreshing waterfall.
It's all here!
The Jetline Cruise Team
WELCOME!