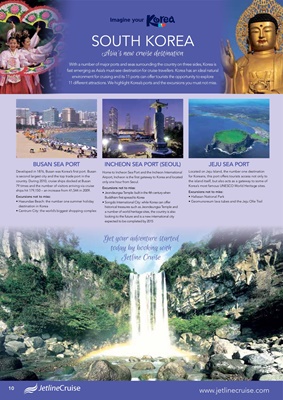 10
BUSAN SEA PORT
Home to Incheon Sea Port and the Incheon International
Airport, Incheon is the first gateway to Korea and located
only one hour from Seoul.
Excursions not to miss:
• Jeondeungsa Temple: built in the 4th century when
Buddhism first spread to Korea
• Songdo International City: while Korea can offer
historical treasures such as Jeondeungsa Temple and
a number of world heritage sites, the country is also
looking to the future and is a new international city
expected to be completed by 2015
INCHEON SEA PORT (SEOUL)
Located on Jeju Island, the number one destination
for Koreans, this port offers tourists access not only to
the island itself, but also acts as a gateway to some of
Korea's most famous UNESCO World Heritage sites.
Excursions not to miss:
• Hallasan National Park
• Geomunoreum lava tubes and the Jeju Olle Trail
JEJU SEA PORT
SOUTH KOREA
Asia's new cruise destination
With a number of major ports and seas surrounding the country on three sides, Korea is
fast emerging as Asia's must-see destination for cruise travellers. Korea has an ideal natural
environment for cruising and its 11 ports can offer tourists the opportunity to explore
11 different attractions. We highlight Korea's ports and the excursions you must not miss.
Get your adventure started
today by booking with
Jetline Cruise
Developed in 1876, Busan was Korea's first port. Busan
is second largest city and the top trade port in the
country. During 2010, cruise ships docked at Busan
79 times and the number of visitors arriving via cruise
ships hit 179,150 - an increase from 41,544 in 2009.
Excursions not to miss:
• Haeundae Beach: the number one summer holiday
destination in Korea
• Centrum City: the world's biggest shopping complex