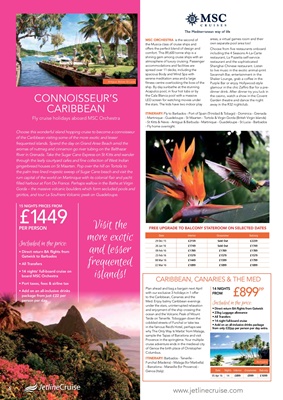 MSC ORCHESTRA is the second of
the Musica class of cruise ships and
offers the perfect blend of design and
comfort. This 89,600 tonne ship is a
shining gem among cruise ships with an
atmosphere of luxury cruising. Passenger
accommodations and facilities are
spread over 11 decks; including the
spacious Body and Mind Spa with
serene meditation area and a large
fitness centre overlooking the bow of the
ship. By day sunbathe at the stunning
Acapulco pool, in four hot tubs or by
the Cala Blanca pool with a massive
LED screen for watching movies under
the stars. The kids have two indoor play
Date Interior Oceanview Balcony
29 Dec 15 £2159 Sold Out £2239
26 Jan 16 £1749 Sold Out £1749
09 Feb 16 £1789 £1789 £1789
23 Feb 16 £1579 £1579 £1579
08 Mar 16 £1449 £1599 £1799
22 Mar 16 £1899 £1899 £1899
CONNOISSEUR'S
CARIBBEAN
Fly cruise holidays aboard MSC Orchestra
Choose this wonderful island hopping cruise to become a connoisseur
of the Caribbean visiting some of the more exotic and lesser
frequented islands. Spend the day on Grand Anse Beach amid the
aromas of nutmeg and cinnamon go river tubing on the Balthazar
River in Grenada. Take the Sugar Cane Express on St Kitts and wander
through the leafy courtyard cafes and fine collection of West Indian
gingerbread houses on St Maarten. Pop over the hill on Tortola to
the palm tree lined majestic sweep of Sugar Cane beach and visit the
rum capital of the world on Martinique with its colonial flair and yacht
filled harbour at Fort De France. Perhaps wallow in the Baths at Virgin
Gorda - the massive volcanic boulders which form secluded pools and
grottos, and tour La Soufriere Volcanic peak on Guadeloupe.
areas, a virtual games room and their
own separate pool area too!
Choose from five restaurants onboard
including the 4 Seasons A-La-Carte
restaurant, La Piazetta self-service
restaurant and the sophisticated
Shanghai Chinese restaurant. Listen
to live music in the exotic animal-print
Savannah Bar, entertainment in the
Shaker Lounge, grab a coffee in the
Purple Bar or enjoy Hollywood-style
glamour in the chic Zaffiro Bar for a predinner drink. After dinner try you luck in
the casino, watch a show in the Covent
Garden theatre and dance the night
away in the R32 nightclub.
Included in the price:
• Direct return BA flights from
Gatwick to Barbados
• All Transfers
• 14 nights' full-board cruise on
board MSC Orchestra
• Port taxes, fees & airline tax
• Add on an all-inclusive drinks
package from just £22 per
person per day.
15 NIGHTS PRICES FROM
£1449PER PERSON
6
Antigua. Below: St Lucia
Visit the
more exotic
and lesser
frequented
islands!
ITINERARY: Fly to Barbados - Port of Spain (Trinidad & Tobago) - Dominica - Grenada
- Martinique - Guadeloupe - St Maarten - Tortola & Virgin Gorda (British Virgin Islands)
- St Kitts & Nevis - Antigua & Barbuda - Martinique - Guadeloupe - St Lucia - Barbados
- Fly home overnight.
FREE UPGRADE TO BALCONY STATEROOM ON SELECTED DATES
Date Nights Interior Oceanview Balcony
05 Apr 16 14 £899 £999 £1099
Plan ahead and bag a bargain next April
with our exclusive 3 holidays in 1 offer
to the Caribbean, Canaries and the
Med. Enjoy balmy Caribbean evenings
under the stars, uninterrupted relaxation
and enjoyment of the ship crossing the
ocean and the Volcanic Peak of Mount
Teide on Tenerife. Toboggan down the
cobbled streets of Funchal or take tea
in the famous Reid's Hotel, perhaps see
why The Only Way Is Marbs' from Malaga,
sample the Tapas of Barcelona and visit
Provence in the springtime. Your multiple
cruise adventure ends in the medieval city
of Genoa the birth place of Christopher
Columbus.
ITINERARY: Barbados - Tenerife -
Funchal (Madeira) - Malaga (for Marbella)
- Barcelona - Marseille (for Provence) -
Genoa (Italy).
CARIBBEAN, CANARIES & THE MED
£899PP
14 NIGHTS
FROM
Included in the price:
• Direct return BA flights from Gatwick
• 23kg Luggage allowance
• All Transfers
• 14 night full-board cruise
• Add on an all-inclusive drinks package
from only £22pp per person per day extra.
Barbados