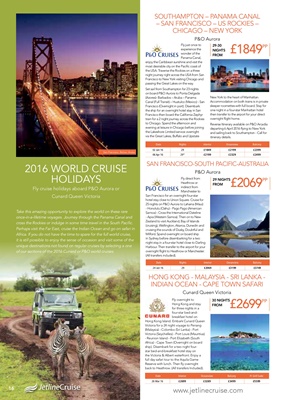 2016 WORLD CRUISE
HOLIDAYS
Fly cruise holidays aboard P&O Aurora or
Cunard Queen Victoria
Take this amazing opportunity to explore the world on these rare
once-in-a-lifetime voyages. Journey through the Panama Canal and
cross the Rockies or indulge in some time travel in the South Pacific.
Perhaps visit the Far East, cruise the Indian Ocean and go on safari in
Africa. If you do not have the time to spare for the full world cruise,
it is still possible to enjoy the sense of occasion and visit some of the
unique destinations not found on regular cruises by selecting a one
of our sections of the 2016 Cunard or P&O world cruises.
16
San Francisco. Below: Aruba
Fly just once to
experience the
wonder of the
Panama Canal,
enjoy the Caribbean sunshine and visit the
most desirable city on the Pacific coast of
the USA. Traverse the Rockies on a three
night journey right across the USA from San
Francisco to New York visiting Chicago and
passing the Great Lakes on the way.
Set sail from Southampton for 23 nights
on board P&O Aurora to Ponta Delgada
(Azores)- Barbados - Aruba - Panama
Canal (Full Transit) - Huatulco (Mexico) - San
Francisco (Overnight in port). Disembark
the ship for an overnight hotel stay in San
Francisco then board the California Zephyr
train for a 2 night journey across the Rockies
to Chicago. Spend the afternoon and
evening at leisure in Chicago before joining
the Lakeshore Limited service overnight
via the Great Lakes, Buffalo and Upstate
SOUTHAMPTON - PANAMA CANAL
- SAN FRANCISCO - US ROCKIES -
CHICAGO - NEW YORK
P&O Aurora £1849PP
29-30
NIGHTS
FROM
Date Nights Interior Oceanview Balcony
02 Jan 16 29 £1849 £2199 £2399
06 Apr 16 29* £2199 £2329 £2499
New York to the heart of Manhattan.
Accommodation on both trains is in private
sleeper roomettes with full board. Stay for
one night in a four-star Manhattan hotel
then transfer to the airport for your direct
overnight flight home.
Reverse Itinerary available on P&O Arcadia
departing 6 April 2016 flying to New York
and sailing back to Southampton - Call for
itinerary details.
Fly direct from
Heathrow or
indirect from
Manchester to
San Francisco for an overnight four-star
hotel stay close to Union Square. Cruise for
25 nights on P&O Aurora to Lahaina (Maui)
- Honolulu (Oahu) - Pago Pago (American
Samoa) - Cross the International Dateline
- Apia (Western Samoa). Then on to New
Zealand to visit Auckland, Bay of Islands
(cruising), Wellington, Akaroa, Dunedin and
cruising the sounds of Dusky, Doubtful and
Milford. Spend overnight on board ship
in Sydney before disembarking for a two
night stay in a four-star hotel close to Darling
Harbour. Then transfer to the airport for your
overnight flight to Heathrow or Manchester.
(All transfers included).
SAN FRANCISCO-SOUTH PACIFIC-AUSTRALIA
P&O Aurora £2069PP
29 NIGHTS
FROM
Date Nights Interior Oceanview Balcony
24 Jan 16 29 £2069 £3199 £3749
Fly overnight to
Hong Kong and stay
for three nights in a
four-star bed-andbreakfast
hotel on
Hong Kong Island. Embark Cunard Queen
Victoria for a 24 night voyage to Penang
(Malaysia) - Colombo (Sri Lanka) - Port
Victoria (Seychelles) - Port Louis (Mauritius)
- Reunion Island - Port Elizabeth (South
Africa) - Cape Town (Overnight on board
ship). Disembark for a two night fourstar bed-and-breakfast
hotel stay on
the Victoria & Albert waterfront. Enjoy a
full day safari tour to the Aquila Game
Reserve with lunch. Then fly overnight
back to Heathrow. (All transfers Included).
HONG KONG - MALAYSIA - SRI LANKA -
INDIAN OCEAN - CAPE TOWN SAFARI
Cunard Queen Victoria
£2699PP
30 NIGHTS
FROM
Date Interior Oceanview Balcony Pr Grill Suite
26 Mar 16 £2699 £3289 £3499 £5599