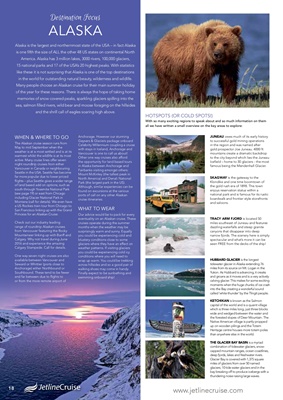 Destination Focus
ALASKA
Alaska is the largest and northernmost state of the USA - in fact Alaska
is one fifth the size of ALL the other 48 US states on continental North
America. Alaska has 3 million lakes, 3000 rivers, 100,000 glaciers,
15 national parks and 17 of the USA's 20 highest peaks. With statistics
like these it is not surprising that Alaska is one of the top destinations
in the world for outstanding natural beauty, wilderness and wildlife.
Many people choose an Alaskan cruise for their main summer holiday
of the year for these reasons. There is always the hope of taking home
memories of snow covered peaks, sparkling glaciers spilling into the
sea, salmon filled rivers, wild bear and moose foraging on the hillsides
and the shrill call of eagles soaring high above.
18 WHEN & WHERE TO GO
The Alaskan cruise season runs from
May to mid September when the
weather is at is most settled and is at its
warmest whilst the wildlife is at its most
active. Many cruise lines offer seven
night roundtrip cruises from either
Vancouver in Canada or neighbouring
Seattle in the USA. Seattle has become
far more popular due to lower priced
flights - plus Seattle gives a wider range
of land based add on options; such as
south through Yosemite National Park
(see page 19) or east from Chicago
including Glacier National Park in
Montana (call for details). We even have
a US Rockies train tour from Chicago to
San Francisco linking up with the Grand
Princess for an Alaskan Cruise.
Check out our industry leading
range of roundtrip Alaskan cruises
from Vancouver featuring the Rocky
Mountaineer linking up with Banff and
Calgary. Why not travel during June
2016 and experience the amazing
Calgary Stampede. Call for details.
One way seven night cruises are also
available between Vancouver and
Seward or Whittier (ports close to
Anchorage) either Northbound or
Southbound. These tend to be fewer
and far between due to flights to
or from the more remote airport of
Anchorage. However our stunning
Geysers & Glaciers package onboard
Celebrity Millennium coupling a cruise
with stays in Iceland, Anchorage and
Vancouver is one to call us about!
Other one way cruises also afford
the opportunity for land based tours
in Alaska between Anchorage and
Fairbanks visiting amongst others:
Mount McKinley (the tallest peak in
North America) and Denali National
Park (the largest park in the US).
Although, similar experiences can be
found on excursions at the various
ports of call on any other Alaskan
cruise itineraries.
WHAT TO WEAR
Our advice would be to pack for every
eventuality on an Alaskan cruise. These
cruises operate during the summer
months when the weather may be
surprisingly warm and sunny. Equally
you could be experiencing cold and
blustery conditions close to some
glaciers where they have an effect on
weather patterns. If visiting glaciers
you could be experiencing cold icy
conditions where you will need to
wrap up warm. You could be trekking
across hillsides and so a good pair of
walking shoes may come in handy.
Finally expect to be sunbathing and
swimming onboard ship!
HOTSPOTS (OR COLD SPOTS!)
With so many exciting regions to speak about and so much information on them
all we have written a small overview on the key areas to explore:
JUNEAU owes much of its early history
to successful gold mining operations
in the region and was named after
gold prospector Joe Juneau. 4000 ft
mountains create a dramatic backdrop
to the city beyond which lies the Juneau
Icefield - home to 30 glaciers - the most
famous being the Mendenhall Glacier.
SKAGWAY is the gateway to the
Klondike and one time boomtown of
the gold rush era of 1898. This town
enjoys reservation status within a
national park and is famous for its rustic
boardwalk and frontier style storefronts
and saloons.
TRACY ARM FJORD is located 50
miles southeast of Juneau and features
dazzling waterfalls and steep granite
canyons that disappear into deep
narrow fjords. The scenery here is simply
spectacular and what's more it can be
seen FREE from the decks of the ship!
HUBBARD GLACIER is the longest
tidewater glacier in Alaska extending 76
miles from its source on Mt. Logan in the
Yukon. As Hubbard is advancing, it creaks
and groans as it moves and is a very actively
calving glacier. This makes for some exciting
moments when the huge chunks of ice crash
into the Bay creating a wonderful sound
called 'white thunder' by the Tlingit people.
KETCHIKAN is known as the Salmon
capital of the world and is a quaint village
which is three miles long, just three blocks
wide and wedged between the water and
the forested slopes of Deer Mountain. The
Native American village is partly propped
up on wooden pilings and the Totem
Heritage centre houses more totem poles
than anywhere else in the world.
THE GLACIER BAY BASIN is a myriad
combination of tidewater glaciers, snowcapped mountain ranges, ocean coastlines,
deep fjords, lakes and freshwater rivers.
Glacier Bay is covered with 1,375 square
miles of glaciers from over 50 named
glaciers; 10 tide water glaciers end in the
bay breaking off to produce icebergs with a
thundering noise raising large waves.