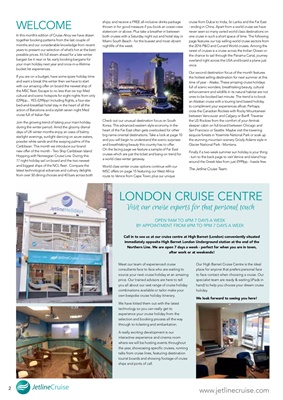 2
Call in to see us at our cruise centre at High Barnet (London) conveniently situated
immediately opposite High Barnet London Underground station at the end of the
Northern Line. We are open 7 days a week - perfect for when you are in town,
after work or at weekends!
Meet our team of experienced cruise
consultants face to face who are waiting to
source your next cruise holiday at an amazing
price. Our trained advisors are here to tell
you all about our vast range of cruise holiday
combinations available or tailor make your
own bespoke cruise holiday itinerary.
We have kitted them out with the latest
technology so you can really get to
experience your cruise holiday from the
selection and booking process all the way
through to ticketing and embarkation.
A really exciting development is our
interactive experience and cinema room
where we will be hosting events throughout
the year, showcasing specific cruises, running
talks from cruise lines, featuring destination
tourist boards and showing footage of cruise
ships and ports of call.
Our High Barnet Cruise Centre is the ideal
place for anyone that prefers personal face
to face contact when choosing a cruise. Our
specialist team are ready & waiting (iPads in
hand) to help you choose your dream cruise
holiday.
We look forward to seeing you here!
OPEN 9AM TO 6PM 7 DAYS A WEEK
BY APPOINTMENT FROM 6PM TO 9PM 7 DAYS A WEEK
LONDON CRUISE CENTRE
Visit our cruise experts for that personal touch
WELCOME
In this month's edition of Cruise Ahoy we have drawn
together booking patterns from the last couple of
months and our considerable knowledge from recent
years to present our selection of what's hot at the best
possible prices. It's full steam ahead for a late winter
bargain be it near or far, early booking bargains for
your main holiday next year and once-in-a-lifetime
bucket list experiences.
If you are on a budget, have some spare holiday time
and want a break this winter then we have to start
with our amazing offer on board the newest ship of
the MSC fleet. Escape to no less than six top Med
cultural and scenic hotspots for eight nights from only
£299pp... YES £299pp! Including flights, a four-star
bed-and-breakfast hotel stay in the heart of all the
action of Barcelona and a stylish seven night Med
cruise full of Italian flair.
Join the growing trend of taking your main holiday
during the winter period. Amid the gloomy dismal
days of UK winter months enjoy an oasis of balmy
starlight evenings, sunlight dancing on azure waters,
powder white sands and the swaying palms of the
Caribbean. This month we introduce our brand
new offer of the month - Two Ship Caribbean Island
Hopping with Norwegian Cruise Line. During this
17 night holiday sail on board and the two newest
and biggest ships of the NCL fleet . Compare the
latest technological advances and culinary delights
from over 50 dining choices and 40 bars across both
ships; and receive a FREE all-inclusive drinks package
thrown in for good measure if you book an ocean-view
stateroom or above. Plus take a breather in between
both cruises with a Saturday night out and hotel stay in
Miami South Beach - for the busiest and most vibrant
nightlife of the week.
Check out our unusual destination focus on South
Korea. This advanced western style economy in the
heart of the Far East often gets overlooked for other
big name oriental destinations. Take a look at page 10
and you will begin to understand the scenic surprises
and breathtaking beauty this country has to offer.
On the facing page we feature a sample of Far East
cruises which are just the ticket and bang on trend for
a world class winter getaway.
World class winter cruise options continue with our
MSC offers on page 15 featuring our West Africa
route to Venice from Cape Town; plus our unique
cruise from Dubai to India, Sri Lanka and the Far East
- ending in China. Apart from a world cruise we have
never seen so many varied world class destinations on
one cruise in such a short space of time. The following
page features our top selling world cruise sectors from
the 2016 P&O and Cunard World cruises. Among the
rarest of cruises is a cruise across the Indian Ocean or
the chance to sail through the Panama Canal, journey
overland right across the USA and board a plane just
once.
Our second destination focus of the month features
the hottest selling destination for next summer at this
time of year - Alaska. These amazing cruise holidays
full of scenic wonders, breathtaking beauty, cultural
enhancement and wildlife in its natural habitat are not
ones to be booked last minute. The trend is to book
an Alaskan cruise with a touring land based holiday
to compliment your experiences afloat. Perhaps
cross the Canadian Rockies with Rocky Mountaineer
between Vancouver and Calgary or Banff. Traverse
the US Rockies from the comfort of your Amtrak
sleeper cabin on full-board between Chicago and
San Francisco or Seattle. Maybe visit the towering
sequoia forests in Yosemite National Park or soak up
the stunning mountain scenery Grizzly Adams style in
Glacier National Park - Montana.
Finally if a two week summer sun holiday is your thing
- turn to the back page to visit Venice and island hop
around the Greek Isles from just £999pp - hassle free.
The Jetline Cruise Team.