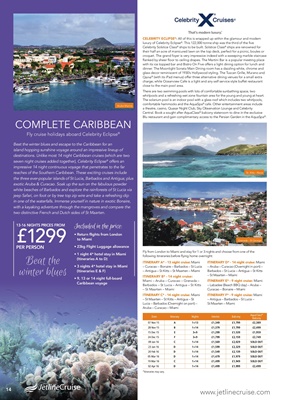 14 COMPLETE CARIBBEAN
Fly cruise holidays aboard Celebrity Eclipse®
Beat the winter blues and escape to the Caribbean for an
island hopping sunshine voyage around an impressive lineup of
destinations. Unlike most 14 night Caribbean cruises (which are two
seven night cruises added together), Celebrity Eclipse® offers an
impressive 14 night continuous voyage that penetrates to the far
reaches of the Southern Caribbean. These exciting cruises include
the three ever-popular islands of St Lucia, Barbados and Antigua; plus
exotic Aruba & Curacao. Soak up the sun on the fabulous powder
white beaches of Barbados and explore the rainforests of St Lucia via
jeep Safari, on foot or by tree top zip wire and take a refreshing dip
in one of the waterfalls. Immerse yourself in nature in exotic Bonaire,
with a kayaking adventure through the mangroves and compare the
two distinctive French and Dutch sides of St Maarten.
14
Aruba Marina
ITINERARY A* - 13 night cruise: Miami
- Curacao - Bonaire - Barbados - St Lucia
- Antigua - St Kitts - St Maarten - Miami
ITINERARY B* - 14 night cruise:
Miami - Aruba - Curacao - Grenada -
Barbados - St Lucia - Antigua - St Kitts
- St Maarten - Miami
ITINERARY C* - 14 night cruise: Miami
- St Maarten - St Kitts - Antigua - St
Lucia - Barbados (Overnight on port) -
Aruba - Curacao - Miami
Date Itinerary Nights Interior Balcony
AquaClass®
Balcony
07 Nov 15 A 1+13 £1,349 £1,799 £2,389
28 Nov 15 B 1+14 £1,379 £1,799 £2,499
15 Dec 15 E 3+9 £1,299 £1,539 £1,959
24 Dec 15 F 3+9 £1,799 £2,159 £2,749
09 Jan 16 C 1+14 £1,569 £2,029 SOLD OUT
23 Jan 16 D 1+14 £1,599 £2,329 SOLD OUT
20 Feb 16 D 1+14 £1,549 £2,139 SOLD OUT
05 Mar 16 D 1+14 £1,479 £1,979 SOLD OUT
19 Mar 16 C 1+14 £1,499 £1,949 SOLD OUT
02 Apr 16 D 1+14 £1,499 £1,999 £2,499
*Itineraries may vary.
Included in the price:
• Return flights from London
to Miami
• 23kg Flight Luggage allowance
• 1 night 4* hotel stay in Miami
(Itineraries A to D)
• 3 nights 4* hotel stay in Miami
(Itineraries E & F)
• 9, 13 or 14 night full-board
Caribbean voyage
13-16 NIGHTS PRICES FROM
£1299PER PERSON
Beat the
winter blues
Grenada - St George
St. Kitts - Nevis
CELEBRITY ECLIPSE®: All of this is wrapped up within the glamour and modern
luxury of Celebrity Eclipse®. This 122,000 tonne ship was the third of the five
Celebrity Solstice Class® ships to be built. Solstice Class® ships are renowned for
their half an acre of manicured lawn on the top deck, perfect for a picnic, boules or
croquet. The grand foyer is very impressive indeed with a sweeping marble staircase
flanked by sheer floor to ceiling drapes. The Martini Bar is a popular meeting place
with its ice topped bar and Bistro On Five offers a light dining option for lunch and
dinner. The Moonlight Sonata Main Dining room has a dazzling white, chrome and
glass decor reminiscent of 1930's Hollywood styling. The Tuscan Grille, Murano and
Qsine® (with its iPad menus) offer three alternative dining venues for a small extra
charge; while Oceanview Cafe is a light and airy self service style buffet restaurant
close to the main pool area.
There are two swimming pools with lots of comfortable sunbathing space, two
whirlpools and a refreshing wet zone fountain area for the young and young at heart.
The solarium pool is an indoor pool with a glass roof which includes two whirlpools,
comfortable hammocks and the AquaSpa® cafe. Other entertainment areas include
a theatre, casino, Quasar Night Club, Sky Observation Lounge and Celebrity
Central. Book a sought after AquaClass® balcony stateroom to dine in the exclusive
Blu restaurant and gain complimentary access to the Persian Garden in the AquaSpa®.
ITINERARY D* - 14 night cruise: Miami
- Aruba - Curacao (Overnight in port) -
Barbados - St Lucia - Antigua - St Kitts
- St Maarten - Miami
ITINERARY E* - 9 night cruise: Miami
- Labadee (Beach BBQ day) - Aruba -
Curacao - Bonaire - Miami
ITINERARY F* - 9 night cruise: Miami
- Antigua - Barbados - St Lucia -
St Maarten - Miami
Fly from London to Miami and stay for 1 or 3 nights and choose from one of the
following itineraries before flying home overnight: