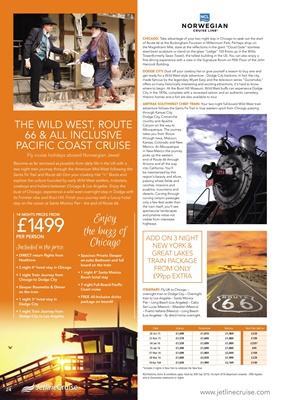 THE WILD WEST, ROUTE
66 & ALL INCLUSIVE
PACIFIC COAST CRUISE
Fly cruise holidays aboard Norwegian Jewel
Become as far removed as possible from daily life in the UK with a
two night train journey through the American Mid-West following the
Santa Fe Trail and Route 66! Don your cowboy Hat "n" Boots and
explore the culture founded by early Wild West settlers, mobsters,
cowboys and Indians between Chicago & Los Angeles. Enjoy the
buzz of Chicago, experience a wild west overnight stay in Dodge with
its Frontier vibe and Boot Hill. Finish your journey with a luxury hotel
stay on the ocean at Santa Monica Pier - the end of Route 66.
24
• Spacious Private Sleeper
en-suite Bedroom and full
board on the train
• 1 night 4* Santa Monica
Beach hotel stay
• 7 night Full-Board Pacific
Coast cruise
• FREE All-Inclusive drinks
package on board#
Included in the price:
• DIRECT return flights from
Heathrow
• 2 night 4* hotel stay in Chicago
• 1 night Train Journey from
Chicago to Dodge City
• Sleeper Roomette & Dinner
on the train
• 1 night 3* hotel stay in
Dodge City
• 1 night Train Journey from
Dodge City to Los Angeles
14 NIGHTS PRICES FROM
£1499PER PERSON
Enjoy
the buzz of
Chicago
CHICAGO: Take advantage of your two night stay in Chicago to seek out the start
of Route 66 at the Buckingham Fountain in Millennium Park. Perhaps shop on
the Magnificent Mile, stare at the reflections in the giant "Cloud Gate" stainless
steel bean sculpture or stand on the glass "Ledge" 103 floors up in the Willis
Tower(formerly Sears Tower), the tallest building in the US. You can also enjoy a
fine dining experience with a view in the Signature Room on 95th Floor of the John
Hancock Building.
DODGE CITY: Dust off your cowboy hat or give yourself a reason to buy one and
get ready for a Wild West style adventure - Dodge City beckons. In fact the city,
made famous by the legendary Wyatt Earp and the television series "Gunsmoke,"
offers so many historically interesting and exciting attractions, it's hard to know
where to begin. At the Boot Hill Museum, Wild West buffs can experience Dodge
City in the 1870s, complete with a recreated saloon and an authentic cemetery.
Historic homes and a fort are also available to tour.
AMTRAK SOUTHWEST CHIEF TRAIN: Your two night full-board Wild West train
adventure follows the Santa Fe Trail in true western spirit from Chicago passing
through Kansas City,
Dodge City, Comanche
country and Apache
Canyon on the way to
Albuquerque. The journey
takes you from Illinois
through Iowa, Missouri,
Kansas, Colorado and New
Mexico. At Albuquerque
in New Mexico the journey
picks up the western
end of Route 66 through
Arizona and all the way
into California. You'll
be mesmerized by this
region's beauty and allure,
passing wheat fields and
ranches, missions and
pueblos, mountains and
deserts. Carving through
curving canyon passages
only a few feet wider than
the train itself, you'll see
spectacular landscapes
and pristine vistas not
visible from interstate
highways.
Date Interior Oceanview Balcony New York Add on
26 Oct 15 £1,699 £1,819 £1,969 £229
23 Nov 15 £1,579 £1,699 £1,889 £199
04 Jan 16 £1,559 £1,699 £1,889 £239*
25 Jan 16 £1,499 £1,699 £1,889 £99
07 Mar 16 £1,699 £1,869 £2,049 £169
28 Mar 16 £1,869 £2,029 £1,999 £229
18 Apr 16# £1,829 £1,999 £2,169 £149
*Includes 3 nights in New York to celebrate the New Year.
#(Limitations, terms & conditions apply- book by 30th Sep 2015). For April 2016 departures onwards - Offer Applies
only to Oceanview staterooms or higher.
ITINERARY: Fly UK to Chicago -
overnight train to Dodge City - Overnight
train to Los Angeles - Santa Monica
Pier - Long Beach (Los Angeles) - Cabo
San Lucas (Mexico) - Mazatlan (Mexico)
- Puerto Vallarta (Mexico) - Long Beach
(Los Angeles) - fly direct home overnight.
ADD ON 3 NIGHT
NEW YORK &
GREAT LAKES
TRAIN PACKAGE
FROM ONLY
£99pp EXTRA