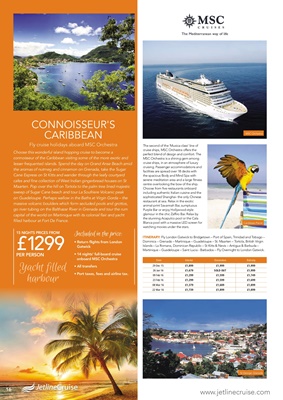 CONNOISSEUR'S
CARIBBEAN
Fly cruise holidays aboard MSC Orchestra
Choose this wonderful island hopping cruise to become a
connoisseur of the Caribbean visiting some of the more exotic and
lesser frequented islands. Spend the day on Grand Anse Beach amid
the aromas of nutmeg and cinnamon on Grenada, take the Sugar
Cane Express on St Kitts and wander through the leafy courtyard
cafes and fine collection of West Indian gingerbread houses on St
Maarten. Pop over the hill on Tortola to the palm tree lined majestic
sweep of Sugar Cane beach and tour La Soufriere Volcanic peak
on Guadeloupe. Perhaps wallow in the Baths at Virgin Gorda - the
massive volcanic boulders which form secluded pools and grottos,
go river tubing on the Balthazar River in Grenada and tour the rum
capital of the world on Martinique with its colonial flair and yacht
filled harbour at Fort De France.
16
Included in the price:
• Return flights from London
Gatwick
• 14 nights' full-board cruise
onboard MSC Orchestra
• All transfers
• Port taxes, fees and airline tax.
15 NIGHTS PRICES FROM
£1299PER PERSON
The second of the 'Musica-class' line of
cruise ships, MSC Orchestra offers the
perfect blend of design and comfort. The
MSC Orchestra is a shining gem among
cruise ships, in an atmosphere of luxury
cruising. Passenger accommodations and
facilities are spread over 18 decks with
the spacious Body and Mind Spa with
serene meditation area and a large fitness
centre overlooking the bow of the ship.
Choose from five restaurants onboard
including authentic Italian cuisine and the
sophisticated Shanghai- the only Chinese
restaurant at sea. Relax in the exotic
animal-print Savannah Bar, sumptuous
Purple Bar or enjoy Hollywood-style
glamour in the chic Zaffiro Bar. Relax by
the stunning Acapulco pool or the Cala
Blanca pool with a massive LED screen for
watching movies under the stars.
ITINERARY: Fly London Gatwick to Bridgetown - Port of Spain, Trinidad and Tobago -
Dominica - Grenada - Martinique - Guadeloupe - St. Maarten - Tortola, British Virgin
Islands - La Romana, Dominican Republic - St Kitts & Nevis - Antigua & Barbuda -
Martinique - Guadeloupe - Saint Lucia - Barbados - Fly Overnight to London Gatwick.
Date Interior Oceanview Balcony
29 Dec 15 £1,899 £1,999 £1,999
26 Jan 16 £1,679 SOLD OUT £1,999
09 Feb 16 £1,299 £1,599 £1,749
23 Feb 16 £1,299 £1,599 £1,699
08 Mar 16 £1,379 £1,689 £1,899
22 Mar 16 £1,739 £1,899 £1,899
MSC Orchestra
Caribbean Parrot
St George, Grenada
Yacht filled
harbour