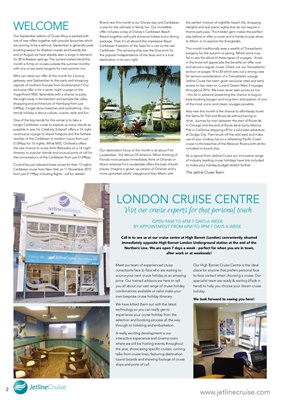 Brand new this month is our Disney stay and Caribbean
cruise for the ultimate in family fun. Our incredible
offer includes a stay at Disney's Caribbean Beach
Resort together with park entrance tickets and a dining
package. Then it's all aboard the impressive Royal
Caribbean Freedom of the Seas for a visit to the real
Caribbean. This amazing ship was the blue print for
the popular Independence of the Seas and is a true
destination in its own right.
Our destination focus of the month is all about Fort
Lauderdale - the Venice Of America. When thinking of
Florida most people immediately think of Orlando or
Miami whereas Fort Lauderdale offers the best of both
places. Imagine a grown up version of Orlando and a
more upmarket adults' playground than Miami with
2
Call in to see us at our cruise centre at High Barnet (London) conveniently situated
immediately opposite High Barnet London Underground station at the end of the
Northern Line. We are open 7 days a week - perfect for when you are in town,
after work or at weekends!
Meet our team of experienced cruise
consultants face to face who are waiting to
source your next cruise holiday at an amazing
price. Our trained advisors are here to tell
you all about our vast range of cruise holiday
combinations available or tailor make your
own bespoke cruise holiday itinerary.
We have kitted them out with the latest
technology so you can really get to
experience your cruise holiday from the
selection and booking process all the way
through to ticketing and embarkation.
A really exciting development is our
interactive experience and cinema room
where we will be hosting events throughout
the year, showcasing specific cruises, running
talks from cruise lines, featuring destination
tourist boards and showing footage of cruise
ships and ports of call.
Our High Barnet Cruise Centre is the ideal
place for anyone that prefers personal face
to face contact when choosing a cruise. Our
specialist team are ready & waiting (iPads in
hand) to help you choose your dream cruise
holiday.
We look forward to seeing you here!
OPEN 9AM TO 6PM 7 DAYS A WEEK
BY APPOINTMENT FROM 6PM TO 9PM 7 DAYS A WEEK
LONDON CRUISE CENTRE
Visit our cruise experts for that personal touch
WELCOME
Our September edition of Cruise Ahoy is packed with
lots of new offers together with popular favourites which
are proving to be a sell-out. September is generally peak
booking season for Alaskan cruises and towards the
end of August we have already seen a surge in demand
for 2016 Alaskan sailings. The current market trend this
month is firmly on cruises outside the summer months
with one or two early bargains for next summer too.
Who can resist our offer of the month for a bonus
getaway next September to the party and shopping
capitals of northern Europe from Southampton? Our
exclusive offer is for a seven night voyage on the
magnificent MSC Splendida with a chance to party
the night away in Amsterdam and sample the cafes,
shopping and architecture of Hamburg from just
£399pp. Forget about beaches and sunbathing - this
trendy holiday is about culture, cuisine, style and fun.
One of the big trends for this winter is to take a
longer Caribbean cruise to explore as many islands as
possible in one hit. Celebrity Eclipse® offers a 14 night
continuous voyage to island hotspots and the furthest
reaches of the Caribbean in modern luxury from just
£1349pp for 16 nights. While MSC Orchestra offers
the rare chance to cruise from Barbados on a 14 night
itinerary to popular islands and unusual ports of call for
the connoisseur's of the Caribbean from just £1299pp.
Cunard has just released lower prices for their 13 nights
Caribbean cruise from New York on 11 November 2015
from just £1199pp including flights - call for details!
the perfect mixture of nightlife, beach life, shopping
delights and real scenic sights that do not require a
theme park pass. This hidden gem makes the perfect
stay before or after a cruise and is handy to pop down
to Miami or to explore the Everglades.
This month traditionally sees a wealth of Transatlantic
bargains for the autumn or spring. Whilst some may
fail to see the allure of these types of voyages - those
in the know will appreciate the benefits on offer over
and above a regular cruise. Check out our Transatlantic
section on pages 18 to 20 which sets out a strong case
for serious consideration of a Transatlantic voyage.
Jetline Cruise has been given exclusive rates and early
access to low rates on Cunard Queen Mary 2 voyages
throughout 2016. We have never seen prices so low
- this far in advance presenting the chance to bag an
early booking bargain and long term anticipation of one
of the most iconic and classic voyages possible.
Also new this month is the chance to effortlessly travel
the Santa Fe Trail and Route 66 without having to
drive. Journey by train between the start of Route 66
in Chicago and the end of Route 66 at Santa Monica
Pier in California stopping off for a wild west adventure
at Dodge City. Then brush off the wild west and make
use of your cowboy hat on a refreshing Pacific Coast
cruise to the beaches of the Mexican Riviera with drinks
included on board ship.
As is typical from Jetline Cruise our innovative range
of industry leading cruise holidays have lots included
to make your holiday budget stretch further.
The Jetline Cruise Team.